Train Stations is our theme this week. One of America's greatest railfans, Walt Disney had a deep love for trains. He was such a fan of trains that he built his own miniature railroad at his California home and named it the Carolwood Pacific Railroad. If you're a fan too, be sure to check out the Carolwood Pacific Railroad Room at Disney's Wilderness Lodge.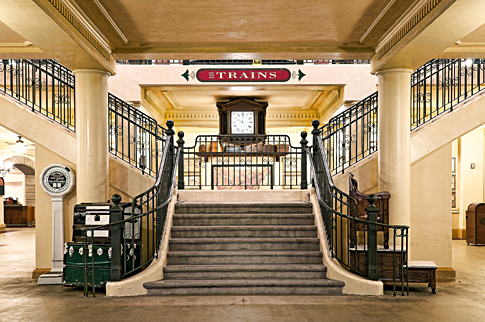 Copyright © 2009 Barrie Brewer, Nikon D300, 18-200mm VR, 3s shutter, f8, ISO 100
The Main Street, USA train station in the Magic Kingdom is reminiscent of a bygone era. Here old steamer trunks and a shoeshine stand flank the grand staircase leading to the upper deck. If you stare at it long enough you can almost see a bustling station filled with people traveling the country.
Do you want to join in on the fun and share your Train Station pictures too? We'd love to see them. Head on over to Google+ and post your photo(s), adding the hashtag of #disneypics-trainstation. Then share it publicly so we can all see it. Check out #disneypics-trainstation to see everyone's pictures.