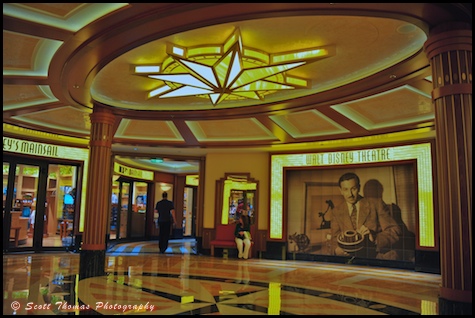 The Walt Disney Theatre entrance foyer.
Nikon D70/28-300VR, 1/60s, f/3.5, ISO 450, EV -0.3, 28mm focal length
The Walt Disney Theatre accommodates 1,340 guests and is located at the forward end of Deck 3 with balcony seating accessible from Deck 4 on the Disney Dream, the newest ship in the Disney Cruise Line fleet. The art deco design brings back memories of the theaters built back in the early 20th century. Making it all the more impressive being located on a cruise ship.
Inside the Walt Disney Theatre with seating for 1,340 guests.
Nikon D70/28-300VR, 1/50s, f/3.5, ISO 6400, EV 0, 28mm focal length
Once I entered the theater, I forgot I was on a cruise ship. The red velvet seats are very comfortable to sit in. It is hard for people to get past you to get to their seats but it is only a minor inconvenience. Quickly forgotten once the performance starts.
During the Christening Cruise of the Disney Dream, there was only two shows presented. The first was The Golden Mickeys, a delightful show where a bashful stage manager is unwilling thrust into the spotlight of the awards show called, what else, The Golden Mickeys. She gets help by none other than Disney's CEO Robert Iger making a guest appearance via a video.
Disney CEO Robert Iger makes a video appearance at the start of the Golden Mickeys show.
Nikon D70/28-300VR, 1/80s, f/3.5, ISO 4500, EV -1.7, 28mm focal length
As the show progressed, the stage manager becomes confident enough to take on the role of the show's Master of Ceremonies. She even sings a lovely tribute to Walt Disney. Though the show does not reference him directly. A montage of photos of Walt's life appear behind her during the song.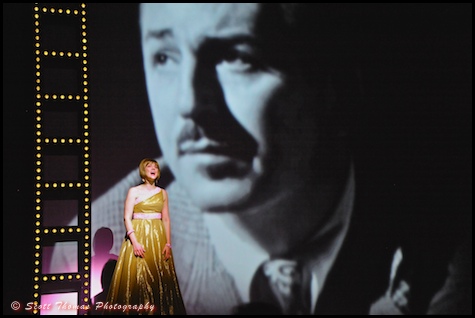 Bashful Stage Manager turned Master of Ceremonies sings a tribute to Walt Disney during the Golden Mickeys show.
Nikon D70/28-300VR, 1/80s, f/3.5, ISO 4500, EV -1.7, 28mm focal length
The second show is called Believe. Any parent, especially fathers of daughters (like myself), will be enthralled by this show. As the daughter wishes for her very scientific father to believe in magic. That wish takes her father on a journey through some of Disney's most adored animated features, live on stage.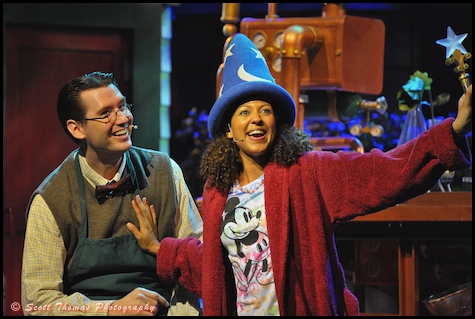 Sophia sings to her Dad, Dr. Greenaway, in the musical "Believe".
Nikon D70/28-300VR, 1/125s, f/5.6, ISO 1600, EV -1.3, 300mm focal length
When one wants to begin believing in magic, who do you call? The Genie of the lamp or, in this case, a metal watering can made from a recycled magic lamp. Genie is Mr. Greenaway's guide and one heck of a scene stealer, too.
The scene stealing Genie during the musical Believe.
Nikon D70/28-300VR, 1/125s, f/5.6, ISO 5600, EV -1.3, 250mm focal length
Both shows are produced at the level of a Broadway musical. The performers, special effects, sound and dance routines are top notch and all done while the Disney Dream is doing over 20 knots as it cruises to its next port of call.
Photography is allowed for the performances in the Walt Disney Theatre WITHOUT the use of flash. As in photographing any Disney show on land or on sea, you have to remember to use spot metering directly on the lighted performers and adjust your camera's exposure compensation until you get the exposure dialed in. Use a shutter speed of, at least, 1/60th of a second or better and wait for a pause in a performance's scene.