I hosted the Main Street USA Street Photography Meet in the Magic Kingdom for AllEars.net back on January 22, 2011. The purpose of the meet was to get to know some AllEars.net readers, enjoy photographing the entertainment presented on Main Street USA and to introduce the concept of using flash to make better photographs in the middle of the day.
I convened the meet around 11:30am on a cool but typical bright sunny Florida day. After introducing myself and passing out some of the great AllEars.net gifts (aka swag) to everyone who came (see group photo below), I gave a run down of all the wonderful entertainment photo opportunities and about using balanced fill flash to cut down on the harsh shadows present. See Tip #2 from Lisa's Photography Tips.
Then I asked my friend and Disney photographer extraordinaire, Bob Desmond, if he would take the group photo. This was our first lesson of the day. Instead of taking the photo in the very un-photogenic area the group was standing in, Bob took us over to Main Street and posed us in front of Cinderella Castle. He kneeled down to minimize the number of guests which would be in the photo. Thank you again, Bob!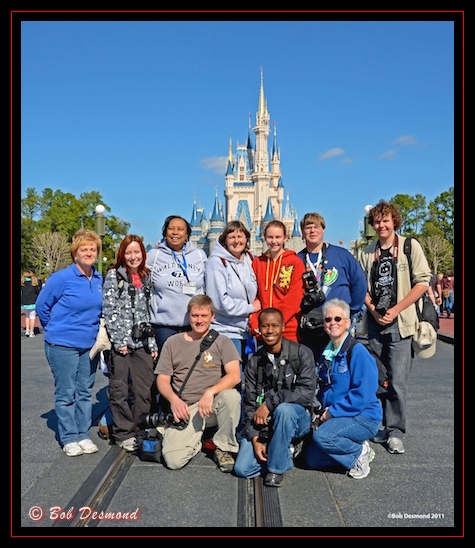 AllEars.net Main Street USA Street Photography Meet.
Back row from left: Deb Koma of AllEars.net, Gillian Kilment (Dave's wife), an AllEars fan, Anne Heriot (Matt's Mum), Katie (Matt's sister), Scott Thomas, Matt. Front row from left: Dave Kilment, Scott Smith and Deb Wills from AllEars.net.
It was great to see Deb Koma and Deb Wills of AllEars.net join us for the beginning of the meet. It was a busy day for them and I very much appreciate them taking the time to stop by and meet everyone. I would like to point out Anne Heriot, an avid reader of AllEars.net, whose family was visiting from Australia. Her son, Matt, joined us all day with his new digital SLR camera and got some pointers from all of us veteran Disney fan photographers.
Then it was time to start the photography. One of the shows I have never seen and wanted to photograph was the Main Street Trolley Parade. This show is presented only a few times a week. It is a lively show with brightly colored costumes and fun songs fitting the time of Main Street USA. The Trolley Song is the highlight of the show (seen below). If you see the horse drawn Trolley coming down Main Street USA, stop for a bit and enjoy the show.
Clang, clang, clang goes the Trolley!
Nikon D700/28-300VR, 1/250s, f/11, ISO 200, EV 0, 250mm Focal Length, Balanced Fill Flash at -1 Power
Later on we meet and talked with this lovely women fighting for the right for women to vote. She told us once women could vote, she would be the first Lady Mayor of Main Street USA. We would encounter a few of the other Main Street performers throughout the day. By using fill flash, I was able to show the suffragette's eyes and smile which were in heavy shadow from her hat and parasol. Setting my flash to -1 power kept her from being washed out from too much flash and giving her a nice glow.
A suffragette on Main Street USA in the Magic Kingdom.
Nikon D700/28-300VR, 1/250s, f/11, ISO 200, EV 0, 35mm Focal Length, Balanced Fill Flash at -1 Power
During the Celebrate a Dream Come True Parade, I photographed Cinderella waving and nodding to all the guests lined up along Main Street USA to see her and all the other Disney characters going by. I used my flash at full power here as I had to use my zoom lens' full 300mm reach to photograph her.
Princess Cinderella nods to guests during the Celebrate a Dream Come True Parade.
Nikon D700/28-300VR, 1/250s, f/11, ISO 200, EV 0, 300mm focal length, Balanced Fill Flash at Full Power
We finished the meet by taking in a concert by the Dapper Dans in their solid colored suits. After which, Bob again photographed the group of photographers. I think we look great even if we are a bit dull looking compared to the Dans!
A note here, Dapper Dans are now miked when they do these performances. It is much easier to hear and enjoy their singing and corny jokes! They told us this was new as of a few weeks ago.
The Dapper Dans pose with the AllEar.net gang on Main Street USA.
Back row: The Dapper Dans. Front row from left: Scott Thomas, Matt, Scott Smith, Dave and Gillian Kilment.
In closing, I had a great time. Judging from the feedback I have received, I would like to host another photography meet this December (hopefully with Barrie and/or Lisa) when AllEars.net celebrates its 15th Anniversary at Walt Disney World.