Exciting day! We were up bright and early.
First task was to check-in. If you have to travel from any significant distance to get to Orlando, staying the night at the Hyatt located right in the airport is SO convenient. We had a lovely room on the 7th floor; they even upgraded us since we had stayed with them a couple of times before. We just took the 2-3 minute walk down to the Magical Express area to check-in.
Check-in was smooth and simple as we had completed everything online before we left home. We received our Key to World cards, new gold lanyards (since we are Castaway Club gold level members – based on the number of prior Disney cruises we've taken), and they even gave us a 10% discount card for breakfast back at the Hyatt!
We walked back to the Hyatt for breakfast and to finish packing. We were able to tag our bags and simply leave them inside our room for pick-up. The next time we saw them was in our stateroom on the ship. It doesn't get much easier than that!
Next we headed back to wait for our bus – "Chip and Dale". We were on the second bus headed out to the Port. It was a familiar drive, about an hour. And, there it was. What a thrill to get that first glimpse of the Magic as we crested the last hill! Since our check-in was complete, we just waited for our group number to be called to board.
I must add that the first familiar faces we saw as we entered the terminal were our next-door stateroom neighbors from our Panama Canal cruise in 2008! And, we ran into them again last summer on a 3-night Disney Wonder cruise and at Walt Disney World. If that isn't enough, this family is from our neck of the woods in the Pacific Northwest! What a great way to start things off!
After boarding we headed straight to Parrot Cay for lunch – yummy salads, peel-n-eat shrimp, roast beef, and of course, a wide variety of desserts. On our way to lunch we spotted another familiar face – Toney our server from the Panama trip.
After lunch, Mike found his favorite spot for a cigar, tequila, and reading. I headed off for a tour of the Vista Spa and Fitness Center (even though I've been there many times before). About 1:30pm our stateroom was ready. Benny from India is our stateroom host. I'm sure he will help make this a wonderful trip.
We usually dread the emergency drill – having to wait like sardines in the hot sun with a life jacket on for 15 minutes is nothing we look forward to. However, our cabin's meet-up for the drill was in Animator's Palette, and we were "forced" to sit in chairs during the drill  Much better!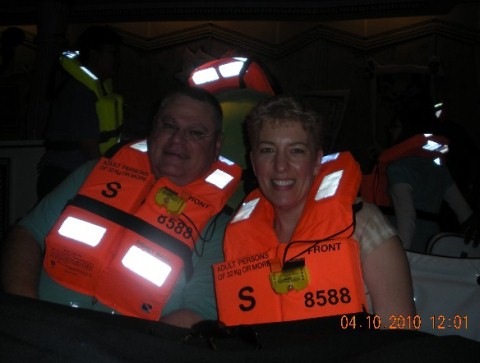 Then, as we headed to the Adventures Away deck party, we saw another familiar face – Ponz from the entertainment staff. And the amazing thing about Ponz is that he recognized us and even remembered our names. Can you believe it?
The highlight of the sail away party for me is hearing the ship's horn for the first of many times. I'm so darn sentimental; I always start to cry. It's beautiful; – when you wish upon a star. Next we returned to our stateroom to unpack and get organized a bit.
At 6pm, I headed to the shops which had just opened and Michael headed to the Walt Disney Theater to secure a couple of great seats for "Let the Magic Begin". This show is designed to welcome you aboard and provide a brief overview of the entertainment to come. We have some fun things to look forward to!
Oh, by the way, Michael let me to buy the new Disney Couture D&B handbag decorated with a colorful pattern of Mickey silhouettes!
Our dinner rotation started in Animator's Palate. This was a good news/bad news meal. The good news is we are seated with two other couples. One from Florida and the other from Holland! Delightful! We will definitely enjoy getting acquainted with them. We also met our server, Anita from the Philippines, and her assistant, Joe from India.
The bad news was our main course. Four of the 6 of us ordered steak. I could not even cut mine with the steak knife provided! Mike and I ended up sharing his steak which was not quite as tough. On the bright side, later in the evening Mike ordered chicken noodle soup from room service and it was delicious!
We've already received several Castaway Club gifts including a great lithograph that highlights the theme of their newest theater production: Villians Tonight! And, Benny left us the requisite towel animal at turn-down.
All-in-all a great day. Tomorrow could be even better as we spend it in paradise: Castaway Cay!