This past Monday I attended the Wishes Fireworks Dessert Party in the Magic Kingdom. This very popular event was held nightly for a time last year. Disney just started it back up on Sunday (March 28th); so I had reservations for the second night of the dessert party.
You may have read the following on AllEars.net:
Beginning Sunday, March 28th, the Fireworks Dessert Party returns to the Magic Kingdom. It is available nightly except on Grad Nites: April 23, April 24, April 30 and May 1.
The Wishes Fireworks Dessert Party (depending on the time of year, fireworks show may not be Wishes) opens one hour prior to Wishes and includes a buffet offering a wide range of sweets and beverages. Park admission to Magic Kingdom Park is required.
The regular price for this experience is $21.99 for adults and $11.99 for children (3-9 years old). Peak period pricing will be $25.99 for adults and $13.99 for children.
Call (407) WDW-DINE to make reservations, pre-payment will be required. While walk-ups will be allowed if space is available, to avoid disappointment make an advance reservation!
No discounts available. The Disney Dining Plan is not accepted.
I called the (407) WDW-DINE number on Sunday evening and made a reservation for the following night. The dining reservationist told me to show up at the Tomorrowland Terrace check in podium at 9:15 pm. However, I'm always early and I wanted to be one of the first to get in so I could get pictures for my blog. So, I arrived at the check-in podium at 8:30 pm. The podium was already set up and I was quickly given a wrist band and a small card with a seating location on it. At that time I was told that we would be allowed in around 9 pm; not 9:15 pm as I was told. As other guest checked in they lined up along the walkway to the Noodle Station from the Tomorrowland Terrace.
There was a card on the check-in table that the Cast Members were giving out to guests as they went by. In case you can't read the card here's what it says:
"NEW Fireworks Dessert Party – at the Tomorrowland Terrace Noodle Station in the MAGIC KINGDOM Park"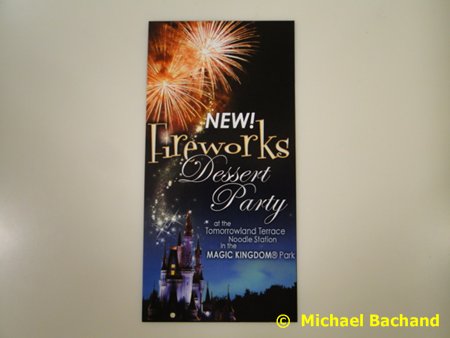 The back of the card reads as follows:
"Fireworks Dessert Party includes a dessert party and exclusive viewing of Wishes, the biggest, most dazzling fireworks spectacular ever to grace the MAGIC KINGDOM skies!
For reservations call (407) WDW-DINE or visit any Table Service podium, Guest Relations or your WALT DISNEY WORLD Resort concierge. Seating is limited for this event.
The Dessert Party will include a self-service buffet featuring a wide-range of sweets and beverages."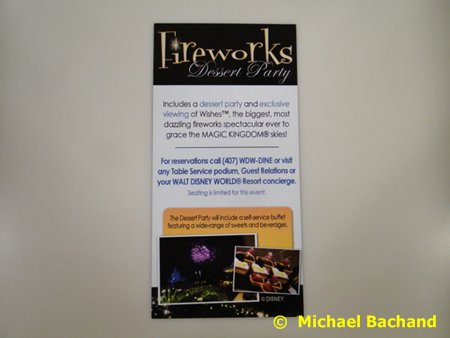 Here's a picture looking into the Tomorrowland Terrace taken with Cinderella Castle behind me.
The Fireworks Dessert Party check-in podium. As I mentioned before it's located on the walkway that runs between the Noodle Station and the Tomorrowland Terrace. When at capacity the Fireworks Dessert Party will host approximately 200 guests. This night there were fewer than 100 people there. I was told that last year it started slowly but once the word got out it sold out just about every evening. So, advance reservations are recommended.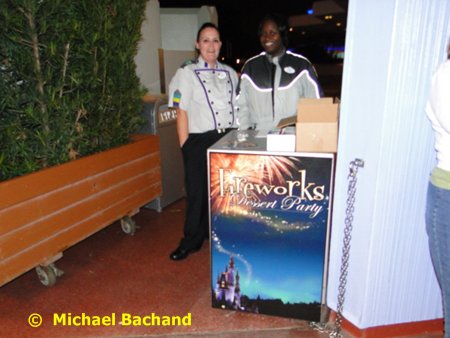 Once the event opens, each guest is escorted in by a Cast Member who takes you to your table. I gave the Cast Member the small card that had my seating location on it. In my case, I was seated in Section B.
Each table had a place card with name of the person who made the reservation and the size of the party on it.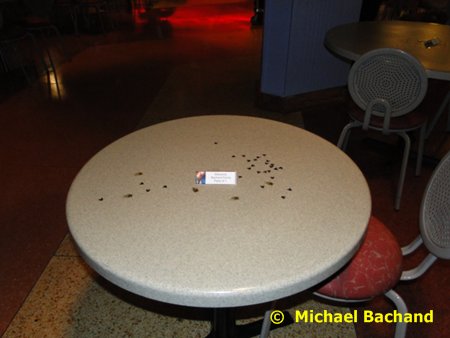 In my case, I was by myself. So, the table was already set with just one chair.
The following pictures are of the dessert table before anyone had a chance to get at it. As you can see it was loaded with lots of wonderful desserts. Not every item was labeled, but here's a list of some of what was on the table: Chocolate Cheesecake, Cannoli, Strawberry Berry Tart, Mango Shooter, Crisped Rice Treat, Pistachio Creme Brulee, Kiwi Orange Tart, Raspberry Tart, Chocolate Truffle, Chocolate-Chip Cookie, Brownie, and Chocolate Dipped Strawberry. In addition, there was some fruit (watermelon, cantaloupe, and honeydew melon) on the table as well.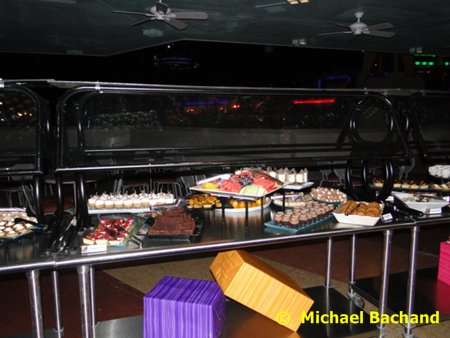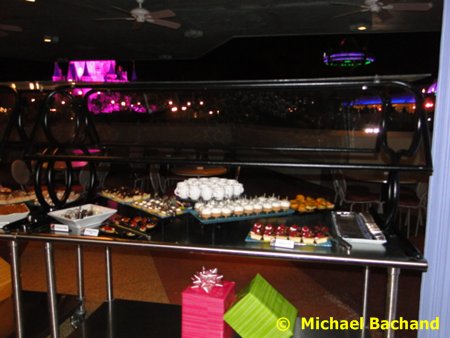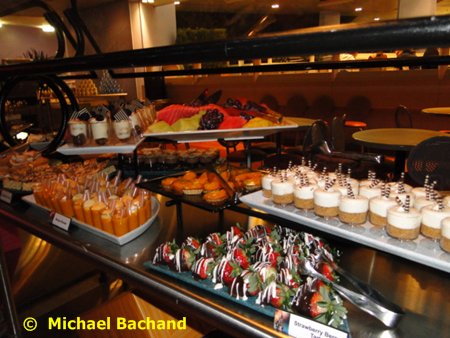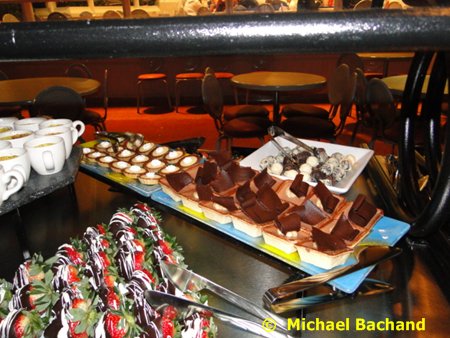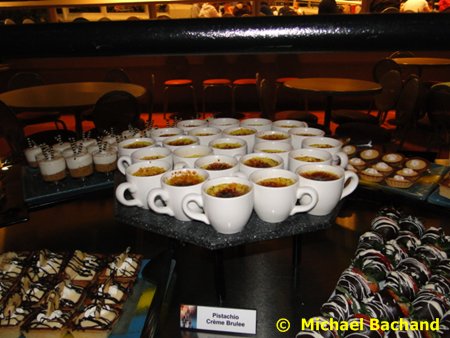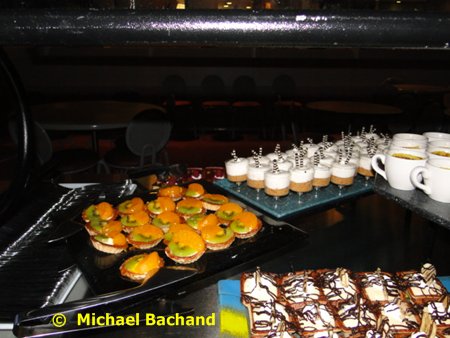 There was a wide variety of drinks to choose from.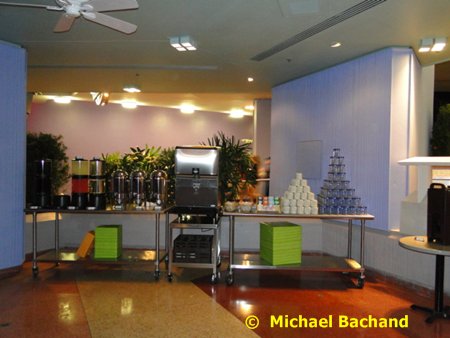 You could get coffee, decaf coffee and hot water for tea here.
The cold drink selection included milk, lemonade, raspberry lemonade, and water.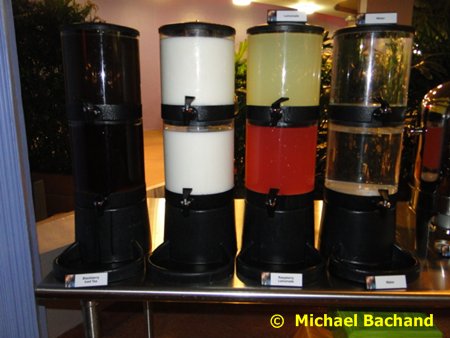 There also was a table with Hot Cocoa on it. My favorite!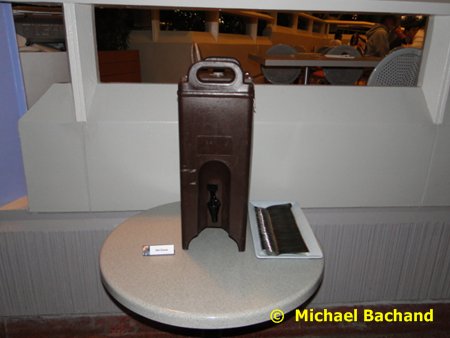 There also was a decent selection of teas to choose from.
Here's a picture of what my first plate of the evening looked like. Believe me I made a number of trips up to taste the different items. Remember, it was my job to test everything for all of you to make sure it was all worthwhile. I know, it's a tough job but someone needs to do it! -:)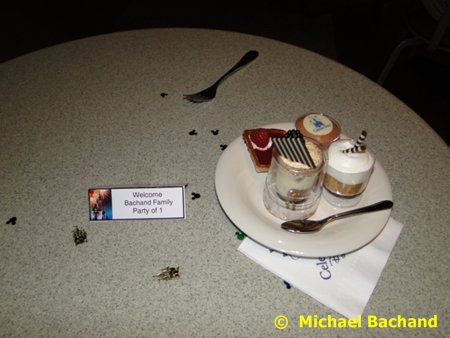 The line moved very quickly. You could go up as frequently as you wanted and eat as much or as little as you wanted. There was no shortage of food. If an item was depleted they just brought out more. They never ran out of anything that I could see. It seems that there was just as much food left on the table at the end as there was when I got there. Like with other buffets, the Cast Members removed plates, glasses, cups, etc. from your table as you went up to get more as well as when you were finally finished.
Once we were done everyone had time to digest their food while waiting for the fireworks to begin.
The Tormorrowland Terrace is a great viewing area for the fireworks. You have a fantastic view of Cinderella Castle from there.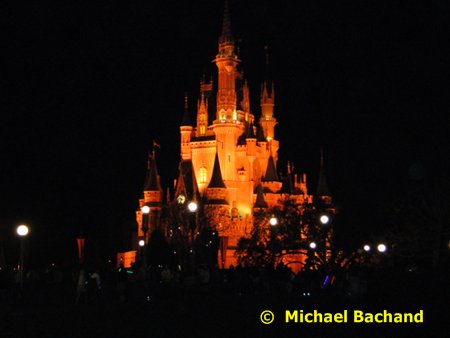 And the night ended with the Wishes Fireworks. A great end to a wonderful evening!
One thing to be aware of is that Tinkerbell will fly right towards you as she flies down from the castle. So, have your cameras ready!
I thought that the Cast Members working this event were exceptional. They were very, very friendly and attentive. I was continually asked if everything was OK, if there was anything that they could do or get for me and stopped at my table and just chatted. They made me feel very welcome and added greatly to the experience.
I would highly recommend the Fireworks Dessert Party to anyone. When I first saw the cost I thought it was a bit pricey for dessert, but now that I've experienced this event, the variety of desserts, the great service, the fantastic fireworks viewing area and the Wishes Fireworks makes this a decent value. I could see where this would be a fantastic event to celebrate a birthday, anniversary or other special occasion.
Finally, I want to say "thank you" to Nelie who was the Manager of this Fireworks Desert Party. (She's also one of the Managers of the Noodle Station.) Nelie was a most gracious and accommodating hostess.
Please let me know if you have any specific questions regarding this event or any comments you may have.
Rate and Review the new Fireworks Dessert Party!
Finally, be one of the first people to hear when my newest blogs go live on AllEars.net by joining "DisneyMike's World" Facebook group.
Well, that's all for now. As my good friend says "see ya real soon"…DizneyMike
Hey, see this little green button? Well, it allows you to share this blog with your family and friends quite easily. Give it a try; it's pretty neat!