In December we stayed at the new Animal Kingdom Lodge Kidani Village for the first time, and I've been meaning to post a follow-up of what I thought about it. There were a lot of things that I liked, but also several things that I didn't.
Since I have lots of photos of the room, I'm going to start with some of the things that aren't so photo-intensive – and also start with the "negatives".
Pembe Savanna – this was the savanna view we had, which is on the "back side" of the resort. It's a lot narrower (especially where our room was) and doesn't have as many animals as the Sunset Savanna – I was very disappointed in how few animals we saw from our room. Next time I will request an even-numbered room – those look out onto the Sunset Savanna.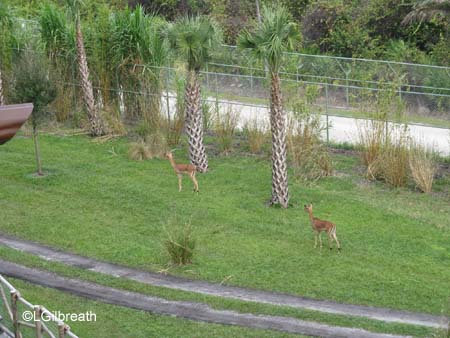 Internet access – though it was free for us as DVC members, the network connection was in the Master Bedroom and NOT out in the living area as it is at most of the other resorts. That was very inconvenient for us since there were nights when I was up late blogging and Lee wanted to go to bed. I wish they would go wireless like they do at the Disneyland resorts. Next time we'll have to bring our own (much longer) network cable, I guess.
Air Conditioning – This was really annoying. There is a vent on the ceiling right inside the doorway to the room, and it was CONSTANTLY blowing cold air – it's on a building-wide system and you can't turn it off. So it always seemed cold in our room – we actually had to turn the heat on! The maintenance people came to our room one morning because they were changing A/C filters and we asked about it – they seemed pretty frustrated about it, too. All they could do for us was close off the vent a little bit, which helped, but did not get rid of the problem.
Motion-activated fans – these were in the bathrooms and the toilet room and were also annoying since they made a fair bit of noise. You sure couldn't sneak to the bathroom in the middle of the night!
Parking – Since Kidani is so large and spread out it was nice to be able to park under the building and relatively close to our room. But there's only one entrance/exit to the parking, and if your room was on the far end of the building like ours was, it was quite a long and circuitous road to get there. There did seem to be another exit about halfway, but it was blocked off for some reason. The garage is divided into sections named after Lion King characters (Timon, Pumbaa, Simba, etc.). The cast members at check-in really need to tell you what section you should park in, otherwise you can end up a LONG way away from your room. There's a place on the room key envelope where that info is supposed to be provided but the CM who checked us in didn't fill it in.
Dining – There is NO quick-service option (especially for breakfast) at Kidani, and the "store" is woefully small with a very poor selection. Yes, you can take the bus over to Jambo House and go to Mara, but that's quite a ways to go (and could be quite a wait for the bus). Lee walked it one morning, and even at his pace it took 13 minutes to go one way (of course from our room it took five minutes just to get to the lobby!). Sanaa is really good, though, and we really enjoyed our meal there – we will definitely eat there again, and we hope the menu stays as varied and interesting as it is and doesn't get "dumbed down" as we've seen at other WDW restaurants.
The Lobby – I really loved the lobby at Kidani. It feels like a scaled-down version of the one at the main Animal Kingdom Lodge, but it also seems more inviting and cozy. I really liked the glass torch lights. And the Library room was a nice place to hang out, too.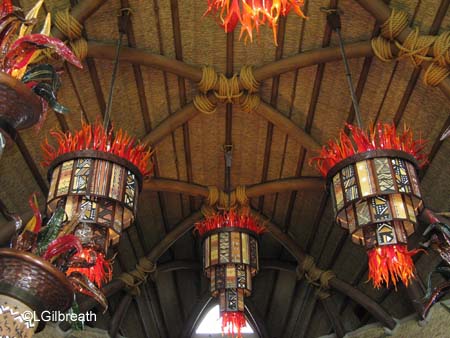 The rooms are beautiful and large – we stayed in a one bedroom villa, and it was very comfortable – I could easily stay there for several weeks or months and feel quite at home! I did find them to be a little bit dark, though – which fits in with the theme, but I prefer something brighter. And it took us a long time to figure out the light switches! Many of the lamps had their own switch, and in some cases the switch was on the *cord* and not on the lamp itself. In the dark the night we arrived those were very hard to find.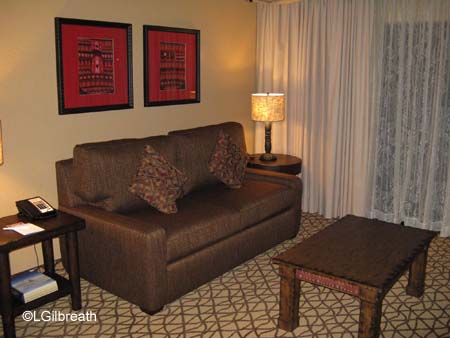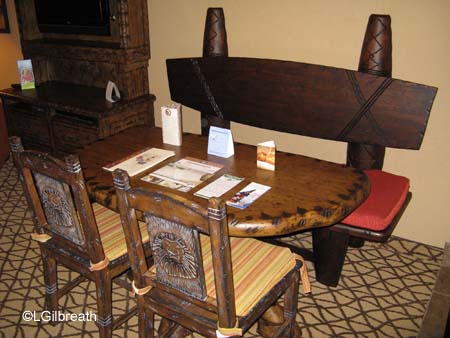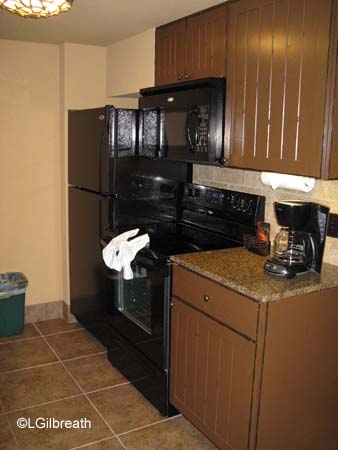 I LOVED the master bathroom – it was HUGE!!! I would especially love to have the big walk-in shower at home…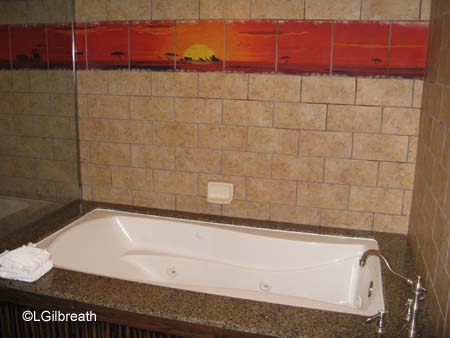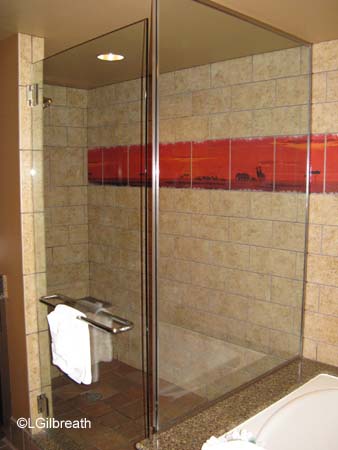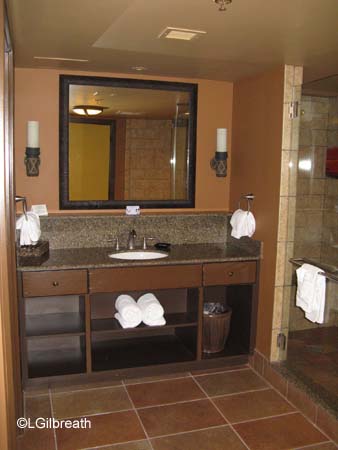 On very cool thing about the one bedroom villas is that they have two full bathrooms, and the second bathroom was very nice, also.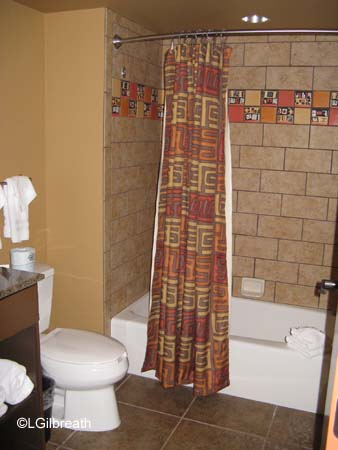 All of the detail in the decor was really amazing – the designers out-did themselves this time.
There were Lion King characters carved into the furniture: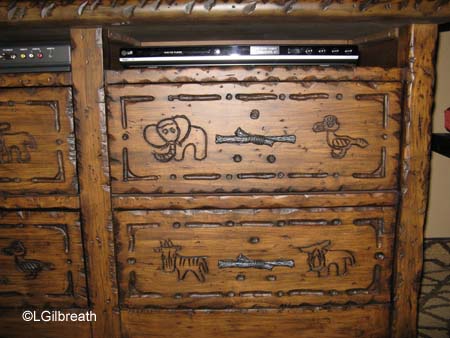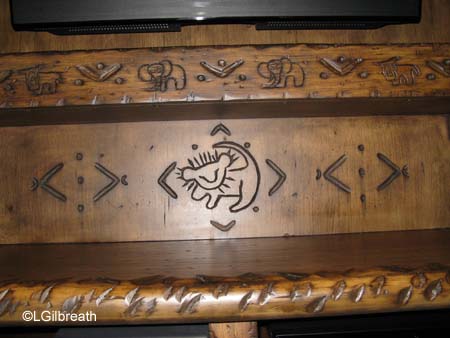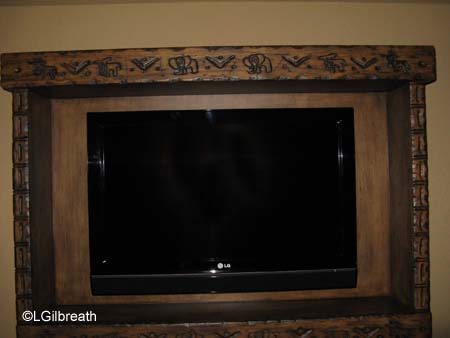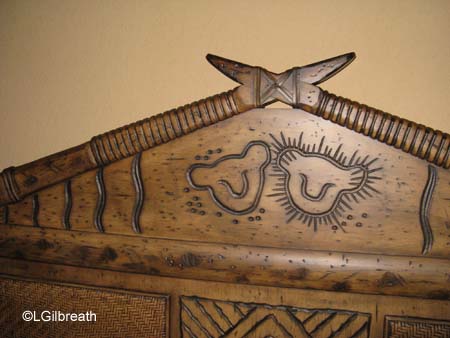 And also painted on the murals in the master bathroom:
And even woven into the curtains!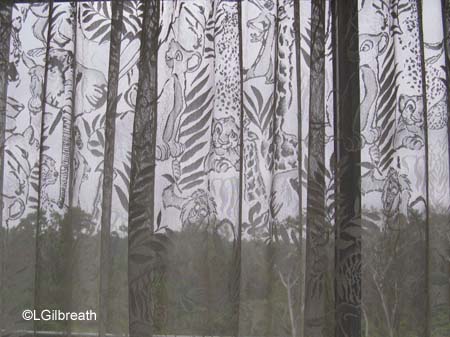 Lee noticed that the legs on the dining room table had hooves like a giraffe.
And here's the back of one of the chairs out on the balcony: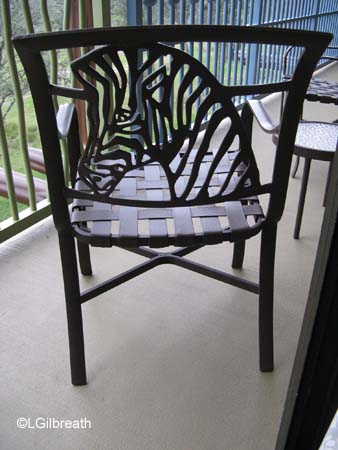 There were lots of other interesting decor details, too – I liked the ostrich egg in the lamp.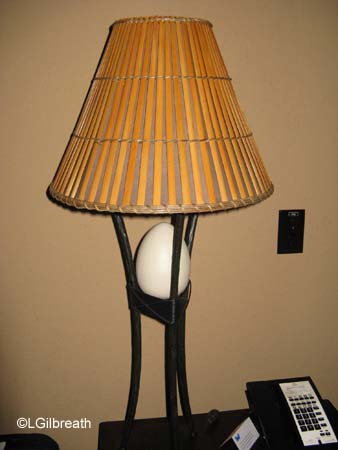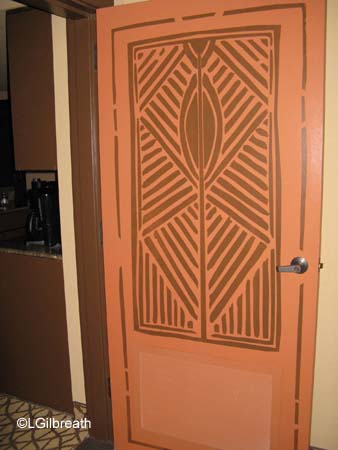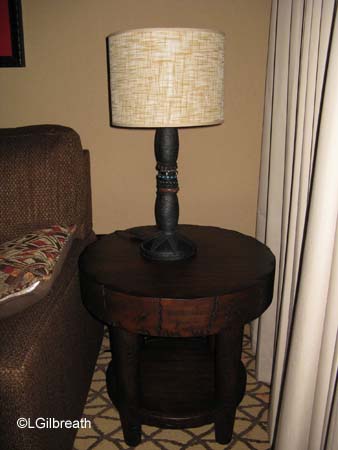 One interesting thing at Kidani: there were quotations painted on walls all over the building – one cast member told us that there were 40. I think we saw 10 or 12 of them – given the size of the building it would take a long time to roam the hallways and viewing areas and track them all down. Might be a good rainy day activity, though!
Jambo House vs. Kidani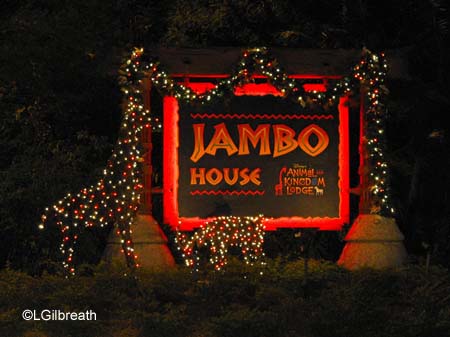 Hmm…I've stayed at both now…and they both have their stronger/weaker points. The rooms are a lot nicer at Kidani, since they were built as DVC Villas to begin with, and are not converted hotel rooms like Jambo House. But there's a lot more dining options at Jambo House, and it doesn't seem to be spread out quite as much. I also think that any of the savanna views at Jambo House are better than the Pembe Savanna (but Arusha or Sunset savannas at Jambo are equivalent to Sunset Savanna at Kidani). Parking is more convenient at Kidani – once you get there. 🙂 I think the lack of dining at Kidani is a big problem – I don't think most DVC members cook while on vacation, but still, it's nice to have ready access to some grab-and-go type items for breakfast or a quick snack, and that's just not available at Kidani.