May 17, 2008
Port of Call: At Sea
The Disney Magic was very slow to waken this morning. Everyone spent the Panama Canal day visiting all parts of the ship, taking photos, enjoying every moment, not wanting to miss a thing — that we were all quite tired.
The sea was like shimmering glass .. so beautiful and tranquil.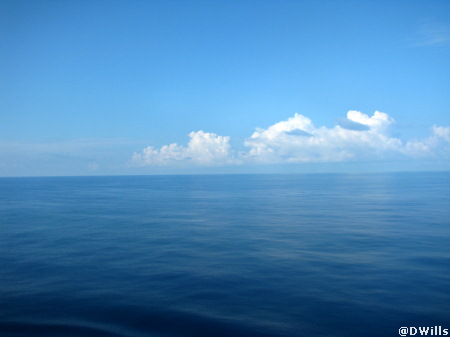 Before getting too far along, I want to send a big HELLO to my friends in the Parklawn Building: Mike, Harry, Don, Denise, Bob, and everyone else!!!!! They listened to my tales of anticipation for weeks prior to the cruise. Plus, they are at work today, and well, I"m on a ship in the Pacific 🙂
I also want to send a big hello to the AllEars team who continue to work hard while I"m on an extensive research trip. Thank you all for minding the home front.
Ok, now onto our Sea Day.
Our 2 main activities for today would be a talk by Ducky WIlliams and dinner at Palo. We had hoped that Prince Caspian would be shown, but it was not. It was shown on Panama Canal day, but we certainly didn't want to be in a theatre on such a historic day.
Before arriving at the Walt Disney Theatre, I ran into Sharon and Sandy.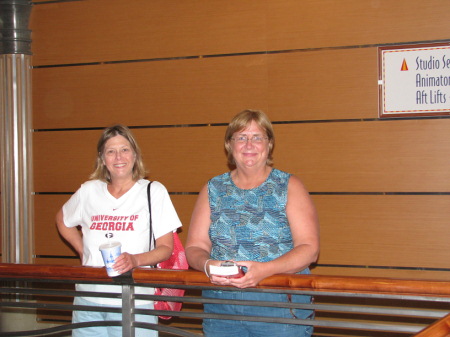 Don Ducky Williams is the premiere Disney Character artist. His talks include an inspiring story of never giving up on your dream! He also draws characters throughout the presentation and then numbered tickets are drawn for lucky winners.
This one is for all Goofy fans and especially Masayo!!!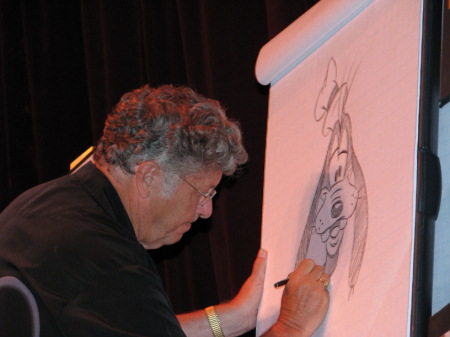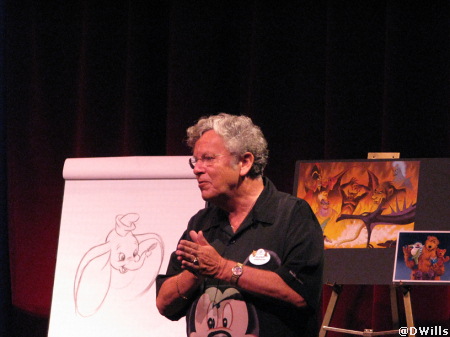 This one is for all you Jiminy Cricket fans, especially Debbie Koma!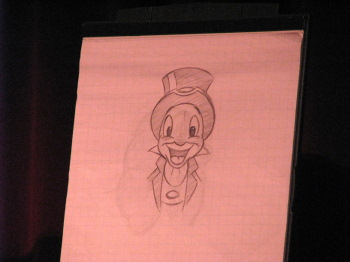 This one is for all Belle fans, especially Mike Scopa!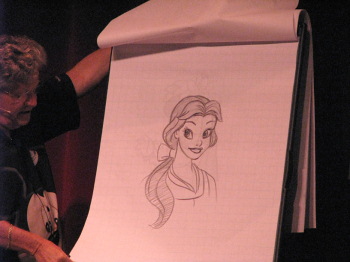 And this one for all Eeyore fans, especially Ames.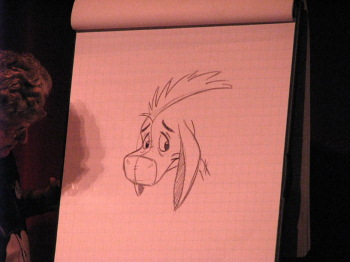 I can't recall what I did the rest of the day, but I'm sure it involved eating, sleeping, reading Barbara Walter's new book and general frivolity!
Prior to our dinner at Palo, I realized we could go on Deck 10 and see the sunset. It was full of beautiful colors.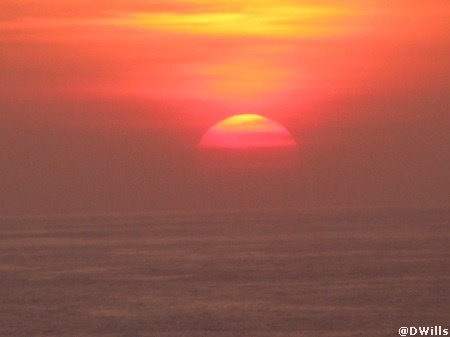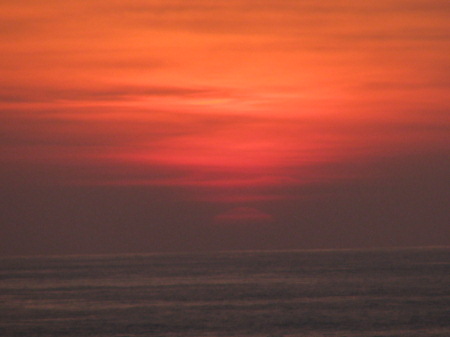 Soon it was time for our dinner at Palo. This is the premiere adult only restaurant on both the Disney Magic and Disney Wonder. The best servers and chefs work here.
We all "cleaned up nice" and were excited for our evening dining experience.
Linda and Deb
Gary and Karen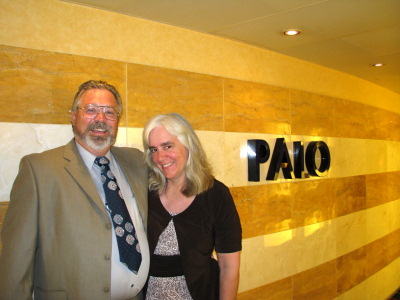 Chris and Beci
Ann and George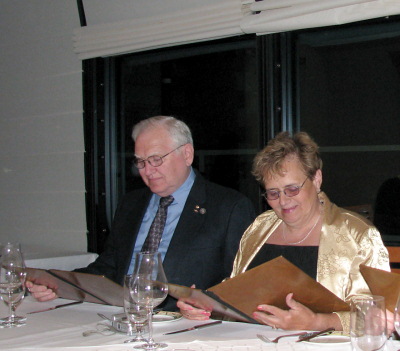 Sharon and Sandy

I had heard several times already about Cecilia, one of the Palo servers. Everyone spoke about how awesome she was. Lucky for us, Cecilia was our server!
Another incredible day has come to an end…..
Are you on the cruise with us? Are you blogging? Send me your link!
Beci and Chris' Blog Panama Canal Blog.
Thanks for the email about this blog, keep it coming!
Follow my Panama Canal Cruise Blogs. Beginning entries at the top, for most recent entries scroll down.
Follow our journey on the DIsney Magic. The call sign is C6PT7
This link will show you in red dots where the Magic is. You can use the ZOOM in and out feature to get a better idea of where the ship is.
To see all cruise ships sailing click here. Then you can click on any area of the map to get a closer view.
Deb and Linda