Hello from very warm (for us Michigan folk) Florida!
I"m Caitlin Burns blogging live from Walt Disney World!
In case you missed yesterday's post, here's my intro!
I really don't think that there is a better sound than that of your pilot saying," We are touching down in Orlando Florida!" It's then that you realize, wow I am awake and I am actually going to Disney World!
My parents and I rode the Disney Magical Express to Port Orleans Riverside. I highly recommend taking the Magical Express no matter how old you are because they show a video of Disney World on the way to your hotel and it gets you really pumped for how much fun you are going to be having, plus driving through the Walt Disney World welcome sign is very cool!
When we got to our hotel, check in was easy and our room was ready even though we showed up earlier than we were scheduled. Our room is awesome! It's in Oak Manor and having never stayed in the mansions at Port Orleans it's very cool! We even have a fridge and outside of the mansions you have to ask for one. We are also right near one of the relaxing pools. I am looking forward to getting some sun out there!
After we got settled in we left to have lunch at the Crystal Palace. My parents went to the restaurant to check in while I went to Philharmagic to get Fast Passes. The last time we went I bought a My Pal Mickey, I recommend it because all of his corny jokes and singing will have you rolling with laughter, and he has some very interesting facts about the park so listening to his take on Fantasyland was fun.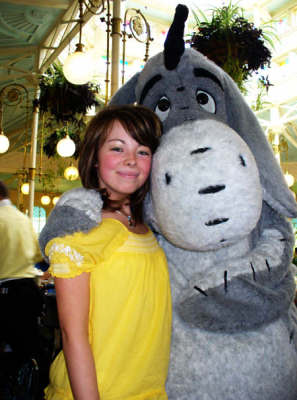 I always love character dining! You get to sit down enjoy your food and let the characters come to you! Plus you get to watch all the little kids interacting with the characters. I am an only child so it was nice watching the younger kids meet the characters
My parents had on their happy anniversary buttons and the Crystal Palace cast members noticed it right away. They had us wait a few minutes while they made a heart made out of confetti on the table. Later they also got a certificate signed by Pooh, Eeyore, Piglet and Tigger! I didn't really enjoy the food at the Crystal Palace this time around though, unless you like more exotic foods (the broccoli had lime sauce on it!) then I wouldn't recommend it but it's nice to meet the characters.
On our way to Philharmagic we ran into Cinderella's ugly stepsisters! They were so much fun! I love getting my pictures taken with the characters and I think villains are more fun for teens.
They started singing "Do the Bustle" which would go right over little kids heads but for us older people it's funny. The stepsisters improvise a lot (they started screaming when my family walked up because Mickey was hooked on my purse and they don't like mice), and as I said, the villains are more fun.
Then we went over to Philharmagic which is one of my absolute favorite attractions! It's funny, has your favorite Disney songs in it and is 3D! I don't think you could do any better than that lol.
When we walked out of Philharmagic the parade was just starting.
Caitlin tip: Get in line right behind the taped walkway and stand there until the parade starts, once it starts and the walkway is closed you can be right on the curb!
I always love the parade and no matter how many times you see it, it's still amazing!
I got a couple more pictures with characters and then we left to get our rental car. I recommend getting a rental car because I am not a fan of having to wait for buses if you leave one of the parks late at night. That and a rental car gives you a little more freedom if you feel like going out to explore.
My family and I decided to go to Downtown Disney's Market Place. I love shopping so this is one of the places I have to go to whenever we visit! Downtown Disney is really made for older people because they have a movie theater, Disney Quest and of course shopping. This is somewhere your family can split up for a while and do their own thing then meet back up later.
I tried a caramel apple at Goofy's Candy Co. "WOW" is the best word to describe how good it tasted lol.
I can't wait for tomorrow! Ttyl!