You're All Wet! Water Parks at Walt Disney World
by Kristin Ford
AllEars® Feature Writer
Feature Article
This article appeared in the March 13, 2012 Issue #651 of ALL EARS® (ISSN: 1533-0753)
One of the best things about Walt Disney World water parks is that there truly is something for guests of all ages. I have been taking my family to both Blizzard Beach and Typhoon Lagoon since my kids were babies — they're 7 and 9 years old now — and each season we find something "new" to do. As they've gotten older, and taller, their interests have changed.
I'm often asked which park is better, and while I don't think guests will be disappointed at either, I do think that each park has advantages for different ages. Another consideration might be your personal preference for the setting: Blizzard Beach is themed around the results of a freak snow storm hitting Central Florida, and Typhoon Lagoon is what was left behind after a tropical storm blew out to sea.
===============
TODDLERS
===============
When my kids were toddlers, Blizzard Beach was our favorite Disney water park because of Tike's Peak, the kiddie area designed for offspring 48 inches and shorter. (Cast members do measure children, which I appreciated, because it keeps older kids, who might be too rough, from interfering with the little ones' fun.)
Tike's Peak offers miniature versions of some of the water park's signature rides, plus special features just for toddlers. At the top of the "peak," kids can choose from gentle side-by-side slides (that parents can go down, too); tiny covered slides; a slow-moving, slightly curved body flume; and an inner tube ride. At the bottom, there is a splash area with fountains; a water jets section; and even sandboxes for making castles.
With little kids, having shade during the day is important for breaks and naps. There are huts, some with picnic tables, scattered around Tike's Peak, but you'll need to get there early to snag one. We especially liked setting up camp in one of the few huts that are located at the top of the "peak," because they are located in front of the tiny covered slides.
Toddler Tips:
— Life jackets are available for free at Snowless Joe's, or you can bring your own. Because the water is very shallow and I was always with my children in Tike's Peak, we didn't use them there. However, for many years, when our family swam in the Cross Country Creek, or lazy river, the kids always wore life jackets because of the currents and crowds.
— Guests can bring in coolers, but no alcohol or glass containers are permitted. In addition to saving money, we liked the convenience of having drinks and lunch ready when we were — no lines or traipsing back to the front of the park. This certainly helped avoid meltdowns with kids and adults alike!
Typhoon Lagoon has an area just for those 48 inches and shorter, too, called Ketchakiddee Creek. The centerpiece is a ship structure where kids can man the decks and shoot water cannfons at guests defending their stations. The littlest visitors can also choose two concrete slopes to scoot on their bottoms under arches of water, an inner tube ride, multiple short slides and a shallow basin of water for splashing around. Playing in the sand is also encouraged.
Perhaps the coolest feature for young kids is across Castaway Creek, the lazy river, and on the edge of the Typhoon Lagoon Surf Pool. The Bay Slides are body slides for guests 60 inches and shorter and they empty into the side of the wave pool. There is a lifeguard at the top to monitor when guests start, but I'd advise parents to stand at the bottom to wait for younger kids. When the waves roll through the pool, there are some currents at the bottom. Still, these slides are lots of fun!
More Toddler Tips:
— It can be difficult to take photos of your young children when you're also trying to play catcher at the bottom of a slide, so be sure to get a card from a Disney PhotoPass photographer. The cost of a few professional photos may save you the cost of a new camera!
— The kiddie area at Typhoon Lagoon is located near the back of the park, while its counterpart at Blizzard Beach is located near the front. Strollers are permitted, but if walking is a factor for your party, you may want to choose Blizzard Beach.
===============
PRE-TEENS
===============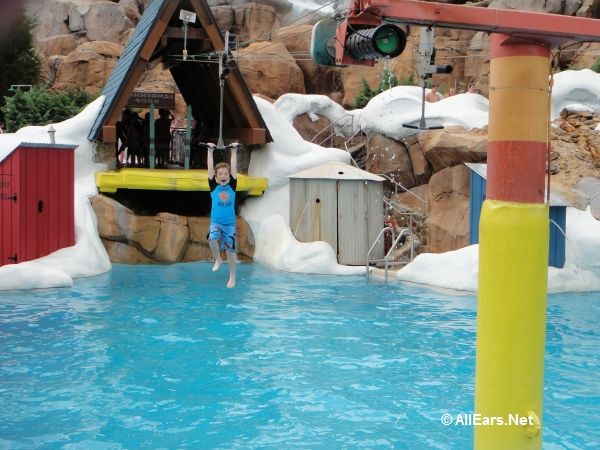 Blizzard Beach is the only water park that has a designated pre-teen area, Ski Patrol Training Camp. Pre-teen is a loosely defined term here; it's really a collection of rides for kids who are too old for Tike's Peak and too young for the full-size slides. There is no minimum age, though shorter kids may not be able to reach some overhead items to participate.
The floating iceberg walks — where kids grab nets hanging above to balance — are always busy. Maximum age is 13. The T-Bar next door reminds me of the old River Country fixture that even adults could try. This one, however, is limited to guests 60 inches and shorter and drops into water more than 8 feet deep. There are also Cool Runner inner tube slides and tame body slides in this section.
Tip: If you're planning to set up near the Ski Patrol Training Camp, request a locker in that area so you won't have to make frequent trips to the front of the park.
===============
FAMILIES
===============
Both water parks have several attractions designed for families to enjoy together. In addition to the lazy rivers, each has a large wave pool — the one at Blizzard Beach is a gentler version of the pool at Typhoon Lagoon where surfing lessons actually take place. Inner tubes are allowed in Melt-Away Bay, but not in the surf pool. Both parks also include family raft rides — Teamboat Springs at Blizzard Beach and Gangplank Falls at Typhoon Lagoon. The rafts are bigger and the ride is the world's longest at Blizzard Beach. In addition, there are individual body slides and inner tube rides for adults and older children.
Tip: Guests are allowed to bring in small toys or sand buckets, but rafts and inflatable water toys are not permitted.
===============
UNIQUE ATTRACTIONS
===============
Want to swim with sharks? You can at Typhoon Lagoon. In the Shark Reef, guests don complimentary snorkels, masks and life vests to swim over colorful fish and small, passive sharks. There's an underwater viewing area for those who don't brave the cold water. Kids must be able to swim on their own, so this is not for the youngest of guests.
At Blizzard Beach, guests can take a one-way ride on a chair lift to the top of Mount Gushmore. There is a minimum height requirement of 32 inches (48 inches to ride alone). From the top, they can ride down the Toboggan Racers and Snow Stormers on mats.
Tip: The lines can grow quite long for the chair lift, which seats three people per lift. If you don't mind splitting up your party, you might reach the top of the mountain quicker on the single-rider queue.
===============
THRILL-SEEKERS
===============
Summit Plummet, Blizzard Beach's signature slide, drops riders in a vertical free-falling, 120-foot slide from the highest point in the park. A companion speed slide, Slush Gusher, isn't a straight drop and instead offers a hilly, bumpy ride. Both have a minimum height requirement of 48 inches.
At Typhoon Lagoon, Crush 'n' Gusher is Disney's first water coaster. It propels riders up and down hills before plunging into a pool. This same technology is used on Disney Cruise Line's newest ships, the Disney Dream and the Disney Fantasy, to create the AquaDuck. There is a minimum height requirement of 48 inches.
Both parks have speed slides that also have that 48-inch height requirement.
Tip: Crush 'n' Gusher empties into a pool that is roped off, and one half is open to swimmers. It's a zero-entry area that's perfect for little ones to splash in without the crowds or waves of the big surf pool.
EDITOR'S NOTE: Typhoon Lagoon reopens from its annual refurbishment this coming Sunday, March 18. Its normal operating hours, along with Blizzard Beach, will be 10 a.m. to 5 p.m. daily.
=================
RELATED LINKS
=================
AllEars.Net has a wealth of information about Typhoon Lagoon and Blizzard Beach. Want to check out the menus ahead of time to determine if you'll pack or buy? Look at: http://allears.net/menu/menus.htm#bliz
You can find frequently asked questions about Blizzard Beach at http://allears.net/btp/bb.htm and Typhoon Lagoon at http://allears.net/btp/faq_tl.htm, including information about the new premium seating packages at both water parks.
Finally, want to see what other recent visitors say about their trips? See http://land.allears.net/reviewpost/showproduct.php?product=331&cat=82 for Blizzard Beach reviews and http://land.allears.net/reviewpost/showproduct.php?product=332 for Typhoon Lagoon reviews.
=-=-=-=-=-=-=-=-=-=-=-=-=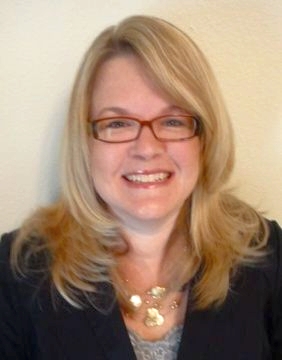 ABOUT THE AUTHOR:
Kristin Ford is a freelance writer who lives in Orlando. She wrote about The Walt Disney Co. during many of her 17 years at the Orlando Sentinel, before joining the AllEars.Net staff. Kristin has been visiting Walt Disney World since River Country was the only water park, and she fondly recalls childhood visits there. You can follow her adventures through the parks with her family on Twitter @Kristin_B_Ford.
Read Kristin's blogs on AllEars.Net at:
http://land.allears.net/blogs/guestblog/guest_bloggers/kristin_ford/
-o-o-o-o-o-o-o-o-o-o-o-
Editor's Note: This story/information was accurate when it was published. Please be sure to confirm all current rates, information and other details before planning your trip.