WDW Chronicles Year One: The Dream Begins
by Jim Korkis
Disney Historian
Feature Article
This article appeared in the February 15, 2011 Issue #595 of ALL EARS® (ISSN: 1533-0753)

EDITOR'S NOTE: This month, as part of AllEars.Net's "15 Years of AllEars®" Anniversary celebration, AllEars® is delighted to launch a series of articles written by acclaimed Disney Historian Jim Korkis. In these articles, which will appear monthly, Korkis explores and celebrates another milestone anniversary — the 40th Anniversary of the Walt Disney World Resort.
---
I am very excited to have been given this monthly forum to celebrate the 40th anniversary of Walt Disney World by taking a look at the opening year of this unique and beloved vacation destination. By examining the early history of the world's largest and most visited recreational area, I hope it will increase the appreciation of its many wonders for new visitors, as well as bring back pleasant memories for more frequent guests.
Because of its warm weather and rustic natural beauty, Florida was a tourist destination as early as the 19th century when Silver Springs hosted paying visitors in 1860. That site became even more popular when the famous glass-bottom boats were added in 1878.
Attractions like Cypress Gardens (opening in 1936 with gardens, Southern belles and later water ski shows), Weeki Wachee Springs (opening in 1947 with beautiful underwater mermaids) and Gatorland (opening in 1949 with the opportunity to see alligators up close and personal) and so many other locations were entertainment venues that also capitalized on Florida's natural and untamed environment.
There was no real tourism activity in the sleepy little agricultural town of Orlando 40 years ago. There were mostly home town stores and roadside stands to provide the necessities of life. In 1970, Orlando was home to about 90,000 people (according to the census) and was surrounded by orange groves, farms, and wetlands. The main industries in Orlando were cotton, cattle and citrus fruit.
While the city was growing, it would probably have developed along the lines similar to other mid-size Southern cities of today if not for the vision of one man.
As the famous Walt Disney stood on the marshy land in the heat and humidity, he did not see an inhospitable landscape with dangerous swamps hidden in thick forests of tangled trees and scrub brush. As he shaded his eyes and squinted into the flat distance, Walt saw clearly a city of tomorrow, families enjoying themselves, a towering castle, innovative hotels that were themed and much, much more.
No matter how hard the other executives standing next to him squinted or twisted their heads, they couldn't imagine how this unforgiving land could be tamed and twisted to accommodate to become a magic kingdom, but they were smart enough not to share those negative opinions with Walt.
There are several fine books and articles that have well documented the struggles, secret negotiations, and construction challenges that occurred over a six-year period to make Walt's final dream come true in October 1971.
These columns will concentrate on the first year or so of operation of Walt Disney World, sharing stories and information that have been forgotten or "lost" for more than four decades. As those who experienced those historic days first days well know, it was a much different park for both guests and cast members than the one enjoyed by guests today.
Here are some excerpts from an uncopyrighted memo released to the press and participants before the opening of the Magic Kingdom in 1971 about the first participants at Walt Disney World. I've put my commentary in parentheses.
U.S. STEEL COMPANY
U.S. Steel is leasing land from Walt Disney World company to construct hotels with modular units. The Walt Disney World Hotel Company will operate the hotels. This is the first use of modular steel units in this type of construction, and may be the forerunner of this type of product in the future. (COMMENT: This refers to the Contemporary and the Polynesian resorts. Before the opening, the Disney Company bought out U.S. Steel's interests.)
KAL KAN
The Kal Kan Kennel Club will be similar to the facility they sponsor at Disneyland, which is a holding area for the pets of guests visiting Disneyland. The only difference will be overnight accommodations for pets in WDW.
GULF OIL CORPORATION
In addition to the service stations located on the project for both guests and employees, Gulf Oil will sponsor the introduction to the Walt Disney Story, which will be located in the Main Street Hotel building on Town Square. Gulf will have the exclusive rights for oil products in the projects, and will have the same for Disneyland.
OSCAR MAYER
Oscar Mayer will be billboard sponsor of the Hotel Coffee Shop in Town Square. This will be our prime in-Park breakfast area for Walt Disney World, and their products will be served exclusively in this area. Their ham, sausage, and wieners will be served exclusively in the Hotel Coffee Shop and throughout the Theme Park.
GAF CORPORATION
GAF will have an operation similar to their Disneyland facility, dispensing photo information to the guests visiting the Theme Park. They will also provide photo trail signs, which are the picture taking spots they have selected throughout the Park. Their film will be the official film of Walt Disney World, as it is at Disneyland. (COMMENT: GAF, which was responsible for the well beloved Disney Viewmaster reels, replaced longtime Disney participant Kodak in 1970 as the camera and film supplier at the Disney parks.)
SAVANNAH SUGAR (Market House)
Savannah Sugar will be associated in the Market House, and will be the official sugar of Walt Disney World. Their section will include penny candy as was found at the turn of the century in market houses.
J.M. SMUCKER COMPANY (Market House)
Smucker will be the second participant in the Market House, and will display and sell gift packs of their jams and jellies. Their products will be served throughout the project.
PLANTER'S PEANUTS (Market House)
Planter's nut products will also be featured in the Market House.
HALLMARK, INC.
Hallmark will have a shop similar to their facility at Disneyland, which they will operate themselves. We have recently entered into a licensing agreement with Hallmark for use of the Disney Characters on cards and other products outside Disneyland. (COMMENT: Joyce Clyde Hall, the founder of Hallmark Cards, was a longtime friend of Walt's and you can see a letter from him to Walt in the ONE MAN'S DREAM attraction at Disney's Hollywood Studios. One unidentified item in that attraction in Walt's informal office, behind his chair, is a small gold crown, the symbol of Hallmark and a special gift from J.C. to Walt. Hallmark signed their first licensing agreement with Disney in 1932.)
COCA-COLA COMPANY
Coca-Cola will have two locations within the Theme Park-Main Street Refreshment Corner, and the Tomorrowland Terrace. Their products include Coca-Cola, TAB, Fresca, and Fanta Flavor, and will be served at both locations. (COMMENT: TAB stood for "Totally Artificial Beverage" and a TAB bottle is in one of the shadowboxes in the lobby of the Pop Century resort at WDW. Coca-Cola became the sole soft drink participant in 1982, when it also became the sponsor of the American Adventure at Epcot.)
SARA LEE
Sara Lee will sponsor the Main Street Bake Shop, which will be a self-service snack operation. Sara Lee products will be sold exclusively in this location. In addition, they will sponsor the Creole Cafe in Disneyland starting with the summer of 1971.
BORDENS
The Ice Cream Parlor will be sponsored by Bordens, with their milk, ice cream, and cheese products being served and sold exclusively in Walt Disney World. In addition to the Main Street locations, Bordens will have identification on all ice cream carts, as well as a soft ice cream stand in Fantasyland. (COMMENT: Borden's mascot was Elsie the Cow. The 15th "live" Elsie opened the Ice Cream Parlor at WDW in 1971.)
FLORIDA CITRUS
Florida Citrus will sponsor the Tiki Room in Walt Disney World. Our contract states that we cannot use anything but Florida Citrus products on the property. Individual brands cannot be promoted, only citrus from Florida. (COMMENT: The Florida Orange Bird was designed by Disney and featured on a variety of merchandise from banks, records, toys and more. The Orange Bird was created for the Florida Citrus Growers when they sponsored the Magic Kingdom's Tiki Room. There was even an Orange Bird walkaround costumed character who was outside the Sunshine Tree Terrace where Florida Orange Juice was sold. The sponsorship ended in 1986.)
PEPSI-COLA AND FRITOS
Because they are the same company, PepsiCo, they have the joint sponsorship of the Bear Band. In conjunction with the show, there is an eating facility which will consist of the Mile Long Bar and Pecos Cafe. Their products will be served exclusively in these locations. In addition to Pepsi-Cola, Diet Pepsi, and Teem, they will also have their flavor line available. Fritos will dominate the snack food area with corn chips, potato chips and onion rings. Both brands will be served throughout the Park.
WELCH FOODS
Welch's products will be served exclusively at the Mickey Mouse Refreshment Stand in Fantasyland. Their only area of exclusivity is grape juice, and this is somewhat restricted throughout the Park. (COMMENT: In Disneyland's Fantasyland, there was a Welch's Grape Juice Bar near the Fantasyland Theater that opened in 1955.)
TOMORROWLAND
We have talked to several companies about sponsorship of major attractions in Walt Disney World's Tomorrowland. However, none are to the signed-contract point. Those companies include RCA, Johns-Mansville, Eastern Air Lines, Edison Electric Institute, Monsanto and American Telephone and Telegraph. At this writing, the only participant in Tomorrowland is Coca-Cola at the Tomorrowland Terrace. In addition to the above, we are in serious discussions with National BankAmericard, Inc. and the Hertz Corporation.
=-=-=-=-=-=-=-=-=-=-=-=-=-=-=-=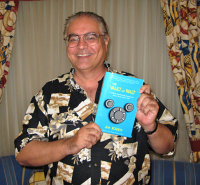 ABOUT THE AUTHOR: Jim Korkis is an internationally respected Disney Historian who has written hundreds of articles about all things Disney for more than three decades. He is the author of the popular recently published book The Vault of Walt, which contains nearly 40 chapters of untold Disney stories. As a former Walt Disney World cast member, his skills and historical knowledge were utilized by Disney Entertainment, Imagineering, Disney Design Group, Yellow Shoes Marketing, Disney Cruise Line, Disney Feature Animation Florida, Disney Institute, WDW Travel Company, Disney Vacation Club and many other departments.
Read more about the The Vault of Walt: http://astore.amazon.com/debsunoffiwaltdi/detail/0615402429
-o-o-o-o-o-o-o-o-o-o-o-
Editor's Note: This story/information was accurate when it was published. Please be sure to confirm all current rates, information and other details before planning your trip.