WDW Chronicles: The Florida Orange Bird's Colorful History
by Jim Korkis
Disney Historian
Feature Article
This article appeared in the March 6, 2018 Issue #963 of ALL EARS® (ISSN: 1533-0753)
Editor's Note: This story/information was accurate when it was published. Please be sure to confirm all current rates, information and other details before planning your trip.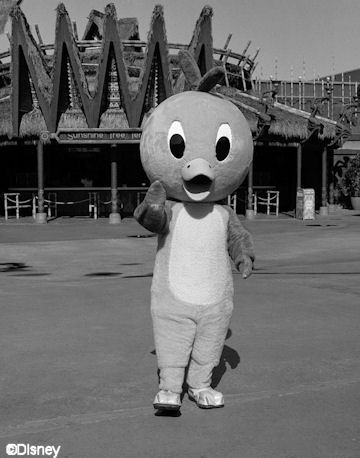 Forty-seven years ago, on March 3, 1971, the Florida Orange Bird made his costumed character debut at a press event in Lakeland, Florida, about six months before his official appearance in Walt Disney World's Adventureland. Since that time, the little bird with the oversized head in the shape of an orange that was developed as part of a commercial sponsorship agreement between Walt Disney Productions and the Florida Orange Growers has had an up-and-down history.
For Walt Disney World fans of a "certain age," the Florida Orange Bird, which was "the friendly face of Florida sunshine and fresh squeezed Florida orange juice" was part of their childhood and they mourned when he disappeared in 1986 to become just another memory of the original Magic Kingdom. But in recent years, the Orange Bird has been making a bit of a comeback, and it is even featured rather prominently at this year's 25th annual Epcot International Flower and Garden Festival.
Walt Disney Productions entered into negotiations with the Florida Citrus Commission (FCC) for a Florida Citrus Growers sponsored Magic Kingdom attraction in 1967. A contract was signed on Oct. 22, 1969, formalizing the FCC's underwriting of a "tropical bird show" at a cost of $3 million. In 1968 the Florida Citrus Commission signed Anita Bryant, a former Miss America contestant and singer, as its official spokesperson. She later appeared at events featuring a costumed Orange Bird character and in advertising like television commercials for Florida orange juice that featured an animated version of the Orange Bird.
"The Orange Bird, created by Walt Disney Productions for exclusive use of the Florida citrus industry, hopped out of a (1970) meeting with Disney marketing people after Department of Citrus advertising materials were placed on a table with a request for recommendations on how to blend the advertising with the promotional promise of Walt Disney World," according to an article from the Los Angeles Times from March 30, 1972.
The character's final design was by C. Robert "Bob" Moore who handled many special projects for The Disney Company, including the design of the Walt Disney postage stamp and the eagle mascot for the 1984 Olympic Games. Of course, everything at Disney is done in collaboration, and in recent years there has been evidence that Disney artist Don MacLaughlin came up with some preliminary designs that inspired Moore's final design.
That same Los Angeles Times newspaper article said, "a story line was developed by Vince Jefferds." Jefferds worked at Disney for 32 years. During that time he authored two dozen Disney-related children's books. He became vice president for Disney sales promotions in the domestic and foreign divisions in 1972.
Disney Archivist Steve Vagnini graciously shared with me that the Archives had a memo from Vince Jefferds from early 1970 stating that Don MacLaughlin "designed a number of Orange Birds" that Vince and Bob would be able to "narrow down from." Bob Moore oversaw the character's design and he was responsible for the ultimate look of the character.
"We also have correspondence from Vince in Card Walker's file indicating that Bob Sherman was assigned to write the story of the Orange Bird," Vagnini added, "and that he and Richard Sherman were assigned to write the songs for the album. Perhaps Vince came up with the basic concept, and Bob went into more detail?"
That initial story of the little bird migrating south by himself and being adopted by a vacationing family when he saved their lives was expanded upon with an original song written by the Sherman Brothers:
"With his beautiful orange feathers
And beautiful leafy wings
He's a fluffy little puffy sight to see
He can turn your frown around
When you see him looking down
The little Orange Bird up in the Sunshine Tree"
The little bird had two green leaves sticking out of the top of his orange head as well as a collar and wings made of green leaves, a uniquely Florida creation. He never spoke but orange puffs of smoke over his head revealed images of what he was thinking.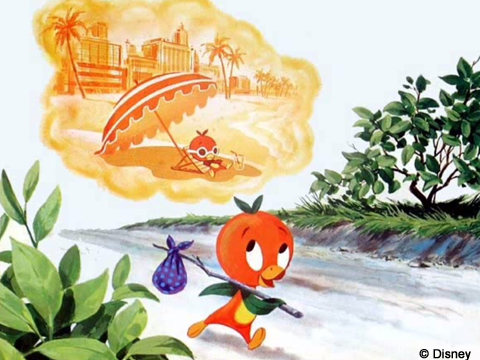 The character wasn't just confined to Walt Disney World, because he was designed to represent the Florida orange industry. In the 1970s and 1980s, the costumed Orange Bird attended events like parades with the currently reigning Miss Florida Citrus. On the roads to the Magic Kingdom, visitors would see billboards, souvenir stands and other advertisements promoting the Orange Bird and the "new" Walt Disney World.
The official "home" of the little bird was specifically on a perch at the Sunshine Tree Pavilion in Adventureland at the Magic Kingdom. That pavilion opened October 1, 1971, along with the rest of Walt Disney World, but it wasn't officially dedicated until October 6, 1971. Anita Bryant sang "The Orange Bird Song" and "Orange Tree," tunes written by the Sherman Brothers as part of the ceremony. She also included "How Great Thou Art," one of her favorite hymns and part of her singing repertoire.
Florida Governor Reubin Askew pressed a button on an orange to formally open the Tropical Serenade attraction, which had already been viewed by thousands of Disney guests in its first few days of operation.
"I'm really proud of the Citrus Commission for its foresight," said Askew, alluding to the years of planning and work by the commission and Disney. The Governor stated that the Disney-created Orange Bird would be featured in a $6 million advertising campaign planned for 1972.
Donn B. Tatum, president of Walt Disney Productions at the time, joined the ceremony, which included music by musicians wearing bright orange jackets.
"Millions in the years ahead will visit the Sunshine Pavilion," Tatum said. "And they will appreciate the Citrus Commission for making this moment possible."
When the Tropical Serenade show (a duplicate of Disneyland's Enchanted Tiki Room show) finished, exiting guests passed by the Sunshine Tree Terrace, where they could stop for a cool dessert and sometimes a visit with none other than the Orange Bird himself.
The walk-around Orange Bird costumed character was designed by Disney Legend Bill Justice, who had designed many of the Disney park character costumes. Like the other character costumes, it went through several adjustments over its decade-and-a-half of greeting guests.
The Orange Bird appeared in his own animated Disney short, Foods and Fun: A Nutrition Adventure (1980). This 12-minute animated short for the Walt Disney Educational Media department was produced and animated by Rick Reinert Productions, which would later produce and animate the theatrically released Winnie the Pooh animated featurette, Winnie the Pooh and A Day for Eeyore (1983). (To tie in with the release of this film, Walt Disney Educational Media produced a supplemental comic book, very similar to other comics it produced at that time, including "Mickey and Goofy Explore Energy" and "Mickey and Goofy Explore Business.")
"Orange Bird in Nutrition Adventures" (1980) is a 32-page comic book with three separate stories written by Diana Gabaldon and drawn by Tony Strobl.
In 1977, Anita Bryant became a very visible and vocal opponent against anti-discrimination legislation in Miami where she lived. Her public and very vocal opposition to homosexuality lead to a boycott of Florida citrus products. The Florida Citrus Commission ended its relationship with the singer, but the public damage had been done since she was so closely associated with the brand. While the little Orange Bird survived, he was left without a public spokesperson to speak his thoughts and sing his praises.
Disney and the FCC signed a new, five-year sponsorship agreement in 1981, maintaining their formal connection to the Sunshine Tree Terrace and the Tropical Serenade. They also negotiated for another juice bar in the form of Fantasyland's Enchanted Grove (now known as the Cheshire Cafe).
By that time, the Orange Bird had ceased to appear in television commercials and was primarily a licensed character whose likeness continued to appear on merchandise like PVC figures and plastic banks sold at souvenir shops and orange fruit stands throughout the state. In 1986 the Florida Citrus Commission and Walt Disney World parted ways when the contract was not renewed.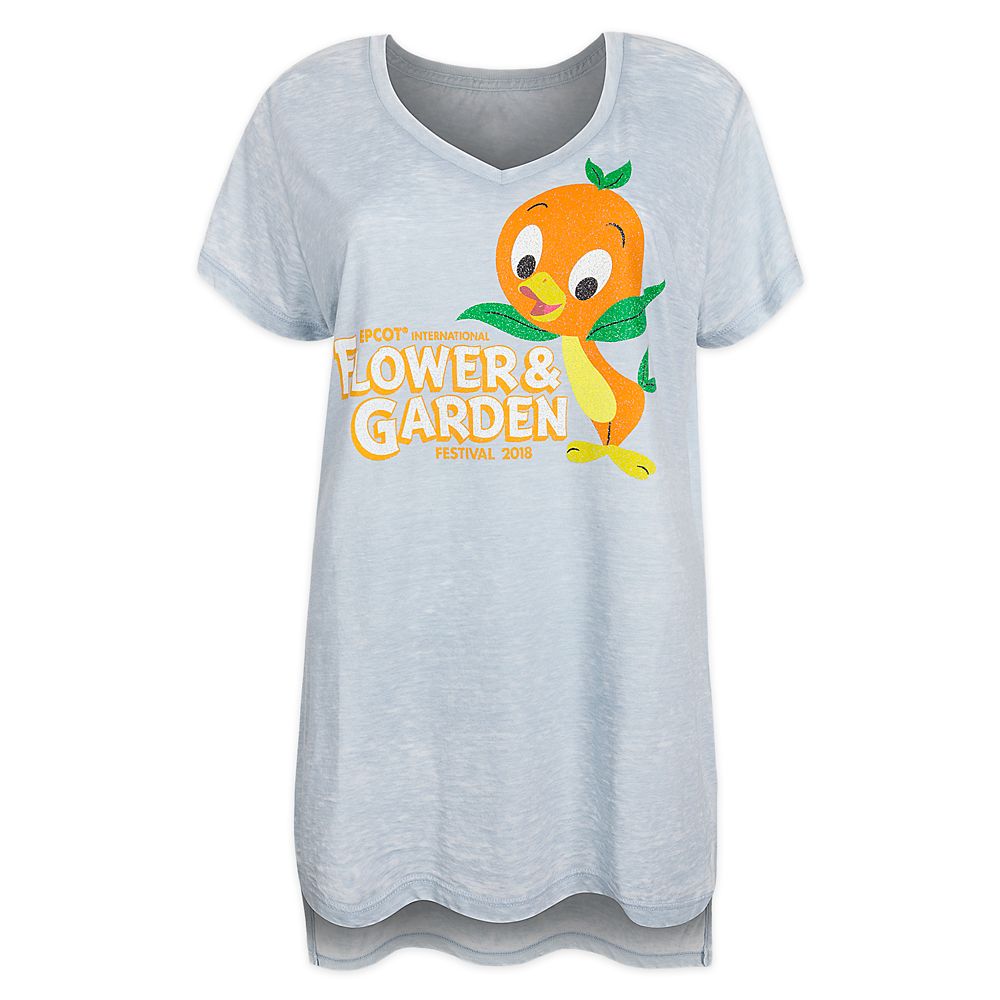 Paid partnership with Disney
Disney Imagineer Jason Grandt should receive recognition for being the hero behind the recent, classy re-introduction of the character. Among other things, Grandt designed T-shirts and a new attraction poster.
A special event, a so-called "Tweet Meet" for members of D23, the official Disney Fan Club, was held on April 17, 2012, before the Magic Kingdom opened for the day. The 71 D23 members and their guests who showed up for the meet included many Disney bloggers and podcasters. They were told they would receive a "special treat." Archivist Steve Vagnini hosted the intimate presentation, which included short speeches by Grandt and Imagineer Dave Hoffman, Disney Design Group cast members Monty Maldovan and Casey Jones and a recorded music presentation by Melo-D23, who, under the direction of composer Richard Sherman in California, had re-recorded two of the Orange Bird songs.
Grandt revealed that the original Orange Bird figure had been located, hidden away in a drawer in the WDI Sculpture Studio in California. One of the reasons the original figure still existed and was in good shape was that it had been replaced at the Terrace early on with an improved version that moved its green leaf wings up and down, turned its head, and swung back and forth giving it more of an illusion of life. That upgraded figure still seems to be unaccounted for, but the original was restored by Kevin Kidney and included in a new display behind the counter of the Sunshine Tree Terrace. In addition, there was an all-new marquee that featured the beloved character.
On March 15, 2015, the Sunshine Tree Terrace traded locations with Aloha Isle Refreshments, but both kept their same menus. The Orange Bird figure was relocated to the new Sunshine Tree Terrace location on May 29.
Today, there is new merchandise showcasing the lovable little character. The current Flower and Garden Festival highlights the Orange Bird on its merchandise, including on mugs, tote bags and T-shirts. Although no new costumed version of the character is available for meet-and-greets, guests can still get a "virtual" photo with Orange Bird through special PhotoPass "Magic Shots."
It is still uncertain what his future and ongoing presence in the parks might be, but the Florida Orange Bird's past was certainly colorful.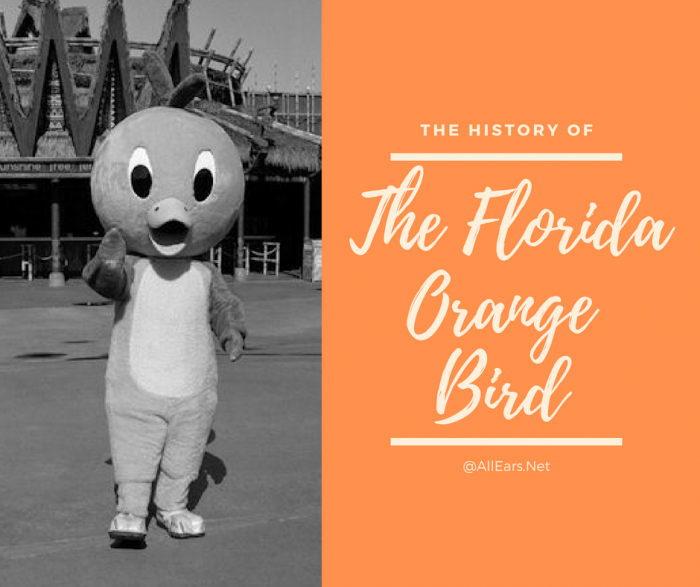 = = = = = = = = = = = = =
RELATED LINKS
= = = = = = = = = = = = =
Walt Disney's Enchanted Tiki Room
Other features from the Walt Disney World Chronicles series by Jim Korkis can be found in the AllEars® Archives.
= = = = = = = = = = = = =
ABOUT THE AUTHOR
= = = = = = = = = = = = =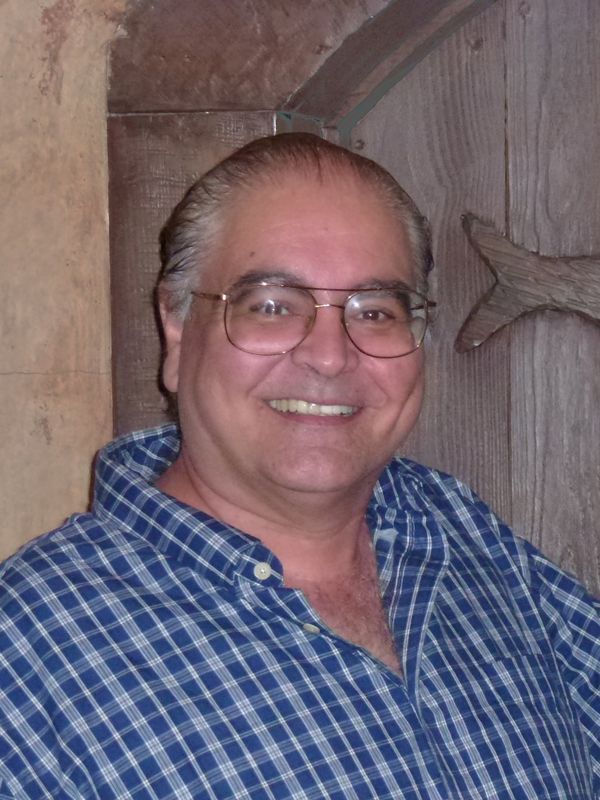 Disney Historian and regular AllEars® Columnist Jim Korkis has written hundreds of articles about all things Disney for more than three decades. As a former Walt Disney World cast member, Korkis has used his skills and historical knowledge with Disney Entertainment, Imagineering, Disney Design Group, Yellow Shoes Marketing, Disney Cruise Line, Disney Feature Animation Florida, Disney Institute, WDW Travel Company, Disney Vacation Club and many other departments.
He is the author of several books, including his newest, Secret Stories of Disneyland, available in both paperback and Kindle versions.
-o-o-o-o-o-o-o-o-o-o-o-
Editor's Note: This story/information was accurate when it was published. Please be sure to confirm all current rates, information and other details before planning your trip.