WDW Chronicles: New Star Tours Opening Ceremony
by Jim Korkis
Disney Historian
Feature Article
This article appeared in the May 15, 2012 Issue #660 of ALL EARS® (ISSN: 1533-0753)
When recording the history of Walt Disney World, it is important to remember that things that happened as recently as a year ago are still historically significant and will become more so as the years pass. So, it is equally necessary to document those events, as well as the stories from decades ago.
On May 20, 2011 at 10:15 a.m. EST, the long-anticipated updating of the classic Star Tours attraction, titled Star Tours: The Adventures Continue, finally opened at Disney's Hollywood Studios. It was a beautiful Florida morning and a temporary stage had been erected in front of the iconic Sorcerer's Apprentice Hat at the end of Hollywood Boulevard.
Giant speakers blared the familiar Star Wars theme song. A large screen added some visual excitement to the festivities with some pre-filmed segments that included special effects. These segments were sprinkled throughout the almost 20-minute presentation. A procession of Star Wars characters from both the Empire and the Rebel Alliance marched up Hollywood Boulevard to the stage as an enthusiastic crowd cheered them on. The presence of armed Stormtroopers throughout the area brought a sense that all was not free and peaceful in the galaxy.
The show began with an opening title crawl on a huge screen that placed the time frame of the ride definitively between Episode 3 and 4 of the Star Wars saga, since it is identified on the screen as "Episode III.V."
"It has been a long time since the end of the Clone Wars, and the evil Sith Lord Darth Vader continues to tighten his grip on the Empire as the galaxy moves closer to the brink of a great civil war. A new intergalactic spaceline, Star Tours, seeks to preserve unrestricted intergalactic travel in this age of tyranny. Freedom fighter Captain Raymus Antilles has assigned two droids, See-Threepio and Artoo-Detoo, to help launch the spaceline, fueling Imperial suspicion that Star Tours is part of the Rebel Alliance. Star Tours is about to open its first intergalactic space terminal in the Earth System as rumors of a fearsome weapon of mass destruction dash all hope for peace and freedom in the galaxy…"
Droids R2-D2 and C-3PO were welcomed onto stage. Then, actor Anthony Daniels (who performed as C-3PO in all the Star Wars films) joined them and enthused about the new attraction.
The arrival of Darth Vader accompanied by Boba Fett disrupted the ceremonies. "I'm here to see that Star Tours never becomes operational," he growled in his famous deep, raspy voice, and indicated he'd uncovered a plot to use Starspeeders to shuttle Rebel spies. To prevent that from happening, he ordered Boba Fett to activate an energy shield that was placed around the attraction. On the screen, guests could see a huge, glowing red dome covering Star Tours.
Suddenly, coming out of the side of the attraction, two athletic hooded Jedi warriors with their faces obscured used their light sabers to battle through the many Stormtroopers in their way to get to the back of the stage. On the screen, it showed these two Jedi figures backstage behind the door removing their brown robes and revealing themselves to be filmmaker George Lucas and Disney CEO Bob Iger. Still wielding lightsabers, they walked on to the stage to huge applause.
Iger got a huge laugh as he said, "Lord Vader, prepare to meet your maker." Of course, the laugh was recognizing the reference to George Lucas, who created the character originally.
"Even if you strike me down, you'll never get past the energy shield," threatened Vader.
Lucas stated that R2-D2 knew exactly what to do. A huge ion cannon rose from the side of the stage and once the little droid interfaced with it, it fired off loud pyrotechnics. The resulting sound of an explosion and a huge plume of white smoke in the area of the attraction covered everyone nearby with light ash, including Lucas and Iger. The defeated Stormtroopers were rounded up and herded into the attraction, while Vader was informed that as soon as this spaceport was officially opened, they were heading to Disneyland to open one there in June.
"This isn't over. In fact, this destructive conflict has just begun. You haven't seen the last of me. Set our course for the Anaheim system," warned Vader as he exited with his troops.
Iger stated, "Star Tours is a timeless adventure with characters and locations from all six films of the Star Wars saga. Guests will be immersed in the Star Wars Galaxy like never before. Disney and Lucasfilms share an appreciation for epic storytelling, compelling characters and cutting edge technology which is what has made us such great creative partners now for over 25 years and it has been a real honor to collaborate with you (Lucas) and your team as you bring this amazing new incarnation of a classic attraction to life. Thank you very much."
Lucas responded, talking about the attraction, "It is absolutely sensational. It is beyond anything I ever expected. It is just amazing. I say that as a Disney fan, a Disneyland and Disney World fan."
Also on the stage for the opening ceremony were the first guests for that year's Star Wars Weekends event, which also began that day. Actors Anthony Daniels and Daniel Logan were joined by personnel from the animated Star Wars: The Clone Wars: Dave Fitoni, Ashley Eckstein and James Arnold Taylor.
The voice of Yoda told guests to begin their Star Tours, but that experience was delayed while a few photos were taken on stage, followed by a procession to the ride.
Iger and Lucas, accompanied by actor Anthony Daniels, took the first "official" ride on Star Tours: The Adventures Continue. In their Starspeeder cabin were Ahsoka Tano, Shaak Ti, Boba Fett, an Ewok, and assorted guests, Jedi and Stormtroopers. Princess Amidala followed in another Starspeeder with park guests.
Ever since its original opening in 1987, it was always the intention to continually change the film experience in Star Tours, but a number of factors prevented that from happening.
In a 1987 press interview, George Lucas stated, "One of the basic ideas behind this is that it's reprogrammable. This will give us a big advantage in being able to upgrade the ride, to improve it or change it or make it into something else." At the time, Lucas offered four different story choices that could be utilized in the future. Over the years, rumors constantly circulated about these upcoming changes as Lucas pushed for not only changes to the story, but updating the technology.
In 1997, Imagineer Tom Fitzgerald, one of the show writers and producer on the original attraction, visited Lucas' Skywalker Ranch facility during post-production on Star Wars Episode 1: The Phantom Menace. Lucas was excited about the prospect of updating the Star Tours attraction into a simulator version of the Tatooine pod race in that film. Since young Skywalker wore goggles in the podrace in the film, it also sparked the idea of using 3-D glasses for the update.
"We [story] boarded [the podrace] show, but decided not to do that show because we wanted to see what was in 'Episode 2,' and those secrets were not revealed to us in advance, so we had to wait for that movie to come out," Fitzgerald said. "Then the natural thing was to ask, what's in 'Episode 3'? So we decided once we can see all the Star Wars movies in front of us, then we could decide what adventure we want to do."
In April 2005, Lucas announced that a new version of Star Tours was in production. However, it still took time to work out multiple possibilities. Instead of just a misadventure on a routine flight to Endor, the ride is now broken into four acts with two different beginnings (one features Darth Vader, the other shows the Millennium Falcon), three detours (to Hoth, to Kashyyyk the Wookie planet or to Tatooine for a podrace), three transmissions (from Princess Leia, Yoda or Admiral Ackbar), and three endings (at Naboo, at Coruscant or at the Death Star above the planet Geonosis). Overall, there are 54 different combinations.
"The way I describe it is like a storytelling slot machine with four wheels," Fitzgerald said. "It's completely randomized. You never know where you're going."
The event was quite different than the grand opening of the original Star Tours at Disneyland in 1987. Many guests showed up dressed as Star Wars characters. Disneyland remained open for a special 60-hour marathon from January 9, 1987 at 10 a.m. to January 11, 1987 at 10 p.m. Actor Anthony Daniels wore his C-3PO costume and talked to the press. Mickey and Minnie in silver "outer space" style outfits attended as well.
CEO Michael Eisner and filmmaker George Lucas were to make their entrance from a flying saucer hanging from the bottom of a helicopter. However, when they saw it drop unexpectedly during one of the tests, they decided against that type of entrance. The two jointly cut the red ribbon in front of the attraction with a lightsaber to officially open it. Disney fans enjoyed both Star Tours opening ceremonies and the attractions even more. What is truly amazing about both versions of the attraction is the many layers of detail. While remaining reverential to the Star Wars canon, the attractions are filled with playful references, as well as background material that is not always consciously recognized but that immerses the guests into an entire new universe.
=================
RELATED LINKS
=================
May the Force Be With Us All: New Star Tours Opens:
http://allears.net/ae/issue609.htm
D23 Expo 2011: Star Tours – The Adventures Continue:
http://land.allears.net/blogs/allearsteam/2011/09/d23_expo_2011_star_tours_the_a_1.html
Other features from the Walt Disney World Chronicles series by Jim Korkis can be found in the AllEars® Archives:
http://allears.net/ae/archives.htm
=-=-=-=-=-=-=-=-=-=-=-=-=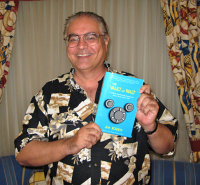 ABOUT THE AUTHOR:
Jim Korkis is an internationally respected Disney Historian who has written hundreds of articles about all things Disney for more than three decades. He is the author of the recently published book The Vault of Walt, which contains nearly 40 chapters of untold Disney stories. As a former Walt Disney World cast member, his skills and historical knowledge were utilized by Disney Entertainment, Imagineering, Disney Design Group, Yellow Shoes Marketing, Disney Cruise Line, Disney Feature Animation Florida, Disney Institute, WDW Travel Company, Disney Vacation Club and many other departments.
Read more about The Vault of Walt: http://astore.amazon.com/debsunoffiwaltdi/detail/0615402429
-o-o-o-o-o-o-o-o-o-o-o-
Editor's Note: This story/information was accurate when it was published. Please be sure to confirm all current rates, information and other details before planning your trip.