WDW Chronicles: Mr. Lincoln and the Gettysburg Address
by Jim Korkis
Disney Historian
Feature Article
This article appeared in the February 7, 2017 Issue #907 of ALL EARS® (ISSN: 1533-0753)
Editor's Note: This story/information was accurate when it was published. Please be sure to confirm all current rates, information and other details before planning your trip.
The Hall of Presidents exists only at Walt Disney World and no other Disney theme park for several reasons, including the expense and difficulty of replicating it elsewhere. It was one of the original opening day attractions at the park and has been running for 45 years, although with some significant changes made with each newly elected president.
Today, in the Hall of Presidents, the audio-animatronics figure of Abraham Lincoln presents his famed Gettysburg Address speech. Narrator Morgan Freeman intones before the speech: "The blood of half-a-million Americans was shed in the dark days of our Civil War. But as the sun rose on a cold November day in 1863, thousands of Americans gathered on the battlefield in Gettysburg to hear President Abraham Lincoln give meaning to our sacrifice."
However, that was never the intention of Walt Disney, nor did that happen in the version of Great Moments with Mr. Lincoln, which was the show for the Illinois pavilion at the 1964-65 New York World's Fair and later Disneyland.
Renowned Lincoln scholar Ralph Newman had researched the 16th president for several years while writing books. He even ran a rare bookstore devoted to Lincoln and the Civil War. Walt Disney contacted him and brought him to the Disney Studio to help writer James Algar script the Great Moments with Mr. Lincoln show.
One of the first suggestions to showcase Lincoln was to have him recite the Gettysburg Address.
"We both agreed completely that we would not have Lincoln giving the Gettysburg Address, because everybody would be anticipating that, and that would be kind of anticlimactic," Newman told Disney historian Paul Anderson.
In 1964, Walt Disney said, "When we set out to select the speeches and writing for the monologue in the show, we decided to bypass the Gettysburg Address, even though its poetic qualities and poignant message are unexcelled. Because it is so familiar to nearly every American, we felt that it would not contribute significantly to our purpose — an in-depth fresh presentation of Lincoln's principles, ideals and philosophies."
"We wanted Lincoln to use words from his day that would sound as if he had just read the New York Times that morning and was discussing the situation in the world," said Newman. "I remember having a talk with Mr. Algar and suggesting that we could stitch together several things that Lincoln had said that would talk about the affairs of the day — the mob rule and violence in the streets, the lack of obedience to the law, the worries about international affairs and worries about Russia."
Algar had already gathered a large amount of material — Lincoln's speeches, writings and letters — and used excerpts to create a script for the speech that was finished in August 1963.
The speech, now familiar to longtime Disney fans, began with, "The world has never had a good definition of the word liberty, and the American people, just now, are much in want of one. We all declare for liberty; but in using the same word we do not all mean the same thing." That opening came from a speech Lincoln had made in April 18, 1864 in Baltimore, Maryland.
"Most Americans will agree with me that no man has had more of a positive impact on a nation than Abraham Lincoln has on our country," stated Walt in 1964. "He is venerated not only in our land but in many other parts of the world. Yet, I have always felt that too few people realize that Lincoln's concepts and philosophies are as useful, as necessary, as applicable today as they were when he pronounced them a century ago.
"His analysis of freedom and its true meaning, his approach to justice and equality, his own courage and strength — all are as vital in the 1960s as they were during the mid-1800s."
Where did the voice track of actor Royal Dano performing the Gettysburg Address come from if it was not part of the original presentation, especially since Dano passed away before it became part of the show at Disneyland and Walt Disney World?
Algar also produced and wrote the Buena Vista LP record (BV-3981) titled "Walt Disney Presents Great Moments With Mr. Lincoln," which was released in connection with the New York World's Fair. In addition to the actual presentation (which was later performed at Disneyland), Algar directed character actor Royal Dano in recording other Lincoln speeches including the Gettysburg Address. The Imagineers uncovered these recordings when the attractions at both Disneyland and Walt Disney World were updated.
Dano had been selected because Walt did not want a celebrity voice, like that of actor Raymond Massey whose performance as Lincoln was well-known and would have been instantly recognizable to audiences. Walt was insistent that he wanted, "not an actor's voice, but the real voice" as could be best re-created. Dano had done a five-part show for the Omnibus television series in 1952, written by James Agee, for which he received laudatory reviews for capturing the homespun nature of Lincoln.
"We did a great deal of research as to the actual sound and timbre of Abraham Lincoln's voice. The voice of actor Royal Dano was the closest thing we could find to the voice of Mr. Lincoln," said Walt in 1964. Of course, at the time, there was no one alive who had actually heard Lincoln speak and there were no audio recordings. Research was done based on written contemporary accounts and knowledge of speech patterns from the rural areas where Lincoln grew up, but Dano's interpretation has always seemed "emotionally right," even if scholars have argued that it may not be completely accurate in all aspects.
Walt was intimately familiar with Lincoln's Gettysburg Address. From 1911 to 1917, Walt attended Benton Elementary School in Kansas City, Missouri, just two blocks from his home. In the fifth grade, Walt took his teacher somewhat by surprise with his homemade costume and dramatic recitation of the Gettysburg Address, which he had memorized and performed for an appreciative class audience on Lincoln's birthday.
She called in Principal James Cottingham, who was a great lover of American history, to see a repeat performance. He was so taken with it that he took young Walt to every classroom to repeat it. In fact, Walt was asked to repeat the performance on Lincoln's birthday for the next five subsequent years until he graduated. Walt loved performing (later entering local talent contests as a Charlie Chaplin impersonator) and became more dramatic in his impersonation each year as he gained more confidence that it was so well-received.
"When Lincoln's birthday came around, I always went to the classrooms dressed as Lincoln with my crepe hair beard and the mole. There was a stovepipe hat I made by using a derby and putting a cardboard thing on top around it and painting it black (with shoe polish). And my dad's frock coat he used when he was a deacon in the church. It was the wrong type, but it was one of those kind of long things and the shawl. I'd always do the Gettysburg Address," Walt told interviewer Pete Martin in June 1956.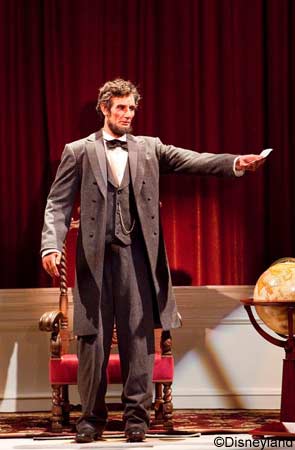 Great Moments with Mr. Lincoln was an attraction sponsored by the state of Illinois for the 1964-65 New York World's Fair. Walt had originally wanted to do a Hall of Presidents show with all the U.S. presidents, a project he had earlier proposed for the never-built Liberty Street at Disneyland announced in 1958.
Imagineer Wathel Rogers stated in 1963, "Lincoln was meant to be part of a Disneyland project called 'One Nation Under God'. (A curtain) will open to reveal the Hall of Presidents. The visitor will see all the Chief Executives modeled life-size. He'll think it's a waxworks — until Lincoln stands up and begins to talk."
However, Walt's vision could not be achieved by the rudimental technology of the day and the much-needed finances for research and development so the project had to be put aside.
"Walt approached me with the idea of doing a whole bunch of heads for the Hall of Presidents," remembered Disney Legend Blaine Gibson in an interview with Disney historian Paul Anderson. "Originally, he wanted to start off with George Washington and Teddy Roosevelt so I was going to quit animation and sculpt these Presidents. Then Walt decided that we better see what we could do with Lincoln, so while I was still animating, I started working on the Lincoln head."
Walt felt that Lincoln's appearance was more striking and that he was a more familiar figure to a general audience. If he needed to raise enthusiasm, and funding, for the project he realized he should start with something that would be the most effective. Using a life mask of Lincoln that had been done in 1860 by Chicago-sculptor Leonard Volk, who was actually a brother-in-law of Stephen Douglas (a political opponent of Lincoln), Gibson sculpted the head. The life mask was only used as a guide and Gibson used his training as an animator to do things like increase the bone structure around the cheeks while still conforming to the photographs of the president so that it was dramatic. Lincoln was six-foot-four inches tall, but Gibson made him six-foot-seven inches to make him appear more imposing.
While the state of Illinois was greatly concerned that the figure would appear to be a grotesque cartoon, its first appearance belied those doubts with audiences commenting on the great dignity of the figure and the performance.
In a 1964 interview with the Illinois Information Service, Walt stated that the attraction "will help to make better citizens and contribute to a better understanding of our heritage of freedom and independence."
Walt's goals are still well-served in Lincoln's presentation today at the Magic Kingdom just as they were when they premiered more than half a century ago. And when you listen to the Gettysburg Address, recorded more than half a century ago at the Disney Studio in Burbank, California.
= = = = = = = = = = = = =
RELATED LINKS
= = = = = = = = = = = = =
Hall of Presidents attraction page
Step Back in Time… to the Hall of Presidents
Walt Disney World Chronicles: Obama in the Hall of Presidents
Where in the World is Abraham Lincoln?
Great Moments with Mr. Lincoln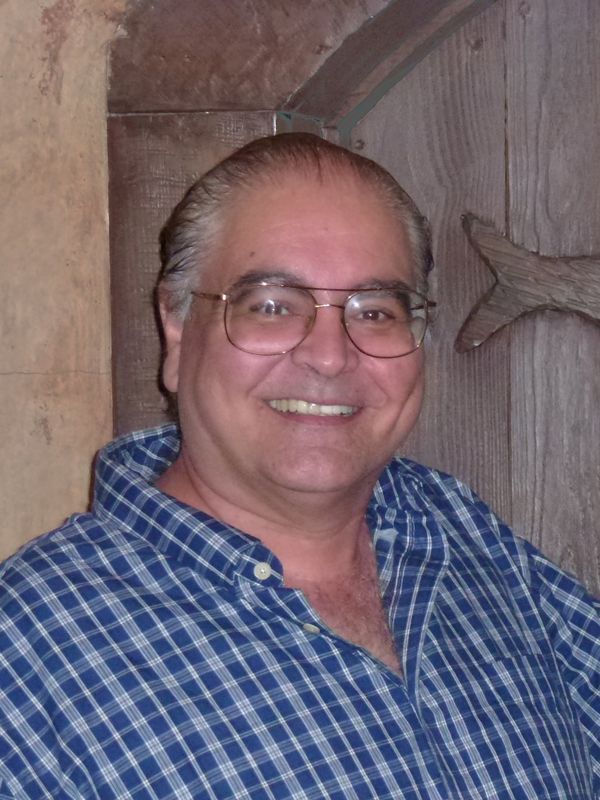 Other features from the Walt Disney World Chronicles series by Jim Korkis can be found in the AllEars® Archives.
ABOUT THE AUTHOR:
Disney Historian and regular AllEars® Columnist Jim Korkis has written hundreds of articles about all things Disney for more than three decades. As a former Walt Disney World cast member, Korkis has used his skills and historical knowledge with Disney Entertainment, Imagineering, Disney Design Group, Yellow Shoes Marketing, Disney Cruise Line, Disney Feature Animation Florida, Disney Institute, WDW Travel Company, Disney Vacation Club and many other departments.
He is the author of several books, available in both paperback and Kindle versions. You can purchase them via our AllEars.Net Amazon.com store HERE. His newest book is The Unofficial Disneyland 1955 Companion. It includes snippets of interviews with cast members who worked at Disneyland in 1955, along with additional explanatory material (including the first complete listing of every attraction, shop and restaurant that was there during the first six months) and much more.
-o-o-o-o-o-o-o-o-o-o-o-
Editor's Note: This story/information was accurate when it was published. Please be sure to confirm all current rates, information and other details before planning your trip.