WDW Chronicles: Chinese Theater Handprints
by Jim Korkis
Disney Historian
Feature Article
This article appeared in the February 11, 2014 Issue #751 of ALL EARS® (ISSN: 1533-0753)
Editor's Note: This story/information was accurate when it was published. Please be sure to confirm all current rates, information and other details before planning your trip.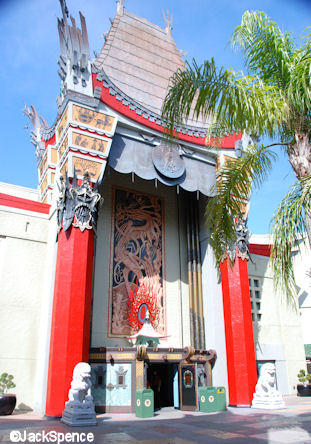 I am as guilty as everyone else in terms of taking things for granted in the Disney theme parks. I also assume that everything important has been documented and that the information is easily available to the front line cast members to share with the guests.
Unfortunately, that is not always the case and things can change without warning, so it can be a challenge to update material and keep it current.
A while ago, I took some friends to show them actress Loni Anderson's footprints in front of the Chinese Theater at Disney's Hollywood Studios. I was looking forward to sharing the story that her footprints were so slight that they barely made an impression. The greeters at the attraction had to watch carefully, because especially during a rain, guests had a tendency to tumble slightly since the uneven impression was not obvious as they walked across it.
Loni's block was gone and that was probably a good safety measure. However, I got to wondering if other blocks were missing and I realized that I did not have a complete listing of the names. I asked for a list at Guest Relations and discovered that they never had one. Fortunately, one of the greeters at The Great Movie Ride had a laminated one-page sheet with a grid on one side and just a listing of the names on the other.
I have learned, however, never to fully trust any unofficial information, so I stood out in the sun for nearly two hours writing down all the names, colors, and significant other information so that AllEars® readers could have as complete and accurate a listing as possible for the blocks that are currently in place.
Fortunately, the greeter's list was able to help me with two names (one that had been defaced and one that was just poorly written) that I may not have been able to decipher otherwise without some significant work.
The historic movie palace Grauman's Chinese Theater in Hollywood, California, opened in May 1927 and was host to many movie premieres including Mary Poppins (1964). However, it is best known for its forecourt filled with celebrity handprints and footprints pressed into concrete during a special ceremony.
When Disney-MGM Studios opened in May 1989, a significant icon of the new Disney theme park was an exact exterior replica of the famous Hollywood theater. The original architectural blueprints were used to re-create the exterior of the theater. Since the original plan was that the park was to be a working studio, entertainment celebrities were invited to the Grand Opening to place their hand and footprints into the concrete in the forecourt.
That tradition continued actively for the first few years the park was open. The park instituted the "Star Today" program where a celebrity would appear at the park, often for a week, and participate in a motorcade, a public interview about their career and, of course, a handprint ceremony. In the earliest days, and depending upon the willingness of the celebrity, duplicate blocks would be made and stored as a safety measure in case of damage to the original block.
The very first "Star Today" on May 1, 1989, was original Mouseketeer Annette Funicello and her concrete block is still in the forecourt today.
After 1995, the handprint ceremony still took place for publicity purposes, but the block was a standardized white rectangle in a tray on a rolling pedestal and never installed in the forecourt.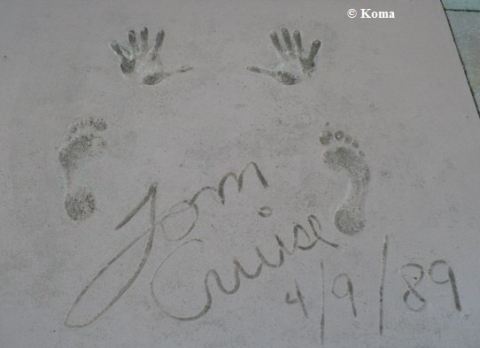 I personally witnessed actress Susan Lucci do a handprint ceremony several different years as part of the ABC Super Soap Weekend event. Someone else has pointed out that they saw the members of the singing group 'N SYNC do their handprints around 1998. Those blocks appear nowhere in the park.
Once again, it came down to cost, because it was expensive to rip up the existing concrete and install the new block and secure it.
Over the years, some blocks have been damaged and removed but not replaced. Some stars did not make duplicate blocks — if their blocks were damaged, there were no replacements that could be used.
In the following listing, some stars put the date "1988", which is well before the park officially opened. Those stars were on Walt Disney World property celebrating Mickey Mouse's year-long 60th birthday in 1988, as indicated by some of their inscriptions. Someone had enough foresight to get them to do a handprint for the upcoming opening.
Some blocks that were in storage were later installed in the forecourt of The Theater of the Stars on Sunset Boulevard. (I have written a guest blog that covers those names.)
As you can see, there was no consistency. Some stars only wrote their names. Some did not date their block. Some included their family. Some only put in a handprint OR a footprint. Some inscribed their blocks.
Where are those blocks that were stored backstage today? Does anyone know? Unfortunately, some of the ones in the courtyard have endured more than 20 years of Florida weather and guests walking on them and they are fading or cracking. Next time, take a few moments to enjoy them before they quietly disappear.
I have listed the stars in alphabetical order. Being a fan of old movies, I am excited that stars of the Golden Age of Films like Douglas Fairbanks Jr., June Allyson and Donald O'Connor are represented. However, I realize that the younger generation has no idea who those performers were.
Interestingly, for those who love Star Wars, there are imprints from George Lucas, Harrison Ford, Mark Hamill and even C-3PO and R2-D2.
Below are some of the more familiar names you might find. (You'll find the complete list HERE.) Perhaps you'll find a few pleasant surprises as well.
Annette (5-1-89; she did not include her last name, "Funicello.")
Chevy Chase (3-24-96)
Dick Clark (6-1-90; he scribbled in the logo for American Bandstand.)
Tom Cruise (4-9-89; he imprinted his bare feet.)
Michael J. Fox (5-29-99)
Jim Henson (8-28-89; also the signature of Kermit the Frog and an illustration of Kermit's head and left hand waving by Henson. One of the few blocks actually done in place. Henson's own Kermit puppet's hands are imprinted.)
Michael Jackson (1-13-90)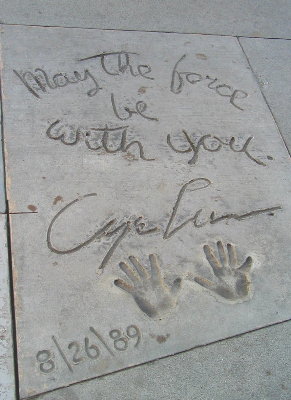 Samuel L. Jackson (3-3-95)
Angela Lansbury (11-2-91 "Beauty & The Beast Mrs. Potts")
Mark Hamill (1-13-90), George Lucas (8-26-89, "May The Force Be With You"), C-3PO and R2-D2 (12-89) and Harrison Ford (1-9-91).
Steve Martin (1991; he put in his handprints and then drew arrows to them and wrote "feet")
Mickey Mouse (5-1-89, "Gosh! This is Swell!"), Minnie Mouse (5-1-89, "Thanks Everyone XOXO". There are hearts over the "i"s in her first name.), Donald Duck (5-1-89, "The One and Only (star symbol)!!!") and Goofy (5-1-89; the "5" is written backwards and there are pupils in the "O"s of the name to look like eyes. "Gawrsh — I'm Stuck!")
Leonard Nimoy (1989, "Live Long and Prosper.")
Charlie Sheen (9-17-94; his signature is almost indistinguishable.)
Martin Short (11-1-89)
Sylvester Stallone (12/13/90; in a box he put the name "Oscar" referring to the film of the same name that he was filming at Disney-MGM Studios.)
John Travolta (6-18-89)
Dick Van Dyke (4-14-89)
Betty White (2-24-91)
Robin Williams (12-28-90; "Carpe Per Diem." For his handprints, he did right, left and another right. There are also the names of his second wife, Marsha, and his two children Zak and Zelda. His third child, Cody, was born November 1991 so does not appear.)
=-=-=-=-=-=-=-=-=-=-=-=-=-=-=-=
RELATED LINKS
Other features from the Walt Disney World Chronicles series by Jim Korkis can be found in the AllEars® Archives:
http://allears.net/ae/archives.htm
Jim also writes for the AllEars® Guest Blog every other week, contributing entries under the heading of "Jim's Attic." Find his latest entry here:
http://land.allears.net/blogs/guestblog/
=-=-=-=-=-=-=-=-=-=-=-=-=
Disney Historian and regular AllEars® Columnist Jim Korkis has written hundreds of articles about all things Disney for more than three decades. As a former Walt Disney World cast member, his skills and historical knowledge were utilized by Disney Entertainment, Imagineering, Disney Design Group, Yellow Shoes Marketing, Disney Cruise Line, Disney Feature Animation Florida, Disney Institute, WDW Travel Company, Disney Vacation Club and many other departments.
He is the author of several books, available in both paperback and Kindle versions on Amazon.com.
— The recently released, "The Book of Mouse: A Celebration of Walt Disney's Mickey Mouse," is more than 300 hundred pages covering the life and career of Mickey Mouse, with thousands of facts, quotes and stories about Walt Disney's famous alter-ego.
— "The Vault of Walt, Volume 2: Unofficial, Unauthorized, Uncensored Disney Stories Never Told"
amp;
— "Who's Afraid of the Song of the South?"
— "The REVISED Vault of Walt": Paperback Version / Kindle version
-o-o-o-o-o-o-o-o-o-o-o-
Editor's Note: This story/information was accurate when it was published. Please be sure to confirm all current rates, information and other details before planning your trip.