Rose Folan Features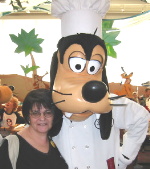 Rose Folan is an office manager and freelance writer who also has her own Walt Disney World website, Adults at WDW.
Rose has been sharing her love of Walt Disney World with ALL EARS® subscribers through articles on some of her favorite things for the last six months or so.
This is our collection of articles Rose has written so far for ALL EARS®. Enjoy her in-depth reporting on everything from the Shades of Green resort to the Disney-MGM Studios' Fantasmic!
If you'd like to contact Rose, her email address is Tinkerose2000@aol.com

Smooth Sailing with Internet Friends, 3/11/03, Issue #181
Romantic Notions at WDW, 1/21/03, Issue #174
Riding the Rail, the Monorail That Is, 12/10/02, Issue #168
Pressing Business — Collecting Pressed Coins at WDW, 11/12/02, Issue #164
Fantastic Fantasmic! Fascinates, 9/17/02, Issue #156
Illuminating IllumiNations: Reflections of Earth, 8/6/02, Issue #150
Disney Pin Trading — Innocent Hobby… or Obsession?, 6/18/02, Issue #143
(Also serves as this site's Pin Trading Guide)
The World Loves a Parade, 5/7/02, Issue #137
Walt Disney – One Man's Dream, 3/26/02, Issue #131
Shades of Green: The Other Resort on Disney Property, 2/12/02, Issue #125