D23 Expo Exposes Treats for Ultimate Disney Fan Experience
By Debra Martin Koma
AllEars® Senior Editor
Feature Article
This article appeared in the September 1, 2009 Issue #519 of ALL EARS®
(ISSN: 1533-0753)

I don't know about you, but I'm getting excited about the upcoming D23 Expo, which is running September 10 through 13 at the Anaheim Convention Center in California.
That's probably because Deb Wills, Laura Gilbreath and I from the AllEars® Team, along with a few of our friends, will be attending the four-day event as reporters — and, of course, as fans ourselves. We're anxiously looking forward to bringing the news and excitement, both on the floor and behind the scenes, to you via live reports, Twitter, blogs, photos and videos.
Billed as the "Ultimate Disney Fan Experience", the expo is expected to draw thousands of Disney fans and promises a plethora of Disney-themed events, ranging from appearances of big and small screen personalities, book authors, and Disney animators, to keynote speeches by Disney executives, and much, much more.
In a conversation I had last week with Steven Clark, head of D23, I had a chance to find out a bit more about what's in store for me, you, and all the other Disney fans who will be making the pilgrimage to Anaheim for the event.
"Every day has its own set of 'wows!' " Clark asserts, noting that he expects participants will have a difficult time choosing which presentations and activities to attend. "This is going to be the first time we will have the best and brightest Disney events all under one roof at one time."
The Expo will kick off at 10 a.m. Thursday, September 10, with a presentation by Walt Disney Company CEO Bob Iger. That presentation will be followed by the induction of this year's Disney Legends, a sort of "Hall of Fame" program in which Disney honors its long-term contributors and collaborators. Former Disney Legends include a wide range of entertainers and artists — from actors Julie Andrews (Mary Poppins) and Fess Parker (Davy Crockett) to voice of Mickey Mouse Wayne Allwine to animator X Atencio — many of whom are expected to be in attendance at the Expo. (The 2009 Disney Legends Award honorees include, among others, Tony Anselmo, a Disney animator who, since 1985, has provided the voice of Donald Duck; the late Golden Girl actresses Bea Arthur and Estelle Getty, as well as living Golden Girls Rue McClanahan and Betty White; Leota Toombs Thomas, world-famous as the Haunted Mansion's disembodied Madame Leota; and actor Robin Williams.)
"This is the 22nd year of the Disney Legends ceremony," Clark notes, "but this is the first time we're able to bring it to the fans. We're thrilled that about 4000 fans will be able to be part of this — it's truly Disney history in the making."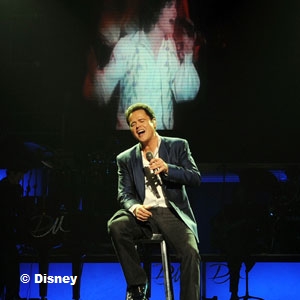 Another recently announced highlight will be the appearance of singer Donny Osmond, who will be on stage as part of the ABCs of Television, a presentation spotlighting this fall's new series on Disney-owned ABC-TV. Osmond, a long-time Disney collaborator (he sang the role of Shang in Disney's animated feature "Mulan" back in 1998) will be a featured contestant on this year's "Dancing with the Stars" program, dancing with professional partner Kym Johnson. Osmond and Johnson will perform at the 3 p.m. Thursday presentation, alongside such other ABC-TV stars as Kelsey Grammer, Patricia Heaton, Ed O'Neill, and Joseph Fiennes.
"Donny is a big supporter of Disney," Clark states, "and he is as excited to participate in the D23 Expo as we are thrilled to have him."
Clark says that it's not just the celebrity appearances, though, that will delight fans. "The D23 Expo has something for everyone — whether you're an ardent Disney follower, or just a casual fan looking for something to do on the weekend."
In addition to the induction of the Disney Legends, Clark says that he himself is looking forward to seeing the Treasures of the Disney Archives that will be on exhibit. Curated by Disney Archivist Dave Smith, himself a Disney Legend, the Expo marks the first time that the Disney Archives have held their own exhibition. Previously, pieces have been loaned out to others, but at the Expo there will be 100 pieces that will be displayed in a way that's never been done before. Among the notable items: costumes from the Mickey Mouse Club's Annette Funicello, as well as the films Mary Poppins, Tron, Pirates of the Caribbean, High School Musical and Enchanted, as well as costumes from movies made by Lucasfilms. And there will be at least one costume that has never been on display before: the outfit worn by singer Michael Jackson in the Disney theme park movie Captain EO.
For younger kids, there will be "an endless array of activities," such as the Disney Creativity Center by Crayola. There will also be Lego Master Sculptors on hand helping design massive sculptures of Disney characters. There's a Baby Einstein playzone for the littlest tykes, and a few Disney Channel events that will appeal to the "tweens," such as the entire cast of The Wizards of Waverly Place, and DJs from Radio Disney.
"So many of these programs are really cross-generational," Clark notes. "For example, the special program featuring the Muppets (on Sunday at 3:30) shows off the nice marriage between the memorable characters created by Walt Disney and Jim Henson, two visionaries. I think it will appeal to younger and older fans alike, doesn't matter what your age is."
For anyone planning to attend the Expo, whether one day or all four, Clark strongly suggests planning ahead.
"If you're not already a D23 member, I'd suggest you join," Clark says. "Not only will being a D23 member get you a discount on the Expo tickets, but it will get you into the convention center an hour early (8 a.m. versus 9 a.m. when the event opens to the general public). By getting in early, you'll be able to ensure you get a spot for the day's keynote speakers, and the events you want to attend."
Clark also encourages attendees to check out the schedule that's online at D23expo.com. By seeing what's available, you'll be able to better plan your day, otherwise you could end up missing a lot on the schedule.
For those of you who can't be there, never fear! Not only will D23 be sending out messages via Twitter, the AllEars® Team will also be "tweeting," and sending photos via Twitter.
And if you're thinking beyond this year — well, the D23 Expo will be in California again next year, and for the next few years, but Clark won't rule out an Expo for the East Coast-based Disney World fans.
"And," he adds tantalizingly, "we will be making some announcements very soon about some special upcoming Walt Disney World events for D23 members…"
==========================
FOLLOW AllEars.Net AT D23:
On Twitter:
— Deb Wills: allearsdeb
— Debra Martin Koma: dcdeb_allears
— Roving AllEars® Reporters: D23Expo_AllEars
On Facebook: http://www.facebook.com/AllEars.net
-=-=-=-=-=-=-=-=-=-=-=-=-=-=-
RELATED LINKS:
D23 Expo Official Page:
http://d23.disney.go.com/expo/
D23, The Official Disney Fan Club:
http://allears.net/btp/d23.htm
Disney Legends Ceremony:
http://land.allears.net/blogs/dnews/2009/09/2009_disney_legends_award_reci.html