ALL EARS® Newsletter – September 2, 2008
September
2 , 2008 Issue #467
Established
September 1999 Library of Congress ISSN: 1533-0753
---
Welcome
to AllEars®, a weekly electronic newsletter about Walt Disney World,
affiliated with Deb's Unofficial Walt Disney World Information Guide. http://allears.net
This newsletter
is available by subscription only — you're receiving this newsletter because
you subscribed, or because a friend who subscribes forwarded it to you. If you
wish to unsubscribe, please scroll to the
bottom of this newsletter and follow the appropriate links or send an email
message with UNSUBSCRIBE in the subject line to: [email protected]
---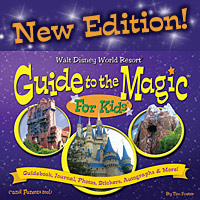 "Guide
to the Magic for Kids" is here!
The
New Edition of the "Guide to the Magic for Kids"
is a full color guide book, souvenir book, journal, autograph book,
sticker book and activity book all rolled into one!!
It
features photos of every attraction at Walt Disney World, scavenger
hunts,
park maps, Hidden Mickeys, mystery photos, tips, little-known facts and more.
You
can record special memories and rate all of the attractions,
making it a one-of-a-kind keepsake of your magical vacation.
You will also find a complete set of stickers — one for every attraction
in the parks.
There's even a special World Showcase section where you can collect passport
stamps and autographs from every country.
Save 15% AllEars® discount price: $25.50
http://www.guidetothemagic.com/shoppingaenspecialoffer.htm



---
Here's what you'll
find in this issue:
Feature Article:
2009 Disney Dining Plans
News Bites:

ALL EARS®
Hears — LETTERS FROM OUR READERS!
FROM OUR EARS
TO YOUR EYES! What's New on AllEars.Net?
Mousy Mindbogglers:
Brain-teasing Riddles about WDW!
Enjoy the issue!
Deb Wills, Editor-in-Chief
---
FEATURE
ARTICLE
2009
Disney Dining Plans
by Guest Writer Len Testa
Now that Disney's announced a new Quick Service Dining Plan for 2009, you might
be wondering whether it's a good value for your family, and how it compares
in value to the other dining plans. Similarly, since the launch of the original
Disney Dining Plan, one of the questions we get most frequently is whether a
Disney Signature restaurant, such as the California Grill, makes financial sense
under the dining plan when it costs two table service credits to dine there.
To determine that, however, you need to know how much of the Plan's $39.99
nightly cost is set aside by Disney to cover a table service meal, how much
is set aside for a quick service meal, and how much for a snack. And if you're
on the new Quick Service Dining Plan or the Deluxe Dining Plan, the cost of
appetizers, refillable mugs and arcade time must also be determined. That's
a lot of math, especially if your last experience with algebra occurred when
Jimmy Carter was President.
Many spreadsheet programs such as Microsoft Excel, however, now come with add-in
software that will find solutions for many problems, as long as you know how
to set up the equations. Fortunately, that part is relatively easy. If we let
a cell named "Q" in Excel represent the cost of a quick service meal,
"T" represent a table service meal and "S" a snack, the
formula for the standard Dining plan is:
(Standard Dining Plan) 1Q + 1T + 1S = $39.99
Let "A" represent appetizers, "G" be 30 minutes of game
time at the arcades and "M" be a refillable mug, and we have enough
to represent the other two plans:
(Quick Service Plan) 2Q + 2S + 1G + 1M = $29.99
(Deluxe Plan) 1Q + 2T + 2S + 2A + 1M = $71.99
The Deluxe Plan allows you to eat three meals at any table service or quick
service restaurant in Walt Disney World. Why do we assume two table-service
and one quick service meals in the Deluxe Plan? We figured that due to the amount
of food involved, few folks would want to eat that much in a single day. And
it turned out that that assumption might just be exactly what Disney's thinking,
too.
Letting Excel do the math, we came up with this set of values for each part
of the dining plan:
$25.44 – The value of a table service meal under any plan
$10.08 – The value of a quick service meal under any plan
$ 4.48 – A refillable mug
$ 2.98 – Appetizers
$ 2.53 – The value of a snack
$ 0.30 – 30 minutes of arcade time
(Technical note: the number of alternate solutions to these equations is large,
if not infinite. We won't go into detail here on that aspect of the problem,
but drop us a line if you'd like to discuss it further.)
A couple of interesting observations come out of these data. One is that the
solutions don't work if you eat three table service meals per day as part of
the Deluxe Dining Plan. In fact, we think these numbers show that Disney is
also assuming you'll eat two table service and one quick service meal per day.
Eating three table service meals, however, is how you'd get the most value from
that plan.
A second interesting observation is that the refillable mug also includes the
cost of Disney buying the mug itself. Clearly Disney buys these in bulk. Even
so, some quick research on the web indicates that slightly less than half the
value of the refillable mug comes from the cost of the mug itself, not the drinks
in it. And you get to keep the mug.
The value of the snacks and appetizers seem to indicate that Disney thinks
most people will be using these most of the time. But he value of the snacks
and appetizers also seem to include some of the labor costs associated with
getting that item to you. In the case of appetizers, it seems to include the
cost of the food and the labor to make the appetizer. For snacks, the value
seems to include the cost of having a Disney castmember haul out a whole bunch
of soda bottles and stand in the sun to give them to you.
Fourth, the low value placed on the 30 minutes of arcade time seems to indicate
that either it's very inexpensive to run an arcade, or Disney doesn't think
you'll be using that part of the plan. Keep that in mind when you're considering
the value of the Quick Service Dining Plan.
If you're on the Deluxe Dining Plan, using two table service credits is a break-even
proposition: the out-of-pocket cost of a typical meal is within a few cents
of what the analysis above says it's worth, including appetizers and desserts.
Finally, if you're on the standard Dining plan, it's rarely a good value to
use to two table service credits for an entrée and dessert at one of
Disney's signature restaurants, at least here in summer 2008 looking at 2009.
The median cost of an entrée at California Grill right now is around
$34.50, desserts are $10, and let's say a non-alcoholic drink is $3, for a total
cost of $47.50. The value of two table service meals, however, is almost $51,
so you'd be better off without the dining plan. That being said, the median
cost of an entrée at California Grill in 2007 was around $29.50, an increase
of almost 17%! If Disney raises prices again before your trip, the economics
might change to be in your favor. A great resource for determining whether you're
getting value out of the plans is AllEars.Net's menu repository: http://www.allearsnet.com/menu/menus.htm.
-o-o-o-o-o-o-o-o-o-o-o-
About the author:
Len Testa is the co-author of the Unofficial Guide
to Walt Disney World and one of the co-hosts of the WDWToday.com Podcast!
---
TALES
FROM THE LAUGHING PLACE MAGAZINE
Tales
Receives Rave Reviews from the Disney Internet Community:
"Tales isn't
so much a magazine as it is a collector's item for anyone who loves Disney."
"…this
magazine is everything a Disney fan wants."

Issue 12 out
now features an exclusive 20-page interview with Imagineer Joe Rohde
about the creation of Disney's Animal Kingdom with over 75 rare artwork
images
Plus a behind-the-scenes look at the development of Toy Story Mania.
http://www.talesfromthelaughingplace.com

-o-o-o-o-o-o-o-o-o-o-o-
Quicksilver
Tours and Transportation
Meet
& Greet, luggage assistance, free carseat and booster.
Free 30-minute stop for groceries included with airport round-trip reservation.
Call
Toll-Free: 1-888-GO TO WDW (468-6939) or visit www.quicksilver-tours.com
---
TIPS OF THE WEEK!
FOOD AND WINE TIPS
-o-o-o-o-o-o-o-o-o-o-o-
-o-o-o-o-o-o-o-o-o-o-o-
-o-o-o-o-o-o-o-o-o-o-o-
We
have enhanced our Tips Database — there's a new category that allows
you to pull up the 15 most recently added tips.
Find
our searchable database of reader tips here: http://allears.net/rta/tips.php
---
NEWS BITES
-o-o-o-o-o-o-o-o-o-o-o-

-o-o-o-o-o-o-o-o-o-o-o-
-o-o-o-o-o-o-o-o-o-o-o-
-o-o-o-o-o-o-o-o-o-o-o-
-o-o-o-o-o-o-o-o-o-o-o-

-o-o-o-o-o-o-o-o-o-o-o-

---
ALLEARS® HEARS
-o-o-o-o-o-o-o-o-o-o-o-
-o-o-o-o-o-o-o-o-o-o-o-
WDW
earlier this month. They are offering 100 point programs for buying into the
club this summer. The usual amount is 160 points. They are trying the lower
amount to see if more families will join the Club. Additional points can be
added after one year, with a minimum of 25 points and up to any amount you
wish at each addition. That's really nice because once you get in and see
which accommodations you prefer (studio, one or two bedroom, grand villa)
you can purchase the additional points. Or as your family grows, you can add
the pints needed to still travel in comfort.
Thought your readers might be interested! Jan A. from White Plains, NY

-o-o-o-o-o-o-o-o-o-o-o-
Semisilver: I wanted to thank you for running the Special Magic Moment about
Haidyn. It was such a sweet story, I think I cried for about 15 minutes, even
after I was done. Restores my faith that there are still places in this world
that has real magic.
For those who missed it last week visit: http://allears.net/tp/wander/wander.htm
-o-o-o-o-o-o-o-o-o-o-o-
-o-o-o-o-o-o-o-o-o-o-o-
EDITOR'S
NOTE: Items we run in ALL EARS® HEARS are from emails we receive from
our readers, and are not necessarily confirmed announcements from the Walt
Disney Company. We run these items merely as points of interest; they often
contain speculation or hearsay. If we are not able to confirm a piece of information
we receive from a reader by the time we go to press, we may publish it in
the ALL EARS® HEARS section to get feedback from others as to whether
the item has any foundation. For factual information that has been confirmed
or published by the Walt Disney Company, please refer to our NEWS BITES section,
which generally runs above this section.
---
MOUSY
MINDBOGGLERS


Sponsored by


http://www.dvcbyresale.com/


Think you know Walt Disney World inside and out? This AllEars® feature
is designed to stump Walt Disney World enthusiasts. Put on your thinking cap!
When
at first you hear my name
I know just what you think
You assume that I'm most useful
When the weather starts to stink
But
truth is I'm of more help
When the rumbling starts INside
You seek me out to get recharged
And leave me satisfied
It's
OK that I'm used this way
I'm here for the long haul
So stop and see my neon glow
In the shadow of this big ball
What
and where is this?
Think
you know the answers? PLEASE, please read our rules carefully:
1)
You must be an ALL EARS® subscriber. 2) You must be 18 years of age or
older. 3) Only ONE entry per subscriber. Multiple entries will result in disqualification.
4) All entries become the exclusive property of ALL EARS® and will not
be acknowledged or returned. 5) Only ONE winner per household. If you've previously
won a Mousy Mindboggler snowglobe, please do not enter again. Your entry will
be disqualified. 6) Void where prohibited.
Our
complete Mousy Mindboggler rules can be found at http://allears.net/ae/mbrules.htm
TO
ENTER: Send your guess IN THE SUBJECT LINE of an email message to:
[email protected]
(NOTE: If your answer won't fit on the subject line, you may enter
in the body of the email.)
DEADLINE:
Send your guess in NO LATER THAN 11:59 p.m. (Eastern), Sunday, August 24,
2008. One email will be chosen at random from the correct answers.
The
winner of this week's Mousy Mindboggler will receive a beautiful Disney snowglobe
courtesy of Shontell Crawford and http://www.dvcbyresale.com/
-=-=-=-=-=-=-=-=-=-=-=-=-=-=-=-=-=-=-=-=-=-=-=-
LAST
WEEK'S MOUSY MINDBOGGLER:
Yes,
it's true that you go back
In time aboard this ride
And though you can see dinosaurs
They're all on the OUTside
Don't
need no paleontology
Just need a stomach sound
Don't need no archaeology
Just love to spin around!
What
ride is this and where do you find it?
Primeval
Whirl in Animal Kingdom's Dinoland:
http://allears.net/tp/ak/ak_chester.htm

Congratulations
to Nathan W., whose email was chosen from about 870 submitted
with the correct answer this week. Nathan will receive a beautiful Disney
snowglobe courtesy of Shontell Crawford and http://www.dvcbyresale.com/
— a perfect year-round reminder of the Disney Magic!
Many
thanks to all of you for playing!
---
PHOTO OF THE WEEK
Do
YOU have a wonderful photograph that captures the Magic of Walt Disney World?
Send it to us and it could be chosen as our Photo of the Week! Each week we'll
select one photograph that we think best conveys that extra sprinkling of
pixie dust, and display it for all our readers to see. Send us your favorite
memories and let's see what "develops!"
http://allears.net/pw/pw.htm#guidelines
---
FROM
OUR EARS TO YOUR EYES!
WHAT'S NEW ON ALLEARS.NET?

There's
always something new at AllEars® Blog Central: http://land.allears.net/blogs/
Our
Disney
News blog
features the latest press releases and photos put out by the Disney Company,
including info on
Walt Disney World, Disneyland, Disney Cruise Line and more:
http://land.allears.net/blogs/dnews
Deb
Wills reports
on the special American Adventure Dinner as well as the start of the Deb and
Steve Disney Magic Cruise.
http://land.allears.net/blogs/debwills/

Linda
Mac shares
http://land.allears.net/blogs/lindamac/
Mike
Scopa makes
http://land.allears.net/blogs/mikescopa/
In
the World
According to Jack,
http://land.allearsnet.com/blogs/jackspence/
Steve
Barrett talks
about Hidden
Mickeys
http://land.allears.net/blogs/stevebarrett/

The
AllEars® Picture This! Photo Bloggers (Barrie Brewer, Scott Thomas,
and Lisa Berton) continue to share their favorite photos, tips on getting
memorable Disney photos and even some fun and games!
http://land.allears.net/blogs/photoblog/
Guest
Blogger Lori concludes her experiences on the Disney Cruise Line's
Eastbound Panama Canal Cruise:
http://land.allears.net/blogs/guestblog/


-o-o-o-o-o-o-o-o-o-o-o-
Need
an answer? Then read Anita Answer! This week, Anita answers questions
on
http://allears.net/aa/anita.htm
---
FEATURED
SITES
2009
Unofficial Guidebook to Walt Disney World
Our
website has more than 100 stress-free touring plans for all four Disney parks,
for parents, seniors and adults.
Use this week's code AEN2826P for 20% off the one-year subscription
of $7.95.
(AllEars® Readers pay $6.36.)
Free samples at www.TouringPlans.com
---
ALL
EARS® Archives: AllEars® feature articles through July 29, 2008,
have been archived. If you want to receive the rest of the AllEars® news
and other juicy bits of timely WDW information, you must be a subscriber!
Why not sign up now? http://allears.net/ae/ae.htm
---
Copyright
– Disclaimer – Reprint – Contact
©1999-2008,
All Rights Reserved. RYI Enterprises, LLC.
RYI
Enterprises, LLC owns and operates AllEarsNet.com, which comprises Deb's Unofficial
Walt Disney World Information Guide and the AllEars® weekly newsletter
(allears.net), and the Ears to
Ears™ moderated forum on yahoogroups (email [email protected]
to subscribe). AllEars.Net and AllEars® are not affiliated with, authorized
or endorsed by, or in any way officially connected with, The Walt Disney Company,
Disney Enterprises, Inc., or any of their affiliates. For official Disney
information, visit http://www.disney.com
Editor-in-Chief:
Deb Wills
Senior Editor: Debra Martin Koma
For
questions on general Walt Disney World planning info that appears on this
site, send a query using our feedback form: http://allears.net/forms/feedback.htm
For
advertising and other business-related issues contact: [email protected]

Direct
any US Mail correspondence to:
Deb Wills
President
RYI Enterprises, LLC
3520 Sugarloaf Parkway
Suite F03-105
Frederick, MD 21704
No
parts of this newsletter may be reprinted without prior written permission
from RYI Enterprises, LLC and AllEars.Net.
Terms
of Use: http://allears.net/terms.htm
Privacy Policy: http://allears.net/privacy.htm
Advertisements
appearing in AllEars® are paid advertisements and are not meant as an
endorsement by Deb Wills, RYI Enterprises, LLC, AllEars® or AllEars.Net.