Walt Disney World Chronicles: The 20th Anniversary
by Jim Korkis
Disney Historian
Feature Article
This article appeared in the October 21, 2014 Issue #787 of ALL EARS® (ISSN: 1533-0753)
Editor's Note: This story/information was accurate when it was published. Please be sure to confirm all current rates, information and other details before planning your trip.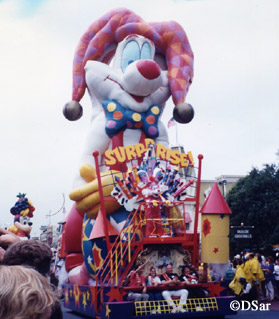 Starting October 1, 1991, Walt Disney World promised a "Year of Surprises" to celebrate its 20th anniversary. In fact, Roger Rabbit would often "surprise" guests throughout the three Disney Florida parks during the day with 20th anniversary themed prizes and honors, sometimes even during a live show.
Like many of the early anniversary celebrations, this one lasted beyond 12 months. It lasted 15 months, with plenty of opportunities to enjoy the "20 New Reasons to Visit Walt Disney World," including the addition of beloved Minnie Moo at Grandma Duck's Petting Farm in the Magic Kingdom.
Towering 35 to 40 feet, a series of larger-than-life inflated Disney characters would be the centerpiece of a new parade called the "Surprise Celebration Parade". These balloons were cold-air filled, meaning there was no helium used. These huge figures were "borrowed" and refitted from Disneyland's "Party Gras" parade the previous year, which had celebrated Disneyland's 35th birthday.
Actually, once they were placed on the floats, the entire float unit was 55 to 65 feet high and towered above the Magic Kingdom's Main Street USA.
For Walt Disney World, there would be a surprise Grand Marshal each day, selected from the park visitors, leading the procession. The Grand Marshal group rode on the Roger Rabbit float that began the parade. To tie in with the festivities' theme, Roger wore a jester's cap, something he did not wear at Disneyland.
He was followed by Minnie Mouse's float, which was unchanged from its Disneyland appearance. Goofy's was unchanged as well. However, Disneyland's Sorcerer Mickey Mouse was transformed into King Mickey and Donald Duck no longer wore a party hat, but played the drum.
There were floats without balloons, like one featuring a pineapple and King Louie and Baloo the bear from the film "Jungle Book". Chip 'n' Dale rode on palm tree carts.
The press release announced, "New Orleans' Mardi Gras, Latin America's Carnivale de Rio and Europe's Carnival in Venice are celebrated in music, dance and stunning costuming during the 20-minute parade, a daily feature of the 20th. More than one hundred musicians and dancers join in the merriment." That number also included talented acrobats.
A nighttime parade also debuted, which press releases touted as "ElectroMagic" but just before its debut in October, the name was changed to "SpectroMagic". The 25-minute parade was to replace the nighttime Main Street Electrical Parade that was moving to Disneyland Paris.
"Imagine complete animated cels the size of a house," said show director Don Frantz in Spring 1991. "That's what we are producing with a synthesis of music, light and mechanical animation along the mile long Magic Kingdom parade route. It will be an entire environment of light and sound." He went on to explain that the production borrowed from "the prismatic holographic industry, military lighting developments, electro-luminescent and fiber-optics technologies, and tosses in light-spreading thermoplastics, clouds of underlit liquid-nitrogen smoke and a sprinkling of good old-fashioned twinkle lights."
The celebration spilled over to the two other Disney Florida theme parks as well. At Epcot, there was a special daily show at the World Showcase lagoon featuring fireworks called "Surprise in the Skies", to connect with the "Surprise" theme of the 20th anniversary.
Six boats with multicolored flags pulled six colorful delta-wing kites 400 feet up into the air. They would trail colored smoke as they drifted back to the horizon. All of this was followed by eight parasail ultra-lights planes flying the colors of Epcot Center's World Showcase nations and piloted by Disney characters like Mickey Mouse.
Along the World Showcase promenade, 35-foot high inflatable Disney characters in international garb appeared. Giant jack-in-the-boxes in front of the pavilions popped open to reveal the balloons of Mickey Mouse in an Uncle Sam red-white-and-blue outfit, (American Adventure) Winnie the Pooh in a Mountie outfit (Canada), Robin Hood (United Kingdom), Pluto with an artist's beret (France), Minnie Mouse in a kimono (Japan), Daisy Duck in a German peasant girl outfit (Germany), Pinocchio playing an accordion (Italy), Tigger wearing a fez (Morocco), Chip 'n' Dale wearing half nut caps that resembled "coolie hats" (China), Donald Duck in a sombrero and a serape (Mexico) and Viking Goofy (Norway).
One of the surprising things was aerial entertainment above the lagoon, since it had not been used since an accidental pilot death in 1987 ended the lagoon show called "Skyleidoscope". (Shortly after takeoff, the plane's wing folded back against the fuselage and the craft went in a nosedive. The pilot parachuted out but the chute caught on the folded wing. The accident did not occur during a performance in front of guests but in the backstage area.)
At Disney-MGM Studios, Mickey Mouse became a master of ceremonies for "Mickey's Magic Show" at the Theater of the Stars, the original stage off of Hollywood Boulevard. Like a grand Hollywood variety special, the show featured movie magic and illusions supplied by different magicians. In between those magic acts, there were songs and dances from the "Disney Girls".
Dick Nunis, then-President of Disneyland and Walt Disney World gave a "State of the World" address in Spring 1991, accompanied by Tom Elrod, then-Senior Vice President of Marketing/Admissions for WDW management. Among the announcements were that Japan's snow-capped Mt. Fuji might be coming to Florida as a thrill attraction in the Japan pavilion, that the discussion stages were almost finished for building a Teenage Mutant Ninja Turtle-themed restaurant and that they were working with community leaders to improve the overall road system in the area. I am still waiting for those announced additions, as well as many others.
To be fair, the "Space Pavilion" for Future World, the work on the BoardWalk Resort, Sunset Boulevard, "Kermit the Frog Introduces MuppetVision 3-D" attraction and the moving of a 52-foot tall oak tree from the Tree Farm to "Old Man Island," as well as the introduction of a new service organization called Mickey's VoluntEars were also announced. All of those additions were indeed brought to fruition.
One of the surprises that did not happen for Walt Disney World's 20th anniversary in 1991 was The Mickey Mouse Tax. I suspect most Walt Disney World fans have no clue whatsoever about this blip in Disney history. The Senate of the State of Florida proposed a Mickey Mouse state license plate celebrating Walt Disney World's 20th anniversary because there was the potential to make millions of dollars for the state. On the left-hand side of the plate would be Mickey Mouse in his tuxedo leaping out with hands outstretched from the zero in the number 20. On his head would be a coned-shaped striped birthday hat. In the background would be the silhouette of Cinderella Caste and colorful confetti streamers would be all over the plate. At the top would be the word "Florida" and at the bottom the words "Years of Magic".
This special plate reading "20 Years of Magic" would cost people $17 more than regular license plates, and in return for giving up the profits on the plate, Disney would gain goodwill and free publicity. Another deciding factor for Disney was that the estimated $7 million in profits would help pay for one of then-Florida Governor Lawton Chiles' pet projects: health care for poor pregnant women and their children. In fact, it was Disney that first presented the idea to the Senate, but many representatives took up the cause enthusiastically. Oddly, it was the governor himself who was not in love with the idea. "We don't like the Mickey Mouse Tax," stated Mary Jane Gallagher, who was then communications director for the governor.
Appropriations Chairman Ron Saunders (a Democratic from Key West) emphasized that, "The House doesn't like it either. I don't think we're really taking it too seriously."
"If the House approves the bill, we will all look goofy," said Representative Vernon Peeples (a Democrat from Punta Gorda), who fought hard against the bill for the license tag, saying that it was just free advertising for The Walt Disney Company.
Senate Appropriations Chairman Winston "Bud" Gardner (whose son was a Disney artist) countered that in a year where legislators were scrambling to find money to pay for schools and health care, Disney's offer was more than generous and welcome.
Michael Eisner didn't care for the idea either when it was first proposed at the beginning of 1991. As Gardner continued, "He has a very strong protectiveness of the Disney characters. It was only when people came to talk about children's programs that he (Eisner) got interested. He said all the proceeds have to be used for children."
Orange County Commissioner Bill Donegan (who had previously been critical of Walt Disney World and its relationship with Florida) said he liked the idea of the license plates and that, "I think Disney looks at this as goodwill. Those license plates crank out a heck of a lot of money and it will go to a worthy cause. Nothing Disney does, does not have an ulterior motive. It'll be good for Disney. It'll be good for Florida. They just need to keep an eye on where the money is going."
The House basically refused to consider the proposal. In a rare move that threatened to hold up the Legislature's adjournment, they voted 65-52 against a bill needed to implement the $29.3 billion budget because they opposed the section about the Disney license. So the project died.
However, Disney quietly arranged that during the 20th celebration, for every souvenir license plate that was sold in the Disney theme parks for $5, two of those dollars would go to Healthy Start, the state program for poor pregnant women and children.
Anniversary celebrations at the Florida Disney theme parks are handled very differently today.
= = = = = = = = = = = = = =
RELATED LINKS
= = = = = = = = = = = = = =
Other features from the Walt Disney World Chronicles series by Jim Korkis can be found in the AllEars® Archives:

http://allears.net/ae/archives.htm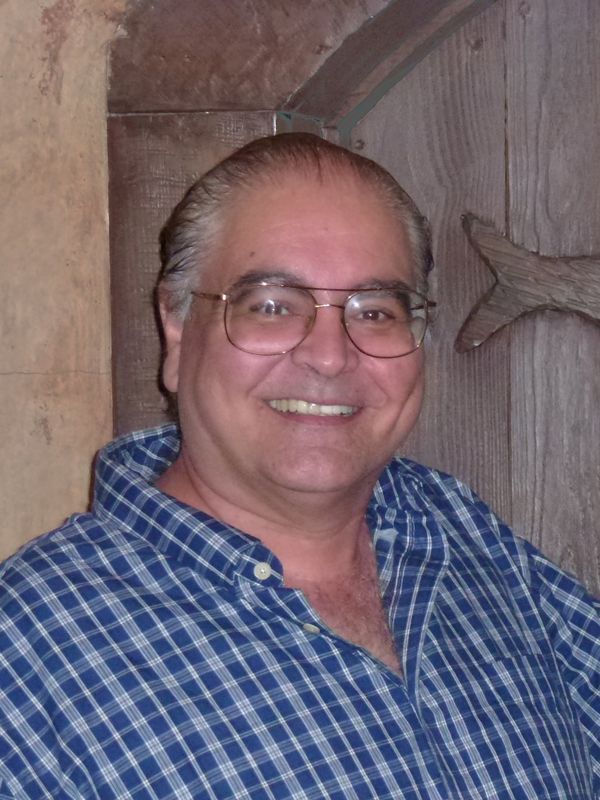 Jim also writes for the AllEars® Guest Blog every other week, contributing entries under the heading of "Jim's Attic." Find his latest entry here:
http://land.allears.net/blogs/guestblog/guest_bloggers/jim_korkis/
-=-=-=-=-=-=-=-=-=-=-
ABOUT THE AUTHOR:
Disney Historian and regular AllEars® Columnist Jim Korkis has written hundreds of articles about all things Disney for more than three decades. As a former Walt Disney World cast member, his skills and historical knowledge were utilized by Disney Entertainment, Imagineering, Disney Design Group, Yellow Shoes Marketing, Disney Cruise Line, Disney Feature Animation Florida, Disney Institute, WDW Travel Company, Disney Vacation Club and many other departments.
He is the author of several books, available in both paperback and Kindle versions. You can purchase them via our AllEars.Net Amazon.com store HERE.
-o-o-o-o-o-o-o-o-o-o-o-
Editor's Note: This story/information was accurate when it was published. Please be sure to confirm all current rates, information and other details before planning your trip.