Walt Disney World Chronicles: Miniature Golf in the World
by Jim Korkis
Disney Historian
Feature Article
This article appeared in the September 4, 2018 Issue #989 of ALL EARS® (ISSN: 1533-0753)
Editor's Note: This story/information was accurate when it was published. Please be sure to confirm all current rates, information and other details before planning your trip.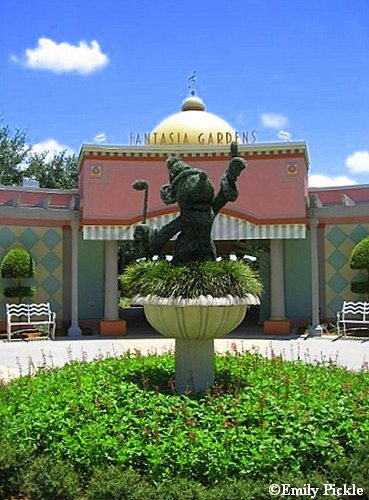 Miniature golf courses have been around the United States in some form or another for roughly a century. The traditional course with fantasy obstacles probably owes its popularity to the Tom Thumb Golf franchise started in 1929 that included 3,000 courses in the early 1930s. However, the novelty game soon fell out of favor right before World War II.
In 1955, Al Lomma revived and refined miniature golf with a course featuring animated tricky hazards requiring the player to avoid spinning windmill blades, revolving objects, moving ramps and more. Baby boomers embraced this amusement venue with its animated items.
The sport played with a putter and a golf ball is now featured on an estimated 5,000 different courses in the United States. Myrtle Beach, South Carolina is considered the unofficial mini-golf capital of the world with approximately 50 courses. In the U.S., there are even competitions and official tournaments.
Established in 1983 in Traverse City, Michigan, the Pirate's Cove Adventure Golf courses around the country provided elaborate landscaping and distinctive props. There was one on State Road 535 just minutes from Walt Disney World that was extremely popular. Established in 1978 in Fort Myers Beach, Florida, Jungle Golf also has locations in the Orlando area. Congo River mini-golf on International Drive is one of eight locations in Florida that also offers a themed environment.
Disney built mini-golf courses to try to keep guests on Walt Disney World property instead of venturing off to these popular putt-putt venues that were nearby in Orlando and Kissimmee, attracting both locals and tourists.
The Walt Disney Company's first miniature golf course, Fantasia Gardens, was themed after the Disney animated feature film Fantasia (1940). It opened on May 20, 1996, on 11 acres of land near the Walt Disney World Dolphin Resort.
Several concepts were explored for the quiet, beautifully landscaped area, including one that would depict the adventures of Alice in Wonderland in a type of Red Queen croquet game. Another proposal was influenced by the Storybook Land Canal Boat attraction at Disneyland, with miniatures that featured examples of architecture from the classic Disney animated films like Snow White and Pinocchio. There was also a pitch for the course to be themed to Roger Rabbit with the wackiness of Toontown represented at each hole. However, then-CEO Michael Eisner personally decreed that using the popular cartoon character and his world was no longer an option for Disney projects because of some challenges with Steven Spielberg and Amblin Entertainment.
Finally, it was decided that Fantasia offered many different options for each hole. In addition, the film's 55th anniversary in 1995 helped bring it to everyone's attention. While there had been many discussed possibilities of using the film for a park attraction over the decades, none had developed.
"Some of them (the items in the Fantasia Gardens' course) were no-brainers," claimed WDI Senior Concept Designer Joe Lanzisero in May 1996 after the area opened. "Things people identify with when they think of Fantasia: elephants and hippos, snowflakes, mushrooms, Mickey and the brooms. We wanted soft, classical sequences that were more garden-like and fit the environment. That's why there's no Rite of Spring section (with its oversized dinosaurs)."
The final plan included five sections from Fantasia that fit the gentle garden theme: Toccata and Fugue, The Nutcracker Suite, The Pastoral Symphony, Dance of the Hours, and finally, The Sorcerer's Apprentice as the dramatic conclusion.
For Fantasia Gardens, Lanzisero was the senior concept designer along with another WDI concept designer Robert Coltrin, who wrote the verses posted at each hole. However, as with any large project, not everything went smoothly all the time. At one point, budget constraints threatened to eliminate the home of Zeus from the plans, but some creative re-working of the figures allowed Mount Olympus to be built. Lanzisero considered it to be the focal point that organized the rest of the design of the course.
On the 10th hole where Bacchus is pouring wine down a hill, it is a more difficult shot than originally intended by the Imagineers.
"After a misinterpretation of the design, the hill ended up being elevated about three feet higher than the drawings. But what it lacks in playability, it really makes up for in aesthetics," stated Lanzisero.
Coltrin added, "It is pretty steep, like a 45-degree angle. You putt up the hill and the ball comes down the other side like a pachinko game, going 'bink, bink, bink, bink' as it hits the bubbles in the wine that's he's pouring down the hill."
The goal was to orchestrate each hole with varying levels of difficulty. Some holes are fairly simple so that guests get an immediate payoff — for example, where the statue of a little faun plays a tune on his pipe when the ball drops into the hole.
"Oh, the wonders of modern electronics!" enthused Coltrin. "Digitize the music, put into microchip, and push it through a 50-watt amp and two little, tiny speakers play it every time a ball drops in the cup. Nothing to it!"
Some holes are more interactive than others. One of the favorites of the Imagineers is the 16th hole, with the statues of the brooms standing above the fairway.
"Everyone gets the payoff here. You don't have to do anything special to get the brooms to dump the water. The water squirts not only over the putting area, but over where the people walk, too. This is programmed so that the buckets shoot water in sequence, but if you make it to the putting green in one shot, the ball has to go by three sensors so all the buckets splash at one time," smiled Lanzisero.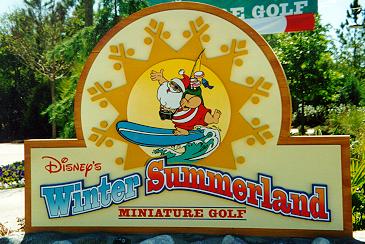 Opened March 12, 1999, the Winter Summerland miniature golf course located near the entrance to the Blizzard Beach water park was the second mini-golf venue built for Walt Disney World.
"Because of the success of Fantasia Gardens, Walt Disney World Operations realized the potential of tapping into this new market and came to us with the idea of creating another miniature golf course," said senior show producer Ron Chesley. "With all of Joe Lanzisero's and Robert Coltrin's experience from creating Fantasia Gardens, we could build 'em for the next 20 years!"
In January 1998, the area next to Blizzard Beach was selected as the optimum location and that influenced the direction of a storyline that tied into that unique water park, whose storyline is that an unexpected snowstorm hit Florida.
Senior concept writer and director Kevin Rafferty was brought in to develop a storyline that emphasized consistent and clever theming. Basically, after finishing his Christmas Eve rounds and on a flight path that would return him to the North Pole, Santa glanced down while over Florida and was surprised to see snow where it never had been.
"Conceptually, the idea of Winter Summerland is a perfect marriage with Blizzard Beach," said Lanzisero. "It's got that whole screwy look of winter in Florida already going for it — that fish-out-of-water type thing that we Imagineers love to run with."
Rafferty, Lanzisero, Coltrin and associate show producer Darrell Rodriguez spent four days together in a conference room in what Imagineers call a "mini-Blue Sky" retreat where ideas are shared without restriction.
"The way we worked together and built off of each other's talents to create a holistic concept was amazing," said Rodriguez. "Those four days were really a testament to how ideas gel at Imagineering as well as it all being a lot of fun. A lot of pizza was ordered, a lot of donuts consumed and a lot of design was created."
The idea was to mirror the familiar sun and surf of Florida with the ice and snow of the North Pole. The bi-polar courses were built by Santa's elves as a vacation destination during the year for Santa.
The Winter Summerlodge serves as a sturdy and welcoming vacation home for the Clauses and a summer toyshop was also built for those workaholic elves who still felt the desire to continue working. There was also a beachfront barn for the playful reindeer.
"We wanted to create an integration between challenging play and really cool icons," said Lanzisero. "We wanted to purposely increase the playability factor over what we had done in Fantasia Gardens. Plus Santa apparently had some skiing and sunbathing mishaps, which are evident in the course and hopefully will produce some giggles."
Here is the official WDI storyline: "Late one moonlit Christmas Eve, as Santa was flying over Florida on his way back to the North Pole, he glanced down and could not believe what he saw. Santa found snow in a place that is usually hot. After surveying the strange location, he decided to build a vacation destination for his off-duty elves — a Winter Summerland. The only thing Winter Summerland lacked was a golf course. So the elves divided into two camps, one that enjoyed the warm Florida sun and another that preferred the snow and cold of the North Pole. In this Winter Summerland, the elves built two distinctly different 18-hole golf experiences — a sand course and a snow course. Both courses at Winter Summerland are loaded with interactive elements that will entertain and engage golfers of all ages. On the snow course, Squirty the Snowman sprays water on unsuspecting guests when their golf balls pass beneath him. On the sand course, guests putt over a slumbering Santa buried underneath a tremendous sand mound. Although the elves were split into different camps, they agreed that the last couple of holes should converge within an old log campground lodge. Upon sinking their last putt on Hole 18, guests journey through cyberspace via the WinterNet as a computer downloads a special greeting from Santa. Winter Summerland also features Santa's Winterbago, a converted travel trailer that houses the starter booth, and small snack and gift shops."
Since the courses were designed to be "elf-sized," it means that they are the perfect proportion for younger guests. Merry obstacles include innertubes decorated like giant peppermints, hockey sticks and the drawbridge of a fantastical, melting castle. Both courses have a replica of Cinderella Castle that looks like ice and sand respectively.
At Walt Disney World the family tradition of miniature golfing is still going strong and providing entertainment for children of all ages, but often remains a hidden treasure for those guests focused solely on experiencing the parks.
============
RELATED LINKS
============
Other features from the Walt Disney World Chronicles series by Jim Korkis can be found in the AllEars® Archives.
= = = = = = = = = = = = =
ABOUT THE AUTHOR
= = = = = = = = = = = = =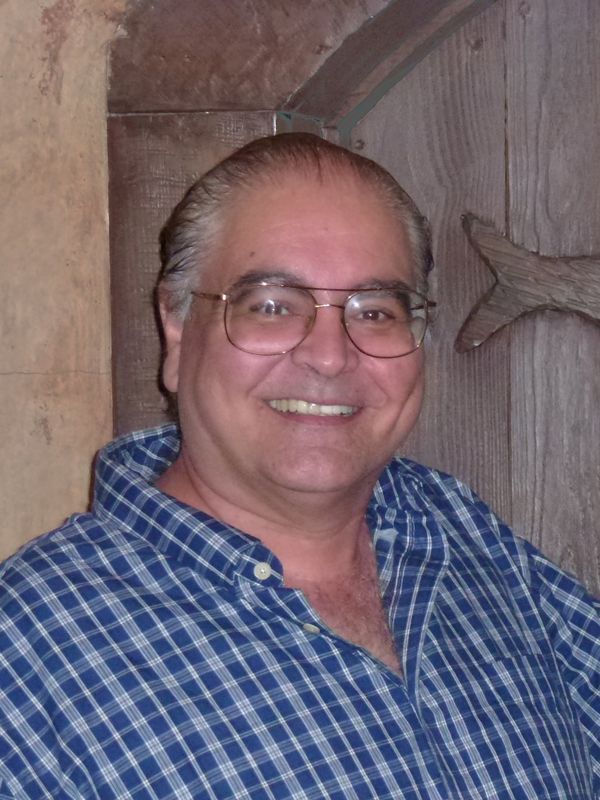 Disney Historian and regular AllEars® Columnist Jim Korkis has written hundreds of articles about all things Disney for more than three decades. As a former Walt Disney World cast member, Korkis has used his skills and historical knowledge with Disney Entertainment, Imagineering, Disney Design Group, Yellow Shoes Marketing, Disney Cruise Line, Disney Feature Animation Florida, Disney Institute, WDW Travel Company, Disney Vacation Club and many other departments.
He is the author of several books, including his newest, Secret Stories of Disneyland, available in both paperback and Kindle versions.
-o-o-o-o-o-o-o-o-o-o-o-
Editor's Note: This story/information was accurate when it was published. Please be sure to confirm all current rates, information and other details before planning your trip.