TOURING
AT A GLANCE...
Entertainment
Special Events
Special Reports
OTHER WALT DISNEY WORLD THEME PARKS
OTHER DISNEY THEME PARKS
Storytime with Belle
in the Fairytale Garden

Magic Kingdom Archives
NOTE: "Storytime with Belle" at the Fairytale Garden will be performed for the last times on September 12, 2010. A new "play and greet" interactive experience with characters from the upcoming animated film "Tangled" will be introduced in the Magic Kingdom's Fairytale Garden beginning Friday, October 15. The new experience will allow you to play and dance with Rapunzel and Flynn Ryder in a village garden setting.
Introduction | Touring Tips | Reader Comments

Tale as old as time
Song as old as rhyme
Beauty and the Beast!
INTRODUCTION:
Located in the Magic Kingdom, next to the Enchanted Grove Refreshment stand in Fantasyland and across from Cosmic Ray's in Tomorrowland is the Fairy Tale Garden. Several times a day, Belle delights children with her retelling of the story of Beauty and the Beast.
The 20-minute show, which takes place in the secluded Fairytale Garden tucked behind and to the right of Cinderella Castle, involves lots of audience participation, encouraging children to become part of the show. This means a great opportunity for some memorable photographs!

If you have a little one, be sure to go to Belle's Storytime. It was so terrific! Belle was beautiful and so wonderful at what she was doing, and everyone there had such a good time! We just happened upon it while looking for a place to sit and rest in the shade, and I am so glad we did! (Kelli Williams)
STORYTIME WITH BELLE
One of the true highlights of our recent trip was when our 4-year-old daughter and I stopped to see Belle's Storytime in the Magic Kingdom. My daughter was lucky enough to be in the cast.


When we got to the rather small seating area, all of the benches were taken, so I stood in the back and encouraged her to sit with some other small girls who were close to the stage. (Apparently they were a little too close to the stage, because one of Belle's helpers did shoo them back before the show started.)
Once the story was under way and Belle was choosing Gaston (the bad guy), the Beast (the hero) and Maurice (Belle's father) from among the seated audience members, Belle's helper led the whole group of girls up on the stage and began outfitting them as Lumiere (the candelabra), Cogsworth (the clock), Chip (the cup) and Mrs. Potts (the teapot).
As Lumiere, my daughter wore a large candle on her head with a Velcro strap under her neck. The little girl next to her wore a similar candle on one arm. The other costumes were large pieces of cloth with straps around the children's shoulders. They were all very cute and looked fairly comfortable; the children were in them for 5 minutes at the most.
Under the guidance of Belle's helper, the children were able to dance with Belle and the Beast (a father chosen from the audience) and follow a few other simple stage directions. It was all very cute and well-run by Belle and her helpers.
After the show, Belle is available to sign autographs and pose for photos with all the "children," big and small.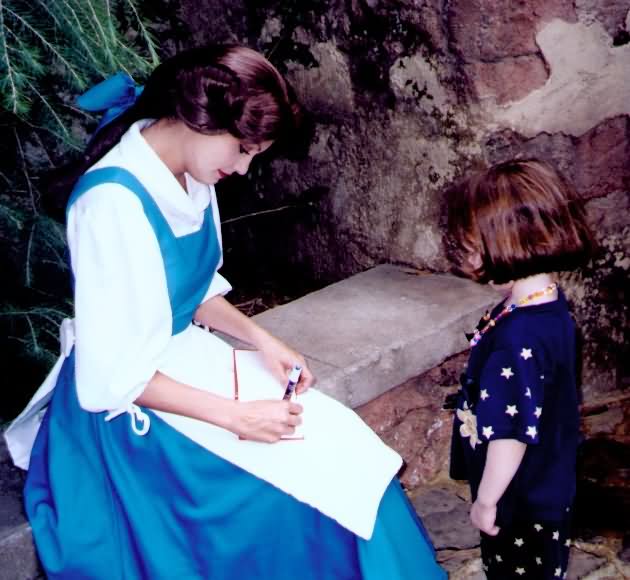 TOURING TIPS
The Fairytale Garden is fairly small, so arrive a few minutes early to get a seat near the stage.
Some small children may develop a case of stage fright if chosen to participate -- you may want to forewarn your children as to what might happen if they are selected to ease their concerns.
When we went to see Belle's Storytime, we learned a valuable lesson. Our three year old is thoroughly taken with Beauty and the Beast, so this was the highlight of the trip for her. We really enjoyed the storytime and due to a last-minute run to get a pen so that Belle could sign her autograph book, we ended up last in line to see Belle after the show. This really worked out in our favor! Since Perri was the last child there, Belle
spent extra time with her, taking her time posing for pics and signing her autograph book and just talking to her. It was great! So don't be in a hurry to get in those lines. The last one there might just get the special treatment that our little one did! (phil-kelli)
For performance times, consult your park Time Guide or visit Steve Soares' WDW Entertainment Website.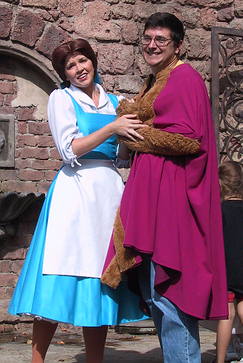 This intimate outdoor amphitheatre-styled setting has a backdrop of crumbling stone walls that are made to look centuries old. The "story" of the Fairy Tale Garden is that ruins from the 1300s were uncovered behind Cinderella's Castle and they are now being restored.
Please send your comments and photos from the Fairy Tale Garden HERE.