2016 Festival
Photos
2015 Festival
AllEars.Net
Reports
Photos
Videos
---
Epcot's
2004 International
Food & Wine Festival

Lunch and Learn
Sunday, November 7, 2004
Featuring
Brooke Vosika
Four Seasons, New York City
Hosted by Pam Smith
MENU
Course 1
Maryland Crab Flan with an Essence of Autumn Peas
Wine Selection: Stonestreet Sauvignon Blanc, Upper Barn
Course 2
Butternut Squash Agnolotti, Parmesan Broth and Winesap Apples
Wine Selection: Stonestreet Chardonnay, Upper Barn
Course 3
Holiday Spiced Loin of American Lamb, Comfit Style,
with Savory Yams, Lemon and Lime Meringue
Wine Selections: Stonestreet Cabernet Alexander Valley and
Stonestreet Legacy Red
Dessert course
Strawberry and Coconut Martini with Pistachio Ice Cream
Lunch and Learn
November 7, 2004

by Becky Ashley

After attending the Party for the Senses the night before, my husband and I weren't sure if we would be ready for a 10:30 a.m. four course lunch, but as you will see, we managed quite well. We arrived at the Odyssey by 10:15, checked in and waited in line until the 10:30 entry time. There were approximately 10 tables with seating for 6 to 8 people per table facing the cooking demonstration stage. My husband and I chose a seat in the middle rear table, which in our typical luck was the very last table to be served each course, which had some implications that I will touch on later.

Each person was provided with a Power Point printout that listed the courses and wines as well as the recipes for each course, and a small biography of our chef, Brooke Vosika. Brooke graduated from the CIA and has worked at Four Seasons hotels in Washington, D.C., Chicago, Seattle, Atlanta and is currently the head chef of the Fifty Seven Fifty Seven Restaurant and Bar in the Four Seasons Hotel in New York City.

Looking at our menu, my husband and I were very happy with the course selections. While we both enjoy well-prepared food, we are not what you would call haute cuisine or nouveau cuisine kind of people. The menu items listed looked like something we would really enjoy.

Pam Smith was the host for our lunch. Here is her bio from her webpage www.pamsmith.com: "Pamela Smith, RD, is a nationally known nutritionist and energy coach, culinary consultant and best-selling author, is the creator of The S.M.A.R.T. Weigh® Strategy through which thousands of people have won back their health and energy. She has coached professional, corporate, and life athletes in winning plans -- from the NBA's Shaquille O'Neal and various NBA Teams, the PGA's Larry Nelson and Brad Faxon to the executives and culinary development teams at Darden Restaurants, Walt Disney World, Hyatt Hotels and Resorts, and many more."
She was a great host, very energetic and entertaining. She was very good at prompting Brooke to give the audience the type of information she believed we would have wanted to know about the recipes. There was also a representative from the Stonestreet Winery who discussed each of the wines we had. Unfortunately, I can't recall his name, but he was a South African who is now working at the Stonestreet Winery in the Sonoma Valley.
Overall, Brooke Vosika was a very good presenter. He spent just the right amount of time discussing his cooking techniques, the individual recipes and his overall cooking philosophies.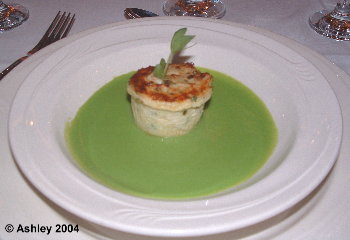 Please note that I am not a knowledgeable wine lover. I mostly drink white wines due to complications with migraines, and even then I am no expert, so unfortunately I cannot offer any type of in-depth review of the wines.
The first course was the Maryland Crab Flan with an Essence of Autumn Peas. This was a very simple dish of crab baked in individual servings in small ramekins held together with a light flan mixture (eggs and cream). A "soup" of autumn peas that was made of frozen baby peas blanched in hot salted water and then pureed surrounded the flan. The combination of the crab with the peas was delicious (and I don't even particularly care for peas!).
A garnish of pea greens and a crab made from pate choux (éclair paste) referred to by Brooke as Charlie Crab were used for garnish. Unfortunately, as we were the last to be served, the kitchen had run out of the crab garnish so it is not included in my picture.
With the crab, we were served a very good Sauvignon Blanc from the Upper Barn vineyard of the Stonestreet winery. During the entire lunch, we were offered refills on our wine whenever necessary. (At the Sweet Sunday event we attended, we were only given one tiny glass of ice wine that was never refilled and coffee, even though we sampled three different desserts.)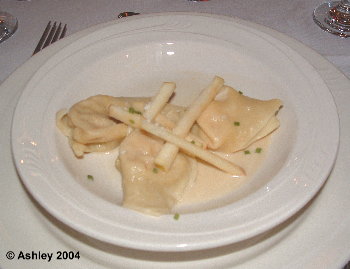 Onto the second course, which included the Butternut Squash Agnolotti, Parmesan Broth and Winesap Apples. The squash was cut into two, seeds removed and then a cinnamon stick and some sage were put into the cavity before the squash was oven-roasted. The cooked squash was then mixed with a number of ingredients including amaretto cookies, nutmeg and Parmesan cheese. This made up the filling of the Agnolotti (egg pasta). The agnolottis were stuffed, cooked, drained and served with the Parmesan broth and julienned apples.
Even though I am a true crab lover, I believe this was my favorite dish of the lunch. The flavor of the butternut squash was amazing. Our serving consisted of three of the agnolottis. My husband's serving had one agnolotti with no filling! Again, maybe it was due to being the last served and the kitchen coming up short!
The dish was pared with the Stonestreet Chardonnay, Upper Barn that my husband and I both enjoyed.
The main course was Holiday Spiced Loin of American Lamb, Comfit Style, with Savory Yams, Lemon and Lime Meringue. Until this weekend, I don't think that I had ever had lamb, and here I was having it the second day in a row. While I believe that most lamb is prepared rare, the serving that I had at the Party for the Senses the night before was downright raw, so I was a bit hesitant about having it again.
This rack of lamb was coated with pastrami spices, browned and then roasted until medium rare. Pickling spices could be substituted if pastrami spices were not available. The lamb was served with a small serving of sweet yam puree with a lemon and lime meringue and lamb jus.
Although the lamb chops were quite rare, they were delicious. Two different reds were served, the Stonestreet Cabernet Alexander Valley and the Stonestreet Legacy Red. When the reds were first poured, my husband took a sip and declared they were not for him. I told him to wait for the lamb and then give the wine another chance. It's amazing how different the wine tastes once it is paired with the right food. Both wines were very good with the lamb.
For more information on the wines, Stonestreet has a very nice website (www.stonestreetwines.com) with full descriptions and reviews of all of the wines mentioned above.
After our delightful three-course lunch, we still had room for our dessert of Strawberry and Coconut Martini with Pistachio Ice Cream. A mixture of macerated strawberries were poured into a martini glass. A coconut puree was mixed with Malibu Rum and gelatin and pored over the strawberries, and then topped with pistachio ice cream. Brooke suggested that this could be a good holiday dessert given the red and green coloring.
By 1:00 p.m. our lunch was completed and we wandered out into the bright sunlight of the World Showcase much enlightened and very happy. We feel that this lunch was well worth the $75.00 price.