TOURING
AT A GLANCE...
FUTURE WORLD
WORLD SHOWCASE
ENTERTAINMENT
SPECIAL EVENTS
HOLIDAYS
OTHER WALT DISNEY WORLD
THEME PARKS
OTHER DISNEY THEME
PARKS
The Seas with Nemo & Friends

Epcot
NOTE: Annual Passholders and Disney Vacation Club Members were able to sneak preview The Seas with Nemo & Friends at Epcot October 13 - 15, 2006.
Click HERE for photos of the ride!
Click HERE for firsthand reports!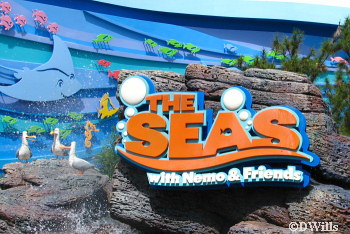 The Seas with Nemo & Friends, a whimsical and visually stunning attraction for guests of all ages, bows at Walt Disney World Resort in fall 2006, anchoring the newly renamed and re-launched The Seas with Nemo & Friends pavilion in Epcot (at left).

Picking up where the motion picture "Finding Nemo" left off, the ride-through attraction in a colorful coral reef setting features technology that causes the stars of the motion picture to magically appear swimming amid the live marine life of a 5.7-million-gallon saltwater environment -- one of the largest such aquariums in the world.
Guests aboard "clam-mobiles" first meet Mr. Ray and his class on a field trip and soon learn that Nemo has wandered off. The journey in search of Nemo includes familiar characters such as Dory, Bruce, Marlin, Squirt and Crush. These deep-sea friends inhabit a variety of vibrant vignettes, including the actual aquarium containing more than 65 species of marine life. In the musical finale, Nemo is happily reunited with his class and friends.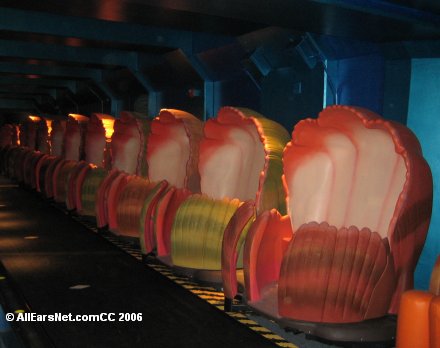 10/14/06, AllEars.Net friend CC writes: We rode the new The Seas with Nemo and Friends today. First off I'd like to say, this is a very cute ride. If we still lived in the days of ticket books, it would be at least a "C" coupon and maybe even a "D" coupon. It wouldn't be fair to compare this to Expedition: Everest. But you can compare it to the "dark" rides in the Magic Kingdom (Snow White, Peter Pan, and Winnie the Pooh) and this ride competes very nicely (I think it's better than any of them). It's appropriate for all ages.
You enter the attraction thru the same entrance that you used to enter the Living Seas Pavilion. The "back & forth" queue is still here, but now the atmosphere is a beach and boardwalk, complete with a lifeguard station.
Once you reach the end of this queue and enter what used to be the waiting room for the film or hydrolators, you have the option of skipping the attraction and going directly into the pavilion, or continue onto the ride. There is lots and lots of queue ahead of you. Disney expects this to be a popular attraction. The bypass route would have been hard to find as there were no signs. However, it wasn't being used today. Maybe they'll have signs when the attraction begins regular operation.
In this portion of the queue, you are supposed to be underwater. Rusted pipes make up the guide-rails and you can see a pier's support legs jutting down from the water's surface. You can also see the bottom of a boat floating above you, complete with ripples radiating from it.
Once you reach the loading area, you are directed onto a continuous moving ramp (similar to the Haunted Mansion) where you board your Clam Shell. We were told that the Clam Shell holds 2 to 3 people, but if you tried to put 3 people in one of these vehicles, one of them had better be a child. We were also told three times that flash photography is strictly forbidden. On this attraction, not only would it disturb other guests, but I'm sure it would interfere with the special effects.
The basic story is that Nemo is once again missing, and his father is searching for him. Along the way, we see others of Nemo's friends from the movie, including Dori, Bruce, and Crush.
For most of the ride you pass by underwater scenes featuring coral, seaweed, and underwater lighting effects. Crystal clear (high definition) projections of the various Nemo characters are part of each vignette, along with some animatronics and other special effects.
At the end of the attraction you ride by and look into the actual "Living Seas" aquarium. Here, Nemo and his friends have can be seen in the tank. This is an awesome effect and it really looks like they're in the tank with the real fish. In the final scene, the Starfish has plastered itself to the glass and has several very cute parting phrases for you.
Read more firsthand reports HERE!
DINING
The pavilion features a most unique dining experience in the Coral Reef Restaurant. Here you can dine in front of windows 50 feet long and eight feet high, allowing you to view the faux-Caribbean coral reef. The seating is terraced for optimum viewing.

Epcot Restaurants At A Glance
Menus From Around the World
Vegetarian and Other Special Diets
ENTERTAINMENT
There is no live "entertainment" per se in the pavilion, aside from the aquatic life.
For more information on Epcot Live Entertainment, visit Steve Soares WDW Entertainment Website.
KIDS AND CHARACTERS
Nemo and a Living Coral make appearances outside the pavillion near the Finding Nemo Sculpture.
Epcot Characters At A Glance
Character Meet and Greet FAQ!
SHOPPING
Sea Base Alpha - Aquatic gifts including dolphin themed items. This shop has one of the best selections of pavilion specific logo merchandise in all of Epcot! You can find Seas T-Shirts, hats, refrigerator magnets, pins, postcards, keychains and more.