TOURING
AT A GLANCE...
Pandora - The World of AVATAR
Construction Underway
-- 2017 Opening
Flight of Passage E-Ticket Attraction

Na'vi River Journey Family Canoe Ride
ENTERTAINMENT
IN-DEPTH BLOGS
Special Reports
OTHER WALT DISNEY WORLD
THEME PARKS
OTHER DISNEY THEME
PARKS
Finding Nemo -- The Musical
Animal Kingdom
Soft Opening Reports
Official Photos and Press Release
Live Report - November 5, 2006 - First Open Dress Rehearsal
AllEars.Net team members Anita Answer, Jack and CC were on hand for the very first public showing of Finding Nemo the Musical at Disney's Animal Kingdom on November 5, 2006 at 10:00am.

There are 2 shows today, 11/5, at 10am and 12:30. It is being called dress rehearsals. The biggest tweaking that is needed is the sound system. Most singing and dialogue is performed live, only the music is prerecorded. The sound issue had to deal with the music overwhelming the dialogue, muffling voices.

No pictures or video were allowed.

We don't want to give away too much, but here are some tidbits:

The show is all puppetry, but you can see the humans. They are in bright costumes that match with their puppets. There are between 18-20 performers in the show.

To the left and right of the stage are huge Plexiglas bubbles that show projections during the musical.

If you remember Tarzan and the runway... it's used in this show as well.

Dory and Marlin and the puppeteer perform an aerial act... like they are swimming in the air.

The music is excellent and certainly a show for all ages. The music (Big Blue World) in the new Finding Nemo clam mobiles at Epcot's Living Seas is a song in this production.

Overall they rate the show very highly! "If you like live shows or Nemo, this is an E-Ticket Attraction," CC explained.
UPDATE from 12:30pm show 11/5/06
Anne Hamburger, EVP of WDW Entertainment, introduced both shows announcing these were the very first public shows of the new musical.

Second show had a different cast, equally as good as the first. Audio seemed a little better although the AllEarsNet.com team were seated in a different area.

Recommend you sit in the middle further back for best viewing. Stage, runway and seating all the same from Tarzan - does not appear changed.

Enjoyed the show even more than the first time!
Live Report - November 6, 2006
Senior Editor Debra Martin Koma and her family saw the first show today, November 6:

"Amazing... I can't use enough positive adjectives. It's just the best... it made me cry. Follows the movie plot line, the performances were great. Costumes are stunning, bright colors, just gorgeous. Sound was pretty good, but still a few bugs to work out. The sharks were great -- very entertaining!"

Deb's 14-year-old son, who says he is "not into musicals," called the show "OK," hinting at the fact that it is definitely geared toward younger children who have seen the Finding Nemo movie.

Imagineer Joe Rohde was at this performance, watching audience reaction.
INTRODUCTION
Finding Nemo the Musical was announced at the April 7, 2006 Grand Opening of Expedition Everest.
Official Disney Photos from the New Show:
©Disney
The Walt Disney World Press Release:
'Finding Nemo' to Make Splash In Musical Spectacular at Disney's Animal Kingdom

LAKE BUENA VISTA, Fla. (April 7, 2006) -- The undersea world that charmed audiences around the world in the Disney presentation of the Pixar Animation Studios smash-hit film "Finding Nemo" will come to life in an all-new musical stage show debuting at Disney's Animal Kingdom in late 2006.
Featuring original songs by Tony Award-winning "Avenue Q" composer Robert Lopez and a cappella musical "Along the Way" composer Kristen Anderson-Lopez, "Finding Nemo -- The Musical" will immerse Walt Disney World guests in the story of Marlin and Nemo, an overprotective clownfish father and his curious son, through a dazzling production that combines puppets, dancers, acrobats and animated backdrops.
The show represents the first time Disney has taken a non-musical animated feature and transformed it into an original musical production. It will be presented in the newly enclosed Theater in the Wild.
"In 'Finding Nemo,' directors Andrew Stanton, Lee Unkrich and the talented team at Pixar created a film filled with unforgettable characters and a story rich with honest emotions that resonated with audiences everywhere," said Jay Rasulo, chairman of Walt Disney Parks and Resorts. "The movie was a worldwide box-office success and an Academy Award winner.
"We are truly excited to bring this beloved story to life at Disney's Animal Kingdom in this new musical spectacular."
During "Finding Nemo -- The Musical," Theater in the Wild will become a magical undersea environment through innovative lighting, sound, special effects and the theatrical puppetry of Michael Curry, who designed the richly detailed character puppets seen in the Broadway version of Disney's "The Lion King."
Principal characters such as Marlin, Nemo and Dory will be represented by live performers operating larger-than-life puppets. Peripheral characters will be realized by a diverse array of puppetry styles, including rod, bunraku and shadow.
"It is our goal to bring the undersea Nemo characters to Disney's Animal Kingdom in a live setting in a way that captures what is truly special about the film," Rasulo continued. "This production will meet that challenge in a dynamic and wholly original way to bring us into the fantastical ocean world."
The director for the new show, Peter Brosius, is artistic director of The Children's Theatre Company of Minneapolis, winner of the 2003 Regional Theatre Tony Award. The Broadway "A Year With Frog and Toad," nominated for the Best Musical Tony Award, originated at Children's Theatre Company.
"Finding Nemo -- The Musical" is the first major musical produced for Walt Disney World Resort by Disney Creative Entertainment, which has received acclaim for its productions around the world, including "Disney's Aladdin" (at Disneyland Resort in California), "The Lion King" (at Hong Kong Disneyland), "Twice Charmed" (on the Disney Cruise Line), and "The Golden Mickeys" (at Hong Kong Disneyland and on the Disney Cruise Line).
"It's exciting to be involved in projects that introduce a new generation of future theatergoers to the work of internationally recognized creative talent through Broadway-caliber short-form shows that all audiences can appreciate," said Anne Hamburger, executive vice president of Disney Creative Entertainment. "Millions of children experience live theater for the first time during a visit to a Disney park."
"Finding Nemo -- The Musical" tells the story of a father clownfish, Marlin, and his son, Nemo, each on a separate journey that ultimately teaches them how to love and understand each other. The two have been separated – and Marlin will stop at nothing to get his son back, facing undersea challenges with his new friend Dory, who he has met along the way. Meanwhile, Nemo, relocated to a fish tank in Sydney, makes new friends who teach him that he's stronger than he thinks. When news of his father's heroic journey reaches the tank, Nemo is inspired to do whatever is necessary to escape the tank and see his father again.
"Finding Nemo -- The Musical" will be performed several times daily. Admission to Theater in the Wild is included with regular Disney's Animal Kingdom theme park admission.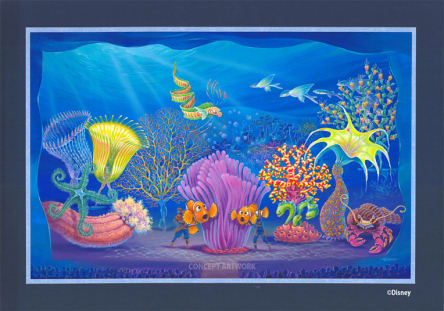 ©Disney