TOURING
AT A GLANCE...
Entertainment
In-Depth Blogs
Special Reports
OTHER WALT DISNEY WORLD
THEME PARKS
OTHER DISNEY THEME
PARKS
Pocahontas and Her Forest Friends
Animal Kingdom
SHOW ENDING: Pocahontas and Her Forest Friends will have its last show September 27, 2008. No word on a replacement show. Pocahontas will continue to appear in character meet and greets in the main entrance of Animal Kingdom and at Rafiki's Planet Watch.
INTRODUCTION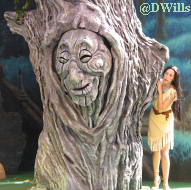 Is there really one animal that can save America's forests and the animals who live there from destruction? Native American legend says there is. But which one? Grandmother Willow says, "You must ask the animals." And Pocahontas sets out to do just that.
ATTRACTION
This is the story of "Pocahontas and Her Forest Friends," where live forest animals take the stage in a nature grove to demonstrate how they can help. Based on characters from the Walt Disney film, Pocahontas, the stage show, makes use of music from the film as background for the intimate stage show.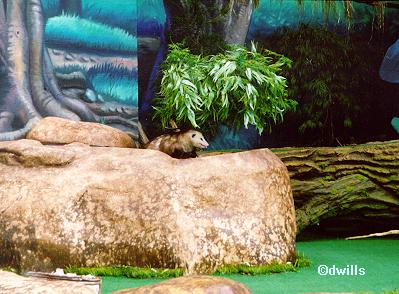 There's a prickly porcupine, a possum, a raccoon, a rabbit, wild turkey and an energetic skunk. There's even a very large snake, another of the friends Pocahontas brings on stage to help younger audience members learn more about their animal neighbors. In the end, Grandmother Willow and Pocahontas and all her friends learn that the only animals who can save the forests are -- you guessed it -- humans.
The 12-minute show is presented up daily in the tree-shaded 400-seat Grandmother Willow's Grove.
TOURING TIPS
The first 3 rows are reserved for children...so be sure yours gets an up close seat!
If your little one (or not so little one!) loves animals -- that is, if they'd rather stand and watch the anteater than rush off to the TriceraTop Spin -- be sure to catch the Pocahontas and Her Forest Friends Animal Training Show. They demonstrate how they train the animals for the show, and since the animals are still learning, sometimes things don't go perfectly. If you have time later, go to one of the other performances of this show, and you'll appreciate it more, knowing the work that goes into putting this show on. (Jane Johnson) NOTE: The Times Guide indicates the shows designated as Training Shows. (Currently it's the 12:55 p.m. show.)
The theatre is bench seating with no backs in the outdoors.
For more information on Animal Kingdom Live Entertainment, Visit Steve Soares' WDW Entertainment Website.
KIDS AND CHARACTERS
Great for kids of all ages, but especially geared towards the young ones!
My 4 year old daughter loved the show! (Donna S)
Animal Kingdom Characters At A Glance
Character Meet and Greet FAQ!
DINING
Chip and Dale's Cookie Cabin - quick snacks of cookies, ice cream and drinks


Animal Kingdom Restaurants At A Glance
Menus From Around the World
Vegetarian and Other Special Diets
SHOPPING
No places to shop in the immediate vicinity of the theatre, but plenty of shops throughout the park.
INTERESTING FACTS
If you have comments or tips to share with others about touring Animal Kingdom, please email me. Thank you.