TOURING
AT A GLANCE...
Pandora the World of AVATAR
Construction Underway
-- 2017 Opening??
Flight of Passage E-Ticket Attraction

Water Based Boat Ride
ENTERTAINMENT
IN-DEPTH BLOGS
Special Reports
OTHER WALT DISNEY WORLD
THEME PARKS
OTHER DISNEY THEME
PARKS
Expedition EVEREST

Cast Preview Reports
January 2006
Seating Photos | Queue Photos | Ride Photos | Slide Show
Cast Member Preview Reports | Pre-opening Photos
Tell us what you think about Expedition EVEREST!
CAUTION:

These reports discuss the actual ride.
If you want to be surprised, do not read!
SPOILERS BELOW

-- RIDE DESCRIPTION --

SPOILERS BELOW

**********

1/21/06 Richard & Christine: We rode Expedition Everest yesterday and thought it was a very smooth and good ride. It was different than any other ride I had been on. We will surely ride it again soon and hope to see you this weekend.


1/21/06: Natalie: I just rode Expedition Everest this morning. My boyfriend (another CM) had ridden it two weekends before during commercial tapings, so I pretty much knew a lot of things about the ride before I got on. To tell you the truth -- nothing could have prepared me for that ride! It was amazing. We found two Hidden Mickeys in the queue and one on the ride. I'm sure there could be more, but I sure didn't see them. We waited in the "second" line to ride on the front row -- well worth the extra wait! When we reached the top of Everest we could look over and see Epcot, Swan and Dolphin, and Tower of Terror. It was excellent. Flying backwards makes me slightly dizzy (of course it was the third time I rode it!), but flying forwards just made me scream! Everyone who is headed to the Passholder/DVC preview is going to love it! Things are running very smoothly, and our longest wait was 20 minutes, so I definitely can't complain.

1/20/06 Emily R: I just rode Expedition Everest today and I have to say it is the most amazing Disney ride yet. My friend and I were sitting in the second row and near where the tracks are "broken" there is an amazing view including Epcot and MGM. It was a great ride!


1/20/06 Brian: Looks fantastic! We arrived around 8pm, They assured us that everything would be up and running soon. Three hours later we were leaving the park with no ride. Air brake shutdown. Do we have another Test Track? Probably not. Just hope the same techs that helped Test Track opening didn't transfer to Everest.

1/20/06 Kelly: I rode Expedition Everest at the Cast Preview! What an incredible ride! If you love Dinosaur, Space Mountain and Rock 'n' Roller Coaster, you'll love this ride! It was thrilling and fantastic! I don't want to reveal any secrets, but that Yeti sure is scary!

1/20/06: We arrived at Disney's Animal Kingdom turnstiles at 8:30 a.m. At 8:45 a.m., they opened the gates and allowed everyone to enter the park up to the Attraction Information Board. After a brief opening ceremony, rope-drop commenced at 9 a.m.

All of the "regular" guests aimed left toward Africa, while all of the cast members headed off to the right. At the Flame Tree BBQ, half of the CMs headed toward Asia and the other half aimed for Dinoland. Looking at a map, it's about the same distance to Everest either way. We headed for Dinoland. Just past the Tarzan Theater, there was another rope blocking our way. Here, CMs checked everyone's ticket (VERY CLOSELY) to ensure that we all had the proper receipt to proceed further. A similar checkpoint had been set up on the Asian pathway shortly before you come to the restrooms.

We proceeded to the attraction queue. It's fantastic. Very detailed. Since there was virtually no line, we passed right by everything without giving the exhibits their proper due. I believe that there are enough items of interest to help make the long lines that will accompany this attraction bearable. A cast member told us that there is approximately 45-60 minutes of "detailed" queue. When the line is longer than an hour (and it most definitely will be), it will snake down the pathway in front of the attraction. There is also a FastPass line that passes through a completely different set of props. It's a shorter line with fewer props.

The loading is very similar to Rock 'n' Roller Coaster. You are greeted at the back of the train and told to move forward to a number on the pavement. People fill in each car's queue, moving backwards until the train is full. It's at this point you can also request the front seat. If you do, you are pulled from the line and put in another line nearby. We didn't do this so I can't give you any details beyond that. We saw about 20 people waiting, which would mean they were waiting for 10 trains to go by. There was lots of room for more people to wait.

It's our opinion that Disney has recaptured the magic it had lost with some of its "off the shelf" or "budget-conscious" attractions. Expedition Everest is fantastic! I can't find anything bad to say about it -- only good. If I had to find something bad to say it would be that some of the landscaping still looks new. However, once these plants grow in, the attraction will become even more appealing as the foliage becomes more lush.

As I don't want to spoil the attraction, I will not give you any details, just some generalities.

The ride is somewhere between 2 and 3 minutes long. About half of the ride is outside the mountain and half is inside. This is a good coaster. Even without the great effects, you would still get a mighty thrill. But the effects make it terrific. As you know, cast members are Disney's harshest critics. We rode the attraction three times, and without exception, everyone was applauding when the ride reached its conclusion.

If you don't like Rock 'n' Roller Coaster, DON'T GO ON THIS RIDE. If you do like RNRC, then by all means, take the plunge.

The coaster is also very smooth (like RNRC). And it's also very quiet. Even the "up" ramp is quiet except for a brief moment when the chain grabs the train. There is no clink, clink, clink, like you hear on Big Thunder.

After we got off of the ride, we picked up FastPasses, then got back in line for a second go-round. This time, the line had backed up a little so we could see more of the props in the queue. They're very well done. After our second ride, our stomachs were a bit (OK, a lot) queasy. We headed over to the new tea stand located just inside the entrance to Asia, bought muffins, found a table, and tried to calm our tummies.

After about 45 minutes, our FastPasses were due so we headed back to the mountain. Once again, we had to pass through the checkpoint that keeps the regular guests from the CMs. At this checkpoint, I asked if Disney would be using the same technique next weekend for the Annual Passholders. I was told, "Most definitely." It worked very well in my opinion.

The FastPass line, although beautifully landscaped, has few props that require a lengthy gander -- which of course is good. You wouldn't have time to view them anyway, since theoretically you'll be passing right by this stuff to reach the head of the line. Of course, at the end of the ride, you must pass through a gift shop -- imagine that. Disney has created a great new collection of Yeti themed merchandise that I predict will be more appealing than a lot of the other AK wares. The ride will also feature an onboard photo op -- imagine that. But at the moment, it's not working. I do see one potential problem. It appears that the viewing spot for your picture is extremely small and blocks the incoming door. This could be a bottleneck. But since this wasn't in operation, I can't say for sure.

Located next to the shop is one of the train sections (two seats). You can test to see if you can fit in the ride. It even has a lap restraint that you can pull down to see if you are too big. There are indicators on the floor that allow you to check if you measure up. Also, the ride vehicle has a "hidden" door that opens up. This will allow someone in a wheelchair to easily transfer to the seat.

I predict that Expedition Everest will have two hour lines once it's opened to the general public. If Soarin' can generate 90 minute lines, Everest should easily be able to beat this.

1/20/06: We just got back from a day at Animal Kingdom and the first rides (notice that it was plural!) on Expedition Everest. To say that it is unusual is an understatement! The ride is not totally finished but the major portions of the story are in place. You are going on an expedition up Mount Everest. There are major warnings concerning Yeti sightings and what to expect. There are some blurry photos of some sort of a creature and a cast of a huge footprint. Yet you are undaunted and choose to get aboard a steam-powered train for your trek to the top. There are two ascents that are surprisingly quick without the normal clack, clack, clacking of loose chain drives. Once at the top, you are thrown through several turns and blasts of cold as you twine through the mountain, only to come to an abrupt stop when the tracks are suddenly twisted in front of you! With nowhere to go and rumblings underfoot of what seems like an earthquake, you are hurled backwards in the dark on the same tracks that you came. Suddenly, you stop again, (the observant passenger will see new tracks hydrolically being moved into place) and you are again taken barely out of the grasp of the approaching Yeti. As we were eating lunch at the Flame Tree BBQ, we sat out looking at the mountain and witnessed the first snafu of the day when the train just stopped in mid-climb and all aboard had to disembark and hike it down from the top! Good thing that today was just for the cast members! Best regards and I hope you love the ride as much as we did!

1/20/06: We rode Expedition Everest this morning. It's a great attraction – for people who can at least tolerate roller coasters. One of the nice things is that you get a view from the second up-ramp. Here's a picture (click on image for enlarged view):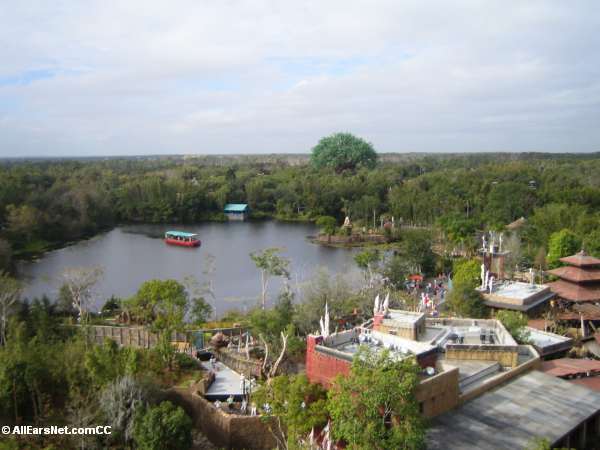 1/19/06: I work down at Disney and Animal Kingdom Cast Members and their friends and family were able to ride Tuesday and Wednesday. I got to ride yesterday. It was an awesome experience. For anyone who likes coasters I strongly suggest that they ride this coaster. The Imagineers did a wonderful job with the setting and with the Yeti. The Yeti was actually working when I rode yesterday. But I have heard the accounts from when managers rode and the Yeti wasn't working. I have also found 2 hidden mickeys but we will find out if there are more soon I hope. I hope that you guys get a chance to ride this during previews because I can guarantee that the wait will be horrible. And yes the ride is going to be a Fast Pass attraction.