Tag: Electric Water Pageant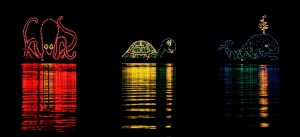 Five things you didn't know about one of Disney's oldest shows: The Electrical Water Pageant, which makes its rounds on Bay Lake and Seven Seas Lagoon nightly.
The Flowers and Fireworks D23 event began on Saturday evening, May 15th and ended Sunday evening, May 16th. It was announced earlier this year as one of the Walt Disney World D23 events. Tickets went on sale April 8th and I was ready at the computer. The March 2010 First Anniversary Party sold out in … Continue reading "D23 Flowers and Fireworks Celebration 2010 – Part 1"