Tag: Disneyland Haunted Mansion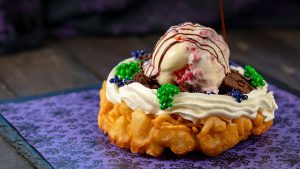 Check out all of the special eats that are "materializing" for the Haunted Mansions 50th Anniversary in Disneyland!
Its been 40 years since the Grim Grinning Ghosts first opened their doors and invited guests into the Haunted Mansion at Disneyland. Take a look back to the beginning with Walt and the Imagineers who created the beloved attraction. From stretching rooms to hitch hiking ghosts the 999 Happy Haunts never disappoint and always invite … Continue reading "Haunted Mansion Celebrates 40 Years of Happy Haunts!"