Seniors at WDW: What Walt Disney World Means to Us
Ruth Morehart
AllEars® Guest Columnist
Feature Article
This article appeared in the November 8, 2016 Issue #894 of ALL EARS® (ISSN: 1533-0753)
Editor's Note: This story/information was accurate when it was published. Please be sure to confirm all current rates, information and other details before planning your trip.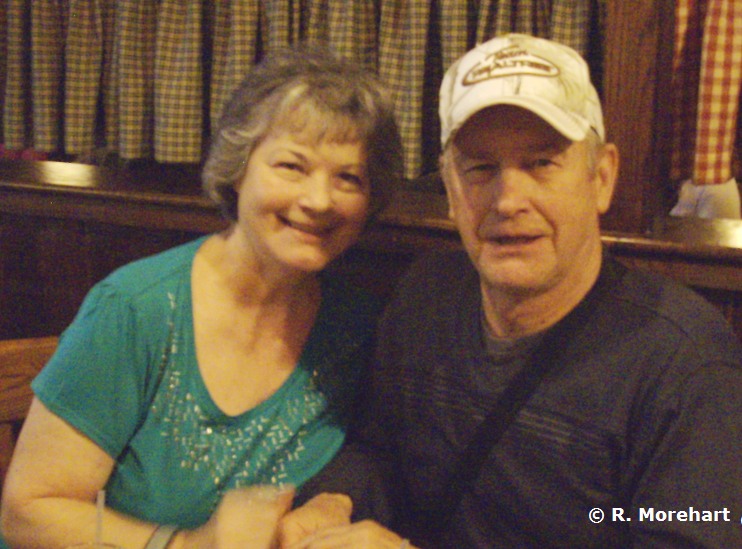 My husband, Roger, and I are two seniors in our late 60s who love Disney and go to Walt Disney World every year. I was recently thinking of just why we prefer going to Disney World so much over going to the beach, cabin, or other destinations.
Going to a beach or cabin for vacation is just not for us. You see, we owned a vacation resort with an excellent beach, beautiful lake, cabins, etc., for 19 years, so that kind of vacation would not be a novelty for us. We tried it once while sharing a condo with our daughter and family in Sanibel. It was really lovely, but after two days of picking up those beautiful shells, we were both going stir crazy, or maybe I should say island crazy? We found out that we are the type of people who like to keep busy most of the time while on vacation. We're not commando types, but we like to have an agenda each day, no matter if it is just wandering around the World and experiencing the sights and sounds of the different parks. At our ages, we go slower and get plenty of rest periods to people-watch and recharge our batteries. We do love the attractions, even thrill rides, too, but at a slower pace.
So what is it about Walt Disney World that does it for us?
1. First of all, we feel safe while at WDW. We can go to any park at any time and wander around and feel completely safe while doing it. We couldn't just go wandering around any town at night and feel safe and secure. We don't wander late at night to Disney Springs, but have been there at night and felt just fine about it. There aren't too many vacation destinations where you can do that.
2. The "bubble" effect. Being immersed in all things Disney lets us forget about the real world for a while. We can indulge in feeling like kids again and take joy in wearing a Goofy t-shirt or Mickey ears. The music, smells, sights, all of it, make you feel special and pampered for a while. We always stay on-site so the bubble effect starts when we get onto the Magical Express bus to our resort. We have stayed off-site when the kids were little and that was great, too. But, for us, staying on-site is a big part of our vacation. Roger does not like to drive in Florida, and I don't want to cook while on vacation. So, an onsite vacation suits our style of vacationing just fine. I don't mind cooking all year long, but it is wonderful to have that 10-day vacation. Roger would rather not fight the tourist traffic in the Orlando area either, so we are both happy! We enjoy just being together, holding hands and walking around the parks, riding attractions, laughing at silly things, and of course eating all the great food and treats along the way. That's our Disney bubble.
3) The "known" element. We find comfort in knowing that the Magical Express buses will transport us while on vacation. Going to "our" resort feels like coming home to us. We are so familiar with this beautiful area, the pathways, the main buildings, the activities, and that is important to us. Our home away from home is Port Orleans Riverside. We absolutely love that resort, and the familiarity of it always draws us back. We like the fact that we will be seeing and riding all the attractions that we love. One thing we try to do each trip is try something new, something we've seen before but never tried. We've never been disappointed in trying this one new experience. This next visit, we are going to go to Tom Sawyer Island. I can't believe we have never set foot on it before! We have been going to WDW since 1978, so there's really no excuse. I know that new experiences are what some people love to try, and that is great. I guess we just find comfort in familiarity for our vacations.
These three things were important to us when we were younger, of course, but as we get older (gee, I sound like an old fogey), they have become even more so. At our age, we sometimes have some physical limitations. My husband, Roger, had major back surgery in June of this year and even though he has no pain now, he has some nerve damage and it affects his walking. I have a severe form of fibromyalgia, which causes constant pain. But because Walt Disney World is so familiar to us, and because we feel so safe there, we don't worry as much as we might if we visited elsewhere. We adjust our activities every day, rest, and sometimes cancel all activity to just lounge around the resort and take advantage of the resort's ambience.
It is difficult to explain to someone who is not familiar with WDW exactly why else we love it so much and go back year after year, even at our age. My own brother doesn't understand it and thinks WDW is "just an amusement park for kids." I've tried to explain it all to him, but so far he doesn't get it. I know a lot of you have had to try to justify just why you go to WDW so much, too.
Where else can you have the level of entertainment available in each of the four parks and Disney Springs? The entertainment at Disney Springs is enough to fill a whole other article, but I will say that we love La Nouba by Cirque du Soleil. If you have trouble explaining your love of Disney, then La Nouba is almost impossible to explain. We have seen it twice and it was a little different each time. We aren't into the nightlife at Disney Springs, but we do enjoy the music and acts around the area, and of course the shopping and eating!
It isn't just about the "rides," as some think. It's about experiencing the immersive queues of the attractions, admiring the incredible architecture of the buildings, the exhibits, interactions and fabulous food. We always eat at Liberty Tree Tavern in Magic Kingdom, and a new quick-service favorite for us is Columbia Harbour House — great food. The Mickey bars and Dole Whips? Yum! I confess, I'm an ice cream-aholic and make it a quest to eat at least one ice cream treat a day, sometimes two, when I'm at Walt Disney World.
Nostalgia plays a big part in our love of Disney, too. We remember when the kids were 5 and 7 on their first trip, and the wonder in their eyes at all the sights and sounds. We remember previous trips, fun incidents, and all that we did together as a family with the kids, grandkids, and just the two of us. Our grandkids are older now and we might not all be able to go together soon. Our oldest grandson, Adam, is 19 and in his second year of college. Luke, 16, is a senior this year and checking out colleges, too. Our oldest grandchild is Miranda who is 22 years old. Next is Grace, who is 12 and in middle school. Then there are the youngest, Gary, age 10, and Leo, 8. Wow, where does the time go?
Each park is so unique in atmosphere and attractions that we can spend more than one day in each one. It's hard for us to fit it all in even with 10 days to spend each trip. I would like to stretch it to two weeks, but don't think Roger is ready for that yet! But soon…
We will continue to go to our favorite vacation destination for as long as we can, which should be a long time. Because, for us, Walt Disney World will always be special.
= = = = = = = = = = = = =
RELATED LINKS
= = = = = = = = = = = = =
Ruth has written from a senior's perspective in several features for AllEars®:
Seniors at WDW: Special Non-Ride Moments
Seniors at WDW: A Trip with Minimal Planning
Seniors at WDW: Thrills Not Just for Kids
Seniors at WDW: Who's Afraid of Technology?
ABOUT THE AUTHOR:
Ruth Morehart is a retired RN who has been visiting Walt Disney World since her son and daughter (who are now in their 40s with children of their own) were young. She resides in Minnesota with her husband Roger. Despite her fibromyalgia, Ruth enjoys quilting and creates quilts for the Quilts of Valor program for wounded soldiers.
-o-o-o-o-o-o-o-o-o-o-o-
Editor's Note: This story/information was accurate when it was published. Please be sure to confirm all current rates, information and other details before planning your trip.