Seniors at WDW: Special Non-Ride Moments
by Ruth Moreland
AllEars® Guest Columnist
Feature Article
This article appeared in the July 12, 2016 Issue #877 of ALL EARS® (ISSN: 1533-0753)
Editor's Note: This story/information was accurate when it was published. Please be sure to confirm all current rates, information and other details before planning your trip.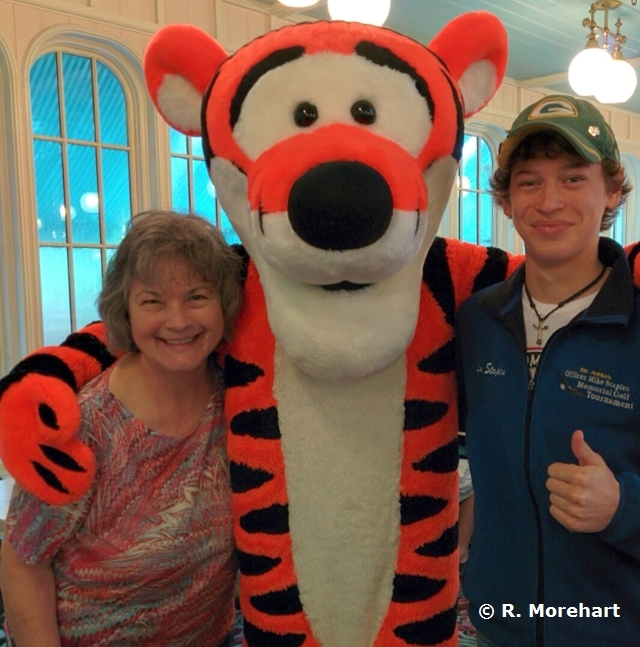 You may remember that a few months ago I wrote about doing Walt Disney World with a "minimalist" approach and our experiences with paying out of pocket for all our meals. As I said at the time, my husband and I loved the freedom of not having our meals scheduled. We found that we ate less and were more satisfied, and spent less, which is always a great surprise.
Our next visit to our favorite vacation spot is November, so we are planning away, and we will be following our minimalist plan again. We do have reservations for our very favorite restaurants and a new one — Beaches and Cream — to try to keep it interesting. I must confess, I am more interested in their ice cream than lunch food. I am an ice cream fanatic, so I snuck this one in because of that. My main goal on our vacations is to eat at least one ice cream treat a day! Yum! And I always meet this goal.
As I'm planning for the upcoming trip, I've been looking back on past WDW visits and remembering some of our favorite moments. My husband and I, both in our later 60s, love all the rides at Disney World, even the "thrill" ones. But I realize that we have had plenty of "non-ride times" that we cherish, too.
One of the first non-ride moments that comes to mind is when we enter the WDW "bubble," and feel the magic again for the first time of the trip. For me, it is when we get off the Magical Express bus at our favorite resort of Port Orleans Riverside and enter the registration area. I sigh with relief and say to myself, "Yes, we are finally on vacation." For my husband, Roger, it is when we first walk down Main Street at the Magic Kingdom. We both light up like children at that sight!
Our flights from northern Minnesota are always very early in the morning, so we usually get into Orlando at 11:30 a.m. and arrive at POR around noonish. Then we head out to the MK for an excellent dinner at Liberty Tree Tavern. Then we wander around and just take in the atmosphere. Yes, we do have a couple FastPasses, but don't really care if we use them. We are usually just too tired after getting up at 3 a.m. for our flights. So, the day of arrival is a tradition at the Magic Kingdom to have a good dinner and see the sights, smells, and sounds of the park. We wander through the Main Street Emporium on our way out to check out the clothes, souvenirs and goodies for future purchase. Then it is back to our resort — tired, full of good food, and awaiting the next day of fun and adventure.
One of our favorite non-ride moments occurs every morning when my husband gets up early (6 a.m., the Riverside Mill's opening time) and takes our mugs to the Mill for coffee. He loves the stroll around the Alligator Bayou tropical paths. It is quiet and peaceful for him. Then we enjoy our coffee, slowly getting ready for our park day. We go over our plans and I write our FastPass info on a small piece of paper, along with anything else we need to know, put it in my pocket, and off we go. No cell phones for us.
One of our traditions is to go to the Crystal Arts shop on Main Street in the Magic Kingdom to find one piece for our collection. It's always fun to watch the glass blower at work. I have been doing this since 1979 and have a collection I cherish. Each piece brings back Disney memories.
When we get tired at Magic Kingdom, we like to rest in the rocking chairs close to Liberty Tree Tavern. They are on a porch that is set back from the main walking area. It's nice to relax and people-watch from that spot.
In Animal Kingdom we find we spend most of our time wandering around and taking in the sights. We just love the atmosphere that Disney has created in this park. One of our favorite non-ride moments is wandering the Maharajah Jungle Trek and the Pangani Forest Exploration Trail. We always see something different and learn new things. Eating at the Flame Tree BBQ is a must for us, but this time we are going to try Yak and Yeti Local Food Café for their honey chicken. I confess I like to go to the bridge and watch all the soaked riders on the Kali River Rapids ride. I don't know what it is about Animal Kingdom, but we just love the sights, smells, sounds of this park. Wandering around and just watching the monkeys climbing in their habitat, or strolling around Discovery Island where we might just see DiVine is a treat. We usually go back to Animal Kingdom at least twice more during our vacation.
Disney's Hollywood Studios is another gem of a park. We love the thrill rides here, especially Tower of Terror, but one of the main non-ride things here that we love are the street performers. These have been cut back, which is too bad because I feel a lot of people loved them, too. The Muppet courtyard area is a nice place to sit, out of the way, with the statues and fountain. The atmosphere of the Studios is always a draw for us.
Epcot is so huge that we usually visit it on two days during our vacation. The World Showcase is unique, with hidden gems if you look for them. We found the courtyard behind the UK pavilion by accident one day several years ago, with its benches, rose gardens and formal hedges. Last year, we went there to rest up, and Mary Poppins was interacting with the children. It was magical to see her relate to the little ones. We always go here now for a break from all the walking that Epcot requires. Looking at the flowers and Disney-trimmed hedges is another activity that we enjoy.
At the resort, we enjoy the walk to the Mill and to the main building. The tropical plants, quiet pools, little bridges, and winding walkways are something we look forward to each trip. I am going to surprise Roger this trip with a carriage ride one evening — sssh, don't tell him! We've never done that before.
In the past, Downtown Disney allowed us to have plenty of memorable, non-ride moments, like seeing the Cirque du Soleil show, La Nouba, which is slightly different each time you see it. We haven't been to the new Disney Springs yet, but we can't wait to wander around and visit all the new stores and restaurants they have there. There is a secluded area close to Earl of Sandwich where one evening we sat by a fountain and a lit-up Christmas Tree — it was so beautiful and peaceful, such a special memory.
One of our very favorite things to do at Downtown Disney, er, Disney Springs, is to go to the Art of Disney store and browse all the artwork. As an oil painter, my husband really enjoys taking the time to admire all the paintings on display there.
Yes, as much as we love almost everything about Walt Disney World, from the thrill rides to the high-quality shows, parades, and fireworks, it seems that the things we remember most are those non-ride moments: wandering around the paths at Port Orleans, "our" spot in back of "London," browsing the art store and World of Disney, and just walking down Main Street and around the Magic Kingdom with all its magical sights and smells. These little things mean a lot to us and are a big part of our Disney World vacation.
I know that you, too, have many of these non-ride memories, and like me, are looking forward to creating many, many more. Bring on November!
= = = = = = = = = = = = =
RELATED LINKS
= = = = = = = = = = = = =
Seniors at WDW: Who's Afraid of Technology
Seniors at WDW: Thrills Not Just for Kids
Seniors at WDW: A Trip with Minimal Planning
-=-=-=-=-=-=-=-=-=-=-
ABOUT THE AUTHOR:
Ruth Morehart is a retired RN who has been visiting Walt Disney World since her son and daughter (who are now in their 40s with children of their own) were young. She resides in Minnesota with her husband Roger. Despite her fibromyalgia, Ruth enjoys quilting and creates quilts for the Quilts of Valor program for wounded soldiers.
-o-o-o-o-o-o-o-o-o-o-o-
Editor's Note: This story/information was accurate when it was published. Please be sure to confirm all current rates, information and other details before planning your trip.