Seniors at Walt Disney World: The Big 5-0!
by Ruth Morehart
AllEars® Guest Columnist
Feature Article
This article appeared in the February 20, 2018 Issue #961 of ALL EARS® (ISSN: 1533-0753)
Editor's Note: This story/information was accurate when it was published. Please be sure to confirm all current rates, information and other details before planning your trip.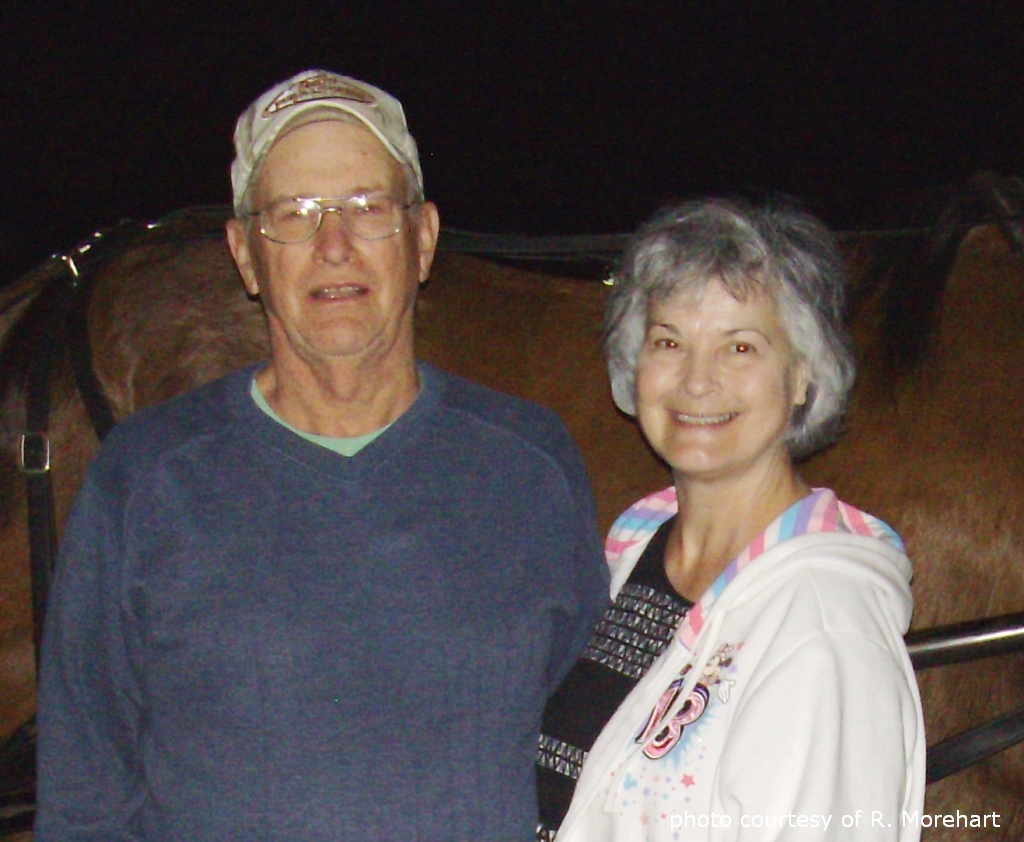 Hello, fellow seniors and friends: It's been a while since I've written for AllEars®, but this time I'd like to invite you on a very special journey. I'm writing about our change of plans for our annual November trip, and a big surprise for my husband for our 50th wedding anniversary. So welcome, and please follow along on this first part of our special trip, which should be titled, "What was I thinking?" or "The Big Surprise!"
If you are new to my articles, I will give you some background. I am a retired nurse who loves to quilt and sew and go to Walt Disney World. I am 68 years old. My husband, Roger, is 70 and works a seasonal job for our local high school. He can't seem to retire and enjoys his part-time job very much. We have two grown "kids" and six grandkids, and we have all been to Walt Disney World together for family trips. However, my husband and I have started going once a year by ourselves and absolutely LOVE it. It's a much slower pace and a lot of fun.
We usually go to Walt Disney World in early November or December, with early November winning out for the past few years. We had scheduled a trip for November 2016, but my husband had back surgery five months before the trip and we were concerned about going so soon. We ride all the rides and keep on the go all the time, so we wanted to be absolutely sure Roger would be able to enjoy our trip. So, we changed our reservations to February 2017. We worked a two-day stay at Universal Orlando into the middle of the trip to enjoy the Harry Potter attractions, of which we are big fans.
Changing our vacation was a big deal for us, as we had never gone to Walt Disney World this time of year before. So, I checked out all the info on the wonderful AllEars.Net site, and set up our reservations.
Our impressions of February vs. November or December? We found that we really did not miss all the holiday decorations as much as we thought we would. We have seen them many times, so that was not a problem. The lack of any decorations was a bit strange, though. But I think it represents Disney World as it is without all the holiday and events that are now scheduled all the time. It was refreshing to see.
We found February to be less crowded than November, which isn't much of a surprise, I guess. That also was a nice change for us. We never minded the crowds in November and knew how to manage them. The only big difference was some tour groups. We ran into two small foreign tour groups and they were no problem at all. There was a major cheerleading event going on, and there were large groups of cheerleaders in the parks at times. We just didn't get into line behind them and went to other attractions, so no problem there either. I don't know if we were just lucky, but we had no concerns with either group.
We were lucky again with the weather, as temperatures were in the 70s during the day and in the 60s at night, with no rain. It was perfect! I know it can be anything from freezing to warm, so we were pleasantly surprised.
New experiences: We booked a carriage ride at Port Orleans Riverside one evening, and fell in love with the clip-clop of the horses' hooves, the sway of the carriage, and the romantic scene at Port Orleans French Quarter. We will do this again!
With 10 days and park-hoppers, we experienced all the parks and Disney Springs many times. We always stay at Port Orleans Riverside and enjoyed just being in that atmosphere, too.
Now I have a confession to make. A few months after that wonderful February trip, around August 2017, I got to thinking about our 50th anniversary coming up in 2018, and a possible trip around that. I was thinking of making reservations and not telling my husband, but surprising him with a 50th wedding anniversary trip to Walt Disney World in February. I have to say that I NEVER, ever do anything like that. We always make plans together, discussing when and what to do, where to eat, etc. But the thought would not go away.
So, I contacted our Disney travel agent, who has also become a friend, and she helped me keep this a secret. I confess it was weird making all the plans myself, and I was a little apprehensive as to what my husband would say. But my travel agent and I bravely made flight arrangements and resort reservations, and I made all the Advance Dining Reservations and other things. I managed to get reservations for the Hoop-Dee-Doo Revue for one evening, something I have been trying to do for several years, but never worked out. I set up another Port Orleans carriage ride. My travel agent couldn't call me to set things up, so we emailed and I visited her to work out details. Long story short, we got it all set up. Then I started getting "cold feet" about keeping this a surprise. As I said, I have never done anything like this before. But I knew that Roger and I both love Walt Disney World and try to go every year, so what could go wrong? I had planned to wait until Christmas for "the big reveal," but I just couldn't keep it to myself that long. I wanted to share it all with him and have his input, too.
I got a 50th anniversary card and listed all the special reservations I had made, with our dates in February, all under a big banner saying, "SURPRISE!" I also put a Disney t-shirt into a gift bag that I handed him. His favorite is The Lion King, so I found a Hakuna Matata t-shirt to give him. He picked up the t-shirt first, looking puzzled and said, "What's this?" I told him to open the card, and once again, the look on his face was priceless! He was really puzzled and surprised that I pulled all this off right under his nose. After the initial shock, he was very happy and pleased. He was totally caught off-guard, as I have never done anything like this without him before.
But all was well. I was relieved, and we continued planning for the trip together.
Now we are both anxiously awaiting our trip later this month. We will be staying at Port Orleans French Quarter this time. I promise to write more about our 50th anniversary adventure once we're back home!
= = = = = = = = = = = = =
RELATED LINKS
= = = = = = = = = = = = =
Other AllEars® features from Ruth Morehart:
Seniors at WDW: Senior Slow-Down
Seniors at WDW: What Walt Disney World Means to Us
Seniors at WDW: Special Non-Ride Moments
Seniors at WDW: A Trip with Minimal Planning
Seniors at WDW: Thrills Not Just for Kids
Seniors at WDW: Who's Afraid of Technology?
= = = = = = = = = = = = =
ABOUT THE AUTHOR
= = = = = = = = = = = = =
Ruth Morehart is a retired nurse who has been visiting Walt Disney World since her son and daughter (who are now in their 40s with children of their own) were young. She resides in northern Minnesota with her husband Roger. Despite her fibromyalgia, Ruth enjoys staying active, crocheting, reading, walking, and especially quilting — she creates quilts for the Quilts of Valor program for wounded soldiers. Her unofficial hobby is her obsession with Walt Disney World, which inspired her to write about seniors visiting the theme parks in the hopes of helping others enjoy Disney, too.
-o-o-o-o-o-o-o-o-o-o-o-
Editor's Note: This story/information was accurate when it was published. Please be sure to confirm all current rates, information and other details before planning your trip.