Season's End: The Epcot Flower and Garden Festival
by Debra Martin Koma
AllEars® Editor
Feature Article
This article appeared in the May 8, 2018 Issue #972 of ALL EARS® (ISSN: 1533-0753)
Editor's Note: This story/information was accurate when it was published. Please be sure to confirm all current rates, information and other details before planning your trip.
We're now in the final month of this year's Epcot International Flower and Garden Festival — it runs through May 28, so you have about three more weeks to take in the brilliant sights and smells of this fragrant, flowery fest!
Since the festival started on February 28, I thought that we'd really said everything there was to say about the 25th anniversary of this event, but it turns out that I was wrong. I find that I have more to talk about, because there's still so much more to see and do, as I discovered on my recent trip back to Epcot.
Here are my top five things that you absolutely should check out before the end of the month rolls around, whether you've already been to this year's festival or this coming visit will be your one and only time this year.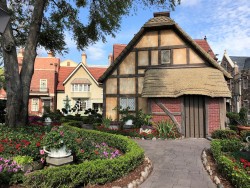 1. Take a Garden Tour. There are several running during this year's Flower and Garden Festival, and I'm only sorry that I wasn't able to experience all of them. The granddaddy of the tours available is the three-hour Gardens of the World tour, a guided tour held on specific dates that changes with the season. This "spring edition" focuses on the festival plantings, obviously, and gives you a behind-the-scenes look at the construction of those amazing topiaries and more. It costs $85 per person, but if you're into green and growing things, it's so worth your time. Call 407-WDW-TOUR to book.
There are also two tours in the United Kingdom pavilion – the English Tea Garden Tour, which is complimentary, and the Royal Tea Garden Tour, which requires an extra fee. In the latter, held at 9:45 each morning during the festival, guests follow a guide through the pavilion's tea garden for a 45-minute lesson on the history and artistry behind growing and blending tea. What's even better is that after the tour you're taken into the Rose & Crown across the way for a perfectly civilized treat of tea and scones. All of this is before World Showcase opens at 11 a.m., so you have the place virtually to yourself — also a huge bonus. It's $18 per person. Call 407-WDW-TOUR to book.
The shorter, complimentary guided English Tea Garden Tour lasts approximately 20 minutes. It's held several times each day and same-day registration is available in the Tea Caddy gift shop. My advice? If you want to do this, be sure to register early in the day. It fills up fast! But don't despair if you get shut out. You can pick up an info sheet at the Tea Caddy and wander around the teacups in the garden for a self-guided tour at your own pace.
Budding botanists might also be interested in the one-hour walking tour in Future World called "Behind the Seeds" that will take you into the Greenhouse area you pass by quickly on the Living with the Land boat ride. A Disney horticulturist — most likely a graduate student doing some research project — will explain the various growing methods used there, as well as hydroponics, pest management, farm fishing and more. They'll also answer questions and show you the plants and fish "up close and personal." Epcot admission is required, of course, and an additional fee ($25 for adults, $20 for children). Reservations can be made up to one year in advance, but same-day tour sign-up is at a special desk, near the entrance to Soarin'.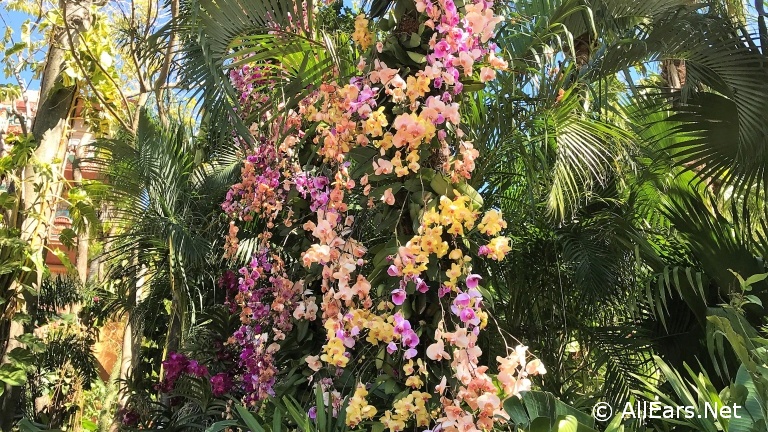 2. Visit the new Tropical Rainforest Garden. It's easy to miss, tucked away as it is in a side path in the Mexico pavilion. I know, you're intent on getting over to Norway to go "back ofer der falls" – oops, sorry, old habits are hard to break. I mean, you're in a hurry to see Anna, Elsa and Olaf and wait in the queue to ride Frozen Ever After. But just take a minute to look up as you're passing by Mexico and you'll see an explosion of colorful orchids, indicating the entrance to a path that reveals a lush Mexican rainforest, where, as the sign says, "plants and animals adapt to a wide range of light levels and water conditions." Seriously, the orchids are overwhelmingly beautiful, cascading down all around you as you wind your way up the path and back down. And while you're there, be sure to seek out the bromeliads, which include pineapple plants and Spanish moss.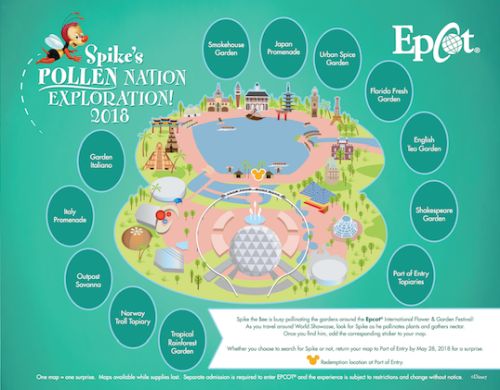 3. Spike's Pollen Nation Exploration scavenger hunt. New this year, this scavenger hunt operates basically the same as other hunts Epcot hosts throughout the year (e.g., the Egg-stravaganza around Easter, Remy's Ratatouille Hide & Squeak during the Food & Wine Festival) – that is, you purchase a map with stickers and then try to find images hidden around the park. Once you find what you're looking for, you indicate that by placing the appropriate sticker on the map. When you've found all your required items, you turn in your completed map and receive a reward. In this case, you're searching for flower stakes featuring Spike the Honey Bee, who has been pollinating his way around World Showcase, and your prize is a set of themed patches. This is billed as a kids' activity, but it's kinda fun to search for Spike, and it's mildly educational, too. Maps and stickers for Spike's Pollen Nation Exploration can be purchased for $5.99, plus tax at Port of Entry and Disney Traders at World Showcase Plaza, Pin Central in Future World or World Traveler at International Gateway.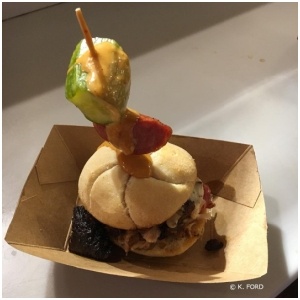 4. Don't forget about the food. If you're just at the Flower and Garden Festival for the flowers and gardens, you may blow right by the food booths. That would be a mistake! Stop by the Outdoor Kitchens, even those you don't think you'll like. Or, if you're returning to the festival, catch up on any of the Outdoor Kitchens you may have missed. Allow me to make a few "don't-miss" suggestions: Everything at the new Honey Bee-stro! Well, all the edible treats, anyway. The Roasted Cauliflower with Buckwheat Honey Carrot Puree, Wild Rice Pilaf, Asparagus, Honey Blistered Grapes and Sunflower Brittle is so so good — and I don't even like cauliflower that much. But give it a try. And the Honey Tandoori Chicken Flatbread with White Cheddar Cheese, charred vegetables, Clover Honey Sour Cream and Micro Watercress? Delicious. And if you're looking for a sweet treat that's not cloying, try the Local Wildflower Honey-Mascarpone Cheesecake with Orange Blossom Honey Ice Cream garnished with Fennel Pollen Meringue Kisses. I was afraid the honey would make it overbearing for me, but instead the cheesecake is light and the flavor is subtle. Even the meringue kiss was perfect. Other tasty morsels that I highly recommend: Warm Cheese Strudel with Mixed Berries from the Bauernmarkt in Germany (maybe ask for the berries on the side, they give you so many!); the Spicy Blackened Shrimp and Stone-ground Cheddar Cheese Grits with Brown Gravy and Local Sweet Corn Relish from Florida Fresh; the vegan-friendly Frushi (Fresh Pineapple, Strawberry and Melon rolled with Coconut Rice, sprinkled with Toasted Coconut and Whipped Cream with Raspberry Sauce on the side) at Hanami in Japan; and finally the Beef Brisket Burnt Ends and Smoked Pork Belly Slider with Garlic Sausage, Chorizo, Cheddar Fondue and House-made Pickle from the Smokehouse in the American Adventure. At $7.25 it's one of the pricier menu items, but take a look at it! It's a decent portion, and even though it's a challenge to eat without making a mess, it's well worth the expense and the effort.
5. Visit the Goodness Garden Butterfly House. I realize that it's placed prominently in Future World West, over toward the Imagination pavilion so that it's hard to miss. But maybe you think, "Eh, I've seen butterflies before. I'd rather try to get into Soarin'." But it is just about my favorite thing during this festival so I'm urging you to please visit! Do yourself a favor and try to go during the week, when the crowds are lower so that you can really study the various beauties fluttering by. In addition to the well-known Monarchs, there are Queens, Painted Ladies, Common Buckeyes, White Peacocks, and Zebra Longwings — which happen to be the state butterfly of Florida. There are others, too, and it's fun to try to find them, and to watch kids holding out their fingers, hopeful that a Giant Swallowtail will alight. Locate one of the chrysalis houses and contemplate all the newly "hatched" lepidopterans (that's the scientific name for butterflies), tentatively testing their wings before they take their first flight. It's just amazing, isn't it? I think it is, and I never get tired of watching them, wondering how something so fragile and delicate can survive against the harsh elements. I mean, the monarch butterfly migrates thousands of miles down to Mexico and back. How do they DO that? Oops, I think my inner butterfly geek is showing so I'll stop, but honestly — don't miss the butterfly house!
So whether it will be your first visit to this year's Flower and Garden Festival, or your fifth, make sure you not only stop and smell the roses — consider making a trip to try out these other things, too!
= = = = = = = = = = = = =
RELATED LINKS
= = = = = = = = = = = = =
Epcot Flower and Garden Festival General Info

Butterfly House: PHOTOS AND VIDEO

Outdoor Kitchens: MENUS AND PHOTOS
Spike's Scavenger Hunt

VIDEO: Festival Overview
-o-o-o-o-o-o-o-o-o-o-o-
Editor's Note: This story/information was accurate when it was published. Please be sure to confirm all current rates, information and other details before planning your trip.