Rudy Novotny: The Voice of America's Marathons
by Mike Scopa
AllEars® Feature Writer
Feature Article
This article appeared in the February 7, 2012 Issue #646 of ALL EARS® (ISSN: 1533-0753)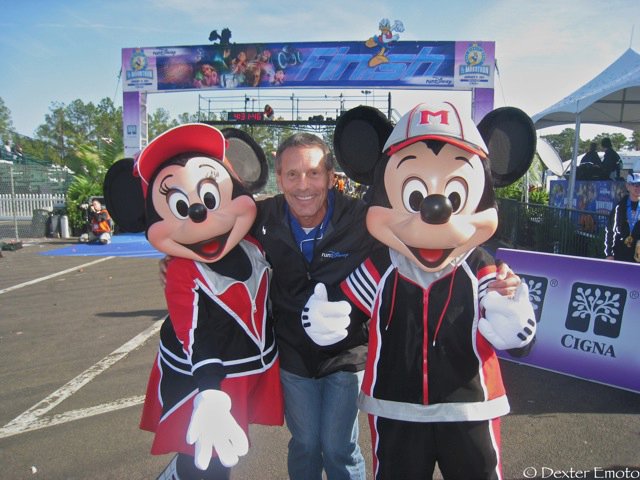 It was just over 15 years ago, at a local 5K race in California, that Rudy Novotny was approached by the race director and asked if he could fill in for the announcer who had canceled at the last minute. If he agreed, Novotny would receive a refund on his race fee and free entry into next year's race. Since he had run the race several times and knew what was required, Rudy was amenable to helping out and having some fun. Everything went pretty smoothly and a few days later a check came in the mail. Novotny thought, "I am a professional."
His initial announcing stint made an impression, and other race directors sought him for their races. It was not long before he found himself going from 5K and 10K races to what was then called the San Diego Marathon (now known as the Carlsbad Marathon). He soon attracted the attention of The Walt Disney Co. when one of its representatives attended the Long Beach Marathon, and was impressed by Novotny's professionalism and energy. Novotny was invited to audition for a new Disney event in Anaheim, the Disneyland Half Marathon. Scheduling conflicts made that impossible, but he did send a resume, and Disney decided Novotny was just who they were looking for. Rudy Novotny announced his first Disney race at the Disneyland Half Marathon, and from that day forward has served as the voice of runDisney races.
Today, Novotny — who Joe Taricani, host of The Marathon Show podcast, describes as "The Voice of America's Marathons" — finds himself announcing more than 50 race events per year. Don't attempt to get on Rudy's calendar between now and April 7 — he's booked. In fact, for 2012 he is already scheduled at 46 events. That alone is a testament to the quality of his work.
When asked about what he does, he says, "It's the ultimate job!" It's easy to see why he feels this way. He works with a top quality organization that shares his philosophy about putting together the highest quality race experience for the participants. He gets to travel and connect with runners all around the country, and most of all, he has fun.
A runner himself (and an under three-hour marathoner at that) Novotny logs 40 to 50 miles a week. Although he cannot run the races he announces, he does feel like he is participating vicariously through the runners he meets. He notes that a big plus is the opportunity to work with people who are making changes in their lives and in the lives of others. At every event he knows that he may "reach" or "be reached" by someone and things might be said that will affect those reached in the most positive way. In 15 years, he has seen so many wonderful things, he struggles to pick out one or two memories that can be described as the best. However, there are a few that stand out.
Rudy loves to see couples running together and sharing their triumphs. One day, a husband and wife were finishing a race, and Rudy wanted to bring them in as he always does. Rudy called them "Team…" and added their last name. About a week later, he received a letter from the husband saying that prior to the race the couple had been experiencing some difficulty in their marriage. But when they approached the finish line and Rudy called them a team, it caused them to reflect. Apparently that race created a life-changing moment for them and they recommitted to keeping the "team" together.
Then there is the story of the young woman who approached Rudy at her first race ever, a Turkey Trot 5K, and told him this had become an overwhelming challenge for her, expressing her fear that she would not be able to go the distance. She looked to Rudy for some advice. He had seen this concern on many faces before, and knew what to do and say. He told her to have fun and that she was not the only runner who was scared. He praised her for making the decision to run the race, looked her in the eye, and guaranteed her she would not be last to cross the finish line… and she wasn't. In fact, she crossed the finish line "with a smile a mile wide" and had a wonderful time. But there's more to this story. This woman became what Novotny would describe as a "race monster." She did another race, and another, and another. As races came and went, so did the pounds — some 60 pounds. As pounds were lost, confidence was found, and today that overwhelmed novice runner is so fit she usually finishes in the top three of her age group.
Those are just two of the many stories Novotny recalls over the years. He never knows what the next race will bring. He does know that he will see smiling faces and triumphant achievements by many people.
His busiest weekend of the year is already behind him. The 2012 Walt Disney World Marathon is in the books and, as always, it was an exciting and wild ride for Novotny. Preparing for the Walt Disney World Marathon weekend starts well before January with emails with staff members, reviewing details and schedules, travel plans, info on the attending VIPs, vendors at the Health and Fitness Expo, and who he will be interviewing on the three race mornings. Pre-travel preparation requires a lot of his time.
He usually arrives in Orlando a day or two before the Health and Fitness Expo opens, meets with his colleagues, Creigh Kelley, Carissa Bealert, and John Pelkey, rolls up his sleeves and gets to work. Rudy serves as the master of ceremonies at the Health and Fitness Expo while Kelley hosts many of the seminars. On Thursday Novotny is at the Expo an hour or two before the doors open. He walks around introducing himself to the vendors and becoming familiar with their wares and products, and takes notes. He also introduces himself to all the sponsors, and as he does so begins to feel the energy building. That energy officially starts when the doors to the Expo open.
On the first day of the Expo, Rudy participates in another type of marathon — a nine-hour, nonstop day that finds him constantly moving, talking, and doing what he does best — being Rudy.
Rudy is picked up from his resort the next morning at 3 a.m. sharp and whisked away to the 5K venue at Epcot where his colleagues join him. They all go through the routine of sound checks, rehearsals with the characters and a run-through with the national anthem. Finally — breakfast.
For 2012 the Family Fiesta 5K run tripled in size from the previous year's number of participants — 8,000-plus runners. The waiting area was so populated that if someone had fainted he or she would not have hit the ground. The field was so large, the race was started in waves.
Novotny is quick to point out how much fun the 5K event is every year. It's for everyone, especially those who do not run Saturday or Sunday, but who support friends and family who do. He usually asks for a show of hands to see who is also doing the Half, the Full or the Goofy (both the Half and the Full), and this year the number of hands was truly astounding.
Rudy and his colleagues are there from the start, getting the crowd excited, introducing special guests, and building excitement for the participants. As the runners start off on their journey, Novotny does his best to make contact with as many as possible, mentioning names, pointing out costumes, and doing whatever it takes to make this race special for everyone.
On this particular day, Novotny was down off the announcer's stage to welcome the runners first-hand as they reached the finish line. Even though Mickey and friends are there to give high-fives, I dare say that many runners look forward more to shaking Rudy's hand. It's true. Sorry Mickey, but we can see you any time.
Once the last runner has crossed the finish line and everyone has left the area, the day continues for Rudy at the Expo. On this day his commitments end at 6 p.m., and then it's time to get ready for the VIP reception at 8. With the next day being an early one, it's understandable that the reception wraps up at 10. Then it's back to the hotel for our favorite marathon announcer, because wake-up call for Saturday is approximately 1 a.m. And you runners thought YOU got up early!
Saturday may be the busiest day of the weekend, simply because there are more runners. Rudy was picked up sharply at 1:30 a.m. and brought over to the start venue. He and the other announcers and VIPs gathered in a special RV provided by runDisney. As the day before, there were sound and light checks to do, script review, and the all-important rehearsal with the characters.
On this morning, Rudy's job is to first bring the 26,000 runners to the start, and then bring them all home. With the number of participants and number of staggered starts (waves), Novotny is asked to do the yeoman's job of keeping the energy level high and each wave ready to go. With the first, the wheelchair wave, ready to go at 5:30 a.m. and the last slated to go at 6:17 a.m., Rudy finds himself looking at more than 45 continuous minutes of microphone work — and every year shows again why he has no equal in the field of race announcing.
How long does he remain at the finish line? Well, for the half marathon, he and his colleagues wait some 3-1/2 hours following the time when the last runner in Wave 8 crosses the start. If the last wave gets off at 6:17 a.m. and it takes five minutes for the entire wave to cross the start then that means almost 10 a.m. before the race is officially over.
The day's not done for Novotny, though. He and his colleagues usually wrap up their half marathon duties about 11:30 and then it is back to the hotel for a quick shower, off to the Expo until closing, and then back to the hotel. There may be time for a run, dinner, and then off to sleep.
On Sunday Rudy must feel like Bill Murray in "Groundhog Day" because it starts all over again. But Rudy says each day and every runner are special. He plays no favorites. He marvels at the elite runners and has a special place in his heart for those first-timers and mid- and end-of-pack runners. He knows how important this day is for each of them and does his best to help them get to the start and finish.
If you've ever wondered how race announcers keep from losing their voices, especially when they call three races on three consecutive days, Rudy shares his secret — it's lemon-honey cough drops. I'm taking that advice seriously because he has more than 15 years experience, and, as one of those runners who was at each start during this year's WDW Marathon Weekend, I can say he sounded just as good Sunday as he did on Friday.
Speaking of secrets, have you ever found yourself approaching the finish line in a runDisney race and heard Rudy call out your name? How did he know? Does he have binoculars? Did he memorize the database? Does he actually know everyone?
No, it's technology. Between 25 and 50 yards from the finish line is an "Announcer's Mat," which all the runners cross. It reads the runners' chips and scrolls information onto the monitor at the announcer's area.
Make no mistake about it — this is Rudy's favorite announcing assignment of the year. He not only speaks of the energy he gets from the runners, but is also quick to point out that those who watch and cheer add to it as well. He also makes a special effort to mention the importance of those volunteering all weekend and notes that for every volunteer you see, there is another one you don't see.
Rudy loves seeing people having fun and also sharing this fun with friends and family. He speaks so passionately about what running is all about, and the magic of a marathon. Not a fan of listening to music while running, Novotny explains that runners may be cheating themselves when listening to their iPods during a race. In Rudy's words all races have "a sound, a rhythm, and a heartbeat of their own," and runners will miss that if they listen to music.
After the big weekend it's time to fly back to the west coast. It takes from three to five days to fully recover from the whirlwind that is the Walt Disney World Marathon Weekend. He'll need the rest as he is booked solid through April and knows what lies ahead in 2012. He announced the Tinker Bell Half Marathon in Disneyland last week, and will be back in Orlando for the Princess Half Marathon later this month. And he'll also be there for the inaugural 10-mile Twilight Zone Tower of Terror race in September, as well as the annual Wine and Dine Half Marathon in November.
On a personal note, having run more than 20 runDisney races, I cannot imagine waiting for the start without hearing the golden tones of Rudy Novotny's voice. His voice, his personality, and his energy have helped thousands of runners achieve their dreams, make personal goals, and more importantly, improve their health. To all of us in the running community he is a treasure, and all should heed his advice to those first-time runners concerned about their first encounter with any distance race.
Rudy says, "It's not the finish time, but the finish line that's important."
For us runners, it's the voice of Rudy Novotny that gets us all to the start line… and the finish line. And that's important.
AUTHOR'S NOTE: Rudy loves to hear from everyone, and I encourage you to visit his Facebook page:
http://www.facebook.com/rudy.novotny
=-=-=-=-=-=-=-=-=-=-=-=-=-==-=-=-=-=-=
ABOUT THE AUTHOR: Mike Scopa has loved all things Disney for as long as he can remember. His first visit to Walt Disney World came in 1975 and he has visited Mickey "somewhere between 50 and 100 times since then." Mike wrote his first trip report in 1990 and has been writing about Walt Disney World ever since. Mike has been a contributing editor to The Unofficial Guide to Walt Disney World, Cara Goldsbury's Luxury Guide to Walt Disney World, and the recently published "Four Decades of Magic: Celebrating the First Forty Years of Disney World." He has also served as a peer reviewer and technical editor on several other Walt Disney World Guidebooks. Mike is one of the co-hosts for the popular WDWTODAY podcast and writes a blog, The View from Scopa Towers, for AllEars.Net:
http://land.allears.net/blogs/mikescopa/
An avid runner and runDisney expert, Mike is also co-captain of Team AllEars® — the AllEars.Net Running Team.
http://land.allears.net/blogs/teamallears/
-o-o-o-o-o-o-o-o-o-o-o-
Editor's Note: This story/information was accurate when it was published. Please be sure to confirm all current rates, information and other details before planning your trip.