REVIEW Cuisine Scene: A PRIME PLACE TO DINE
by Debra Martin Koma
AllEars® Senior Editor
Feature Article
This article appeared in the February 22. 2005 Issue #283 of ALL EARS® (ISSN: 1533-0753)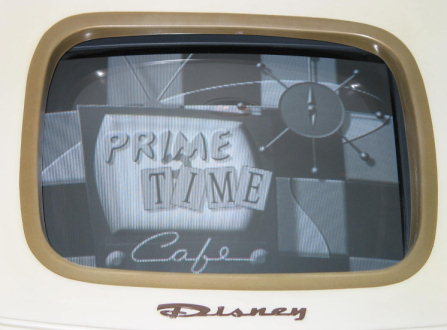 Keep those elbows off the table! Don't talk with your mouth full! No dessert until you eat all your vegetables!
Ah, memories of childhood. At least that's how my mom ingrained good table manners into me. And, that's how the servers may treat you at the '50s Prime Time Cafe in Walt Disney World's Disney-MGM Studios!
What? You mean you've never heard how the servers at Prime Time, each one of your long-lost "relatives," will wave a fork full of green beans like an airplane in front of your nose to get you to eat them? No one's told you about how Mom or Aunt Elaine or Cousin Chip will chastise you for planting your elbows on the table or for talking out of turn? How, if you're really naughty, Sis or Aunt Becky may enlist the aid of other restaurant patrons to help shame you into better behavior — or worse, put you in the corner? Then you have certainly missed out on one of the most fun dining experiences at all of Walt Disney World, where you can play, not with your food, but with the people who serve it to you.
This is the place for you if you like your servers extra friendly, your cuisine extra homey, and your decor extra kitschy.
And when I say "kitschy," I'm talking genuine 1950s decor, as tacky as it comes. Remember the clock with the radiating spokes your grandma (or, depending on your age, your mom) used to have in her kitchen? It's here. Remember the tables with the multi-colored overlapping boomerang-shaped patterns on the formica tops? They're here. Remember the copper rooster Jell-o molds that used to adorn the walls? Yep, here, too. It's almost scary, like stepping back in time.
A group of 15 (yes, I said 15) of us visited the Prime Time on a recent Friday night and had a fine time, if not the best food of our trip — for this place is at least as much about having fun as it is about satisfying your taste buds.
If you're traveling sans little ones, start your visit back to the 1950s at the Prime Time's Tune-In Lounge. You'll be greeted with low coffee tables and furnishings reminiscent of Dick Van Dyke's living room — in fact, you'll see Dick Van Dyke's old show on the many televisions dotting the lounge and restaurant. Snippets of a number of '50s-era sitcoms (most bits are related to food or eating in some way) run in continuous loops — there's Donna Reed, Make Room for Daddy, I Married Joan, Dennis the Menace, Annette Funicello with the Mickey Mouse Club gang — even Walt Disney himself at the opening of Disneyland!
The Tune-In has a full bar, and serves up a variety of specialty adult beverages as well as standard bar fare. If you have a sweet tooth, you can kill two birds with one stone and order up one of "Grandpa's Electric Milkshakes" ($9.50), ice cream concoctions "enhanced" with a drop or two of alcohol and capped off with a glowing cube. The Almond Joy Shake, a combination of vanilla ice cream, amaretto, coconut rum and crème de cassis, didn't just look like a scrumptious dessert — it could have been a meal in itself.
When the host or hostess calls your party ("Mom's ready for the Smith kids! Party of 15!"), you enter the main restaurant, where you can soak in even more of the kitschy atmosphere. Every room has a slightly different wallpaper style — pink floral, geometric patterns, we ended up in the back, plaid room — and its own set of accent pieces. There are collections of ceramic knick-knacks, from green horses to
colored glass vases to elegantly dressed ladies — they even had a pink flamingo just like one that used to sit on a shelf in my grandma's kitchen! There are also old-fashioned, shiny-sided two-slice toasters, and groupings of old-style Coca-Cola bottles and coolers. This is definitely cheesy Americana at its best (or worst?).
Your server will play with you as little or as much as you wish, so don't be afraid to stop in here if you don't like attention — they'll pretty much leave you to eat in peace if you tell them that's your preference. Our server, Cousin Jeff, had his work cut out for him. How to entertain a group of 15 clearly looking to have a little fun with him? Aside from constantly reminding us to keep our elbows off the table, though, he spent most of the evening simply trading quips and jokes — surprisingly none of us ended up in the corner!
With 15 "kids" in our group, and many varying tastes, we had the opportunity to sample a wide variety of menu items. Appetizers here run the gamut from basic, homey soups and onion rings to the almost nouvelle Smoked Trout Dip and Mom's Fried Boursin Cheese — believe me when I tell you that MY mom didn't even know what Boursin cheese was! The Chicken Noodle Soup ($2.99), a traditional blend of chicken, carrots, celery, onions and egg noodles, was nothing extraordinary, but made a meal for one of our big "kids." Mom's Fried Boursin Cheese ($5.99) was the lightly breaded savory cheese, deep-fried and served with toasted French bread and raspberry sauce — it melted in your mouth and was a great way to whet your appetite.
When you think of comfort food, what comes to mind? I'm guessing you conjure up images of home-cooked meat loaf, or pot roast, or maybe your mom's fried chicken. That's what Prime Time specializes in — the homiest of old-fashioned home cooking. And this seems to be what the restaurant does best.
The Traditional Meatloaf ($12.99) is touted on the menu as "a blend of beef and pork topped with tomato glaze, served with Yukon gold mashed potatoes and green beans." In the words of our "kid" who tried it, both the meat loaf and the potatoes were very good, "more or less like homemade. The green beans were fresh and cooked the way I like them: not too squishy and not too crispy."
The Old-Fashioned Pot Roast ($13.99) also garnered mostly positive reviews, although some found the generous portion of meat a bit on the dry side, saved only by the gravy. The Yukon gold mashed potatoes were again deemed "quite good," but the carrots and other accompanying vegetables were less than memorable.
A long-time favorite on the menu, Aunt Liz's Golden Fried Chicken ($12.99) drew raves, both for the portion size and the taste. The light breading on the chicken kept the meat inside moist and hot, while again the sides of Yukon gold mashed potatoes and green beans were praised for their quality and texture.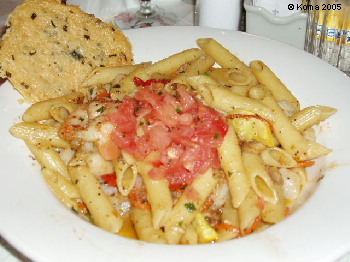 Among the less traditional menu offerings, my Seafood Primavera ($15.99) was a stand out. Penne pasta was blended with a generous portion of shrimp and scallops, as well as yellow and green squash and mushrooms, all sautéed in garlic scampi butter, then topped with diced tomatoes and fresh herbs. The dish had a bit more zing to it than I had anticipated — maybe a dash too much pepper — but was a savory and satisfying meal.
The Char-broiled Pork Tenderloin ($16.49), however, got mixed reviews. Some called the chipotle barbecue sauce and apple raisin chutney much sweeter than they expected. The pork was described as tasty, but some servings were tender, while others were much drier. The potatoes, though called "ordinary," were still not bad, mixed as they were with cheddar cheese and bacon. The dish came served with crispy fried onions, though, not mentioned on the menu — a problem for some "kids" who have onion issues.
Can you believe that in a group our size, only ONE of us tried dessert? She opted for a specialty item, the no-sugar-added cheesecake not on the menu, which she called "remarkably good, though it was drier, crumblier, than traditional cheesecake."
Our overall assessment? The Prime Time is NOT the place to go for haute cuisine, or a romantic dinner for two. But for kids young and old who want a basic home-style meal in a homey setting, with a little playful banter served up on the side, the Prime Time more than fills the bill.
-=-=-=-=-=-=-=-=-=-=-=-=-=-=-=-=-
Related Info:
Hours:
Lunch: 11 a.m. – 4 p.m.
Dinner: 4 p.m. – varies with park hours
Tune-in Lounge: 11 a.m. – varies with park hours
Priority seating reservations are available by calling 407-WDW-DINE.
Related Links:
Lunch and Dinner Menu
Children's Menu
-o-o-o-o-o-o-o-o-o-o-o-
Editor's Note: This story/information was accurate when it was published. Please be sure to confirm all current rates, information and other details before planning your trip.