Progressive Dinner at Disney California Adventure
Autumn Hilden
AllEars® Guest Columnist
Feature Article
This article appeared in the October 10, 2017 Issue #942 of ALL EARS® (ISSN: 1533-0753)
Editor's Note: This story/information was accurate when it was published. Please be sure to confirm all current rates, information and other details before planning your trip.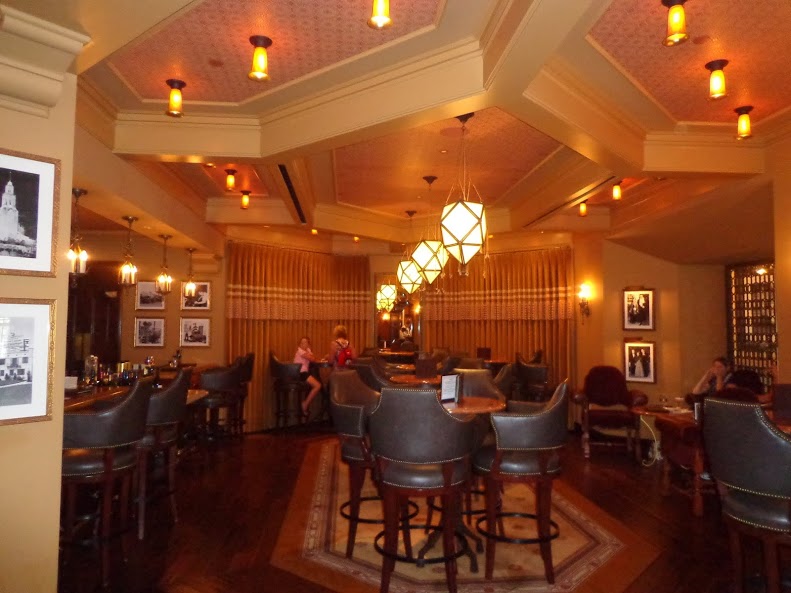 Date Nite at Disneyland started as a series of Disney-sponsored events for lovelorn mid-century teens but has continued as a beloved tradition for daters of all ages who visit the parks. These days, couples that are carrying the torch come up with their own Disneyland date nights, so we're going to play along with a night-out idea that's decidedly grown up. Our progressive dinner at Disney California Adventure features calories and canoodling!
Cocktail Hour
Start your DCA date night with a toast at Carthay Circle Lounge. Just inside park gates at the end of glamorous Buena Vista Street, the downstairs lounge of the park's signature restaurant is its own hideaway of vintage style, hushed conversation, and craft cocktails. Seats by the bar are the coziest.
And speaking of the bar, your first stop of the evening will bring you a huge list of custom cocktails and non-alcoholic beverages that can't be found anywhere else on property. The botanical gin and tonic, with star anise, cardamom, and mint, is refreshing and subtly layered. Or try Walt's favorite, the scotch mist. If you'd rather start with something a little lighter, try the rose petal soda. Who doesn't need a sugar-glazed organic rose petal garnish?
Appetizers at the Carthay Circle Lounge are very, very small. On the plus side, since your progressive date night dinner involves a lot of stops, small might not be too bad this time around. Try the Vietnamese twice-cooked beef taco if you want to accompany your drink with a savory something.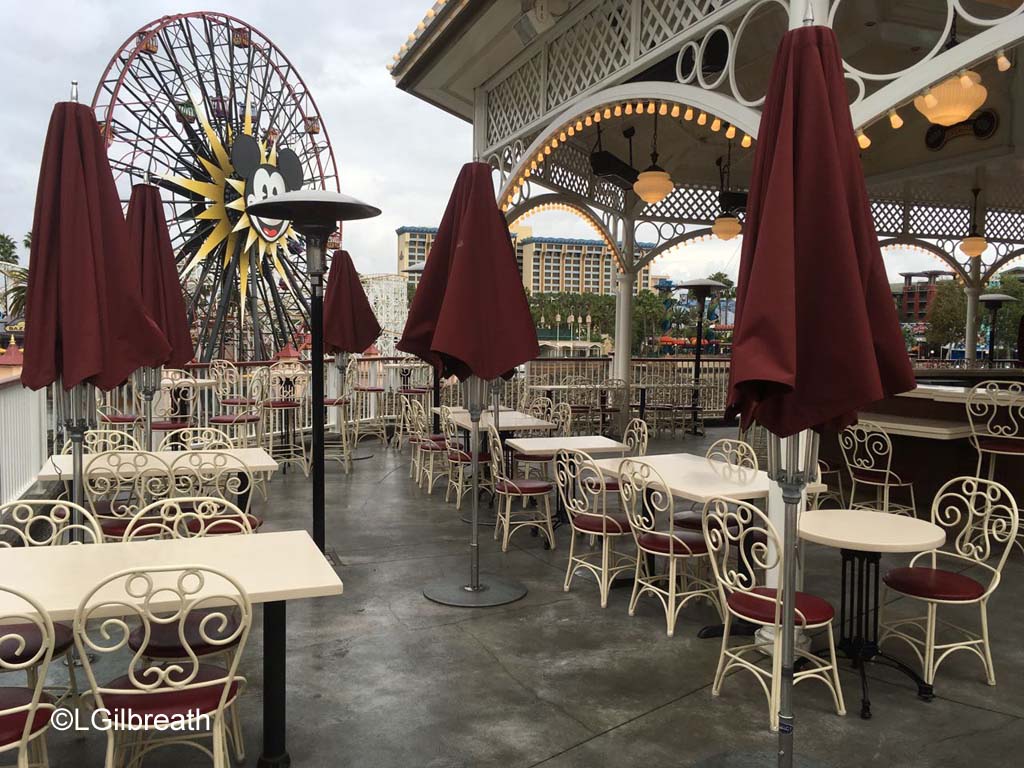 Main Course
For a romantic outdoor setting at DCA, the Cove Bar can't be beat. Soft wood planks underfoot, the perfect level of murmurs and clinks, and the smell of distant cotton candy make this the perfect date night dinner place. You'll overlook the shimmering Paradise Bay, the string lights of the pier, and the hypnotic turn of Mickey's Fun Wheel as you dine under a perfect California night breeze. If you time it right, you may even catch glimpses of World of Color.
Order the lobster nachos for your main course. The serving size is more than enough, and the Cove Bar has been noted for these delicious seafood delights for years. They're rich, so pace yourself as needed. There's a lot more dating and dining on the horizon.
Cheese Course
A cheese course is just one of those things that makes life feel romantic and special, right? It's a little extra for when you want to be fancy and enjoy some decadent dairy, which DCA understands very well. That's why they offer cheese plates at five or six different spots around the park, but Mendocino Terrace is nice for a couple of reasons: it clears out at night and it offers excellent views.
First, the atmosphere. Since date night is all about slowing down and appreciating the romance and detail of the moment, take time to enjoy your little corner of the terrace. Lanterns, vines, terra cotta, and wine barrels combine to take you away, all the way to Napa — both rustic and luxurious. It's the perfect place to truly savor your cheeses. Channel your inner Remy the Rat as you detect nuttiness (whether it's in the cheese or your partner is up to you).
Then, take a look out across the park. You should be perfectly positioned to enjoy the nightly neon that lights up Radiator Springs. The glow is all the more wonderful when you can experience it from the solitude of a quiet wine terrace. Salut!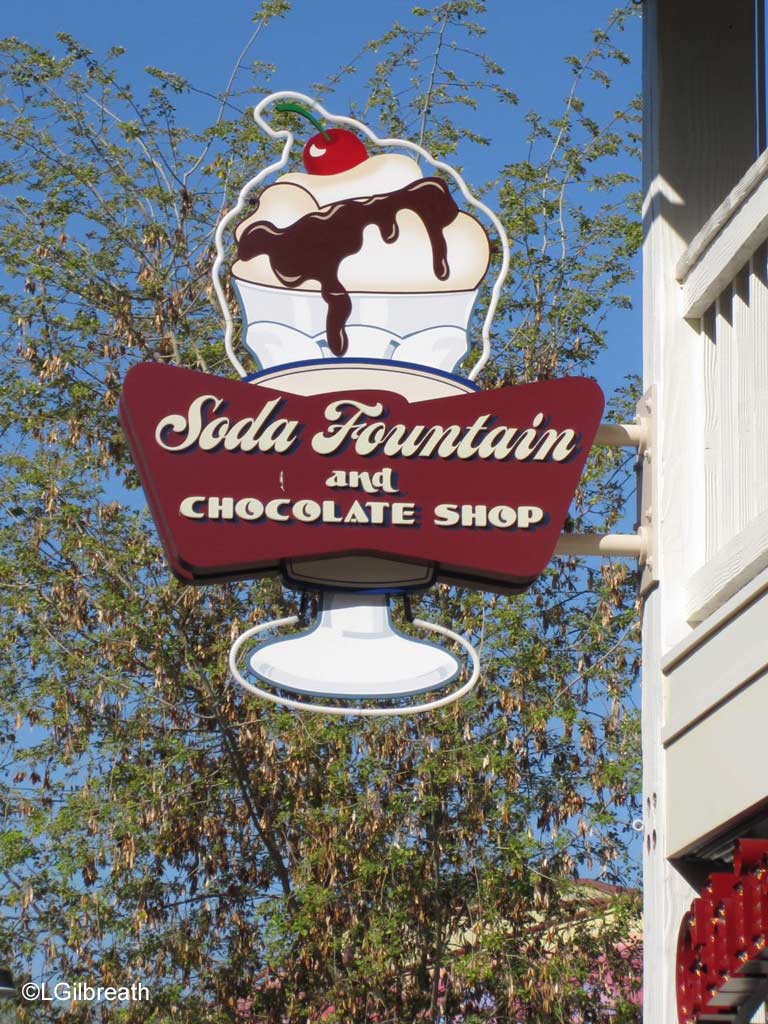 Dessert
Alright, it's time for what we've all been waiting for. You've been crisscrossing the park, so you definitely deserve a sundae at Ghirardelli. And of course, since it's date night, it has to be the Presidio Passion strawberry and hot fudge.
But here's the best part. Get your sundae and take it out of the chaos of the shop. You're going to head to the farthest reach of DCA, over at Paradise Gardens. This lush spot is lit with golden light and utterly deserted in the twilight hours. Sit under a flower-laced gazebo, or stroll in and around a gentle maze of wrought iron benches, cascading greenery, and silent fans that turn lazily overhead. You'll have the entire place to yourselves, should you decide the atmosphere inspires romance.
Bonus: Nightcap
One of DCA's best features is that it unloads conveniently into the Grand Californian hotel. The park's side exit gives daters direct access to the perfect post-date: a Godiva chocolate martini from the hotel's classy Hearthstone Lounge. Grab yours and walk it over to the epic lobby fireplace for a nightcap. If it's late enough, you'll have room to rock in a chair by the hearth or stretch out on one of the long benches that line the quiet nook where the fire burns. In the event that you're not getting as much privacy as you want, circle around to the backside of the fireplace, outside. You can snuggle close if the night air gets chilly.
= = = = = = = = = = = = =
RELATED LINKS
= = = = = = = = = = = = =
Disney California Adventure Dining Locations
A Taste of the Parks at Disneyland's Downtown Disney

Disneyland's Best Themed Dining
Other AllEars® features by Autumn Hilden can be found in our Archives.
= = = = = = = = = = = = =
ABOUT THE AUTHOR
= = = = = = = = = = = = =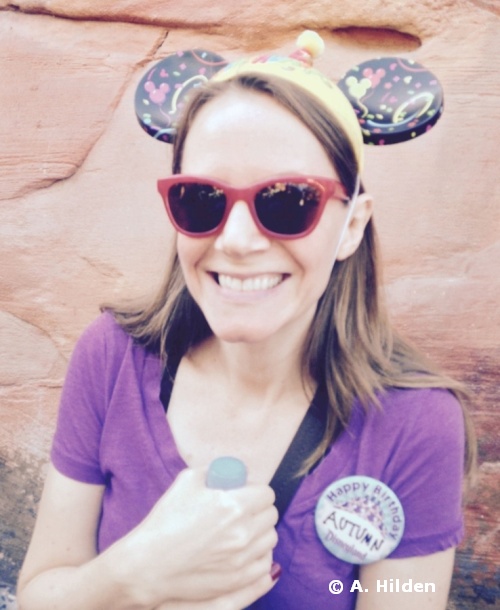 Autumn Hilden is a Los Angeles-based writer and editor. She has worked for Disney Publishing Worldwide and The Jim Henson Company and is currently writing books for young adults. Autumn grew up taking family photos in front of the waterfall pool at the Polynesian Village Resort and selecting "desert" for the final flight on Horizons. She now embraces Disneyland as her Happiest Place on Earth. You can follow her on Twitter here.
-o-o-o-o-o-o-o-o-o-o-o-
Editor's Note: This story/information was accurate when it was published. Please be sure to confirm all current rates, information and other details before planning your trip.