Planning Visits to Overseas Disney Resorts
by Alice McNutt Miller
AllEars® Feature Writer
Feature Article
This article appeared in the March 4, 2014 Issue #754 of ALL EARS® (ISSN: 1533-0753)
Editor's Note: This story/information was accurate when it was published. Please be sure to confirm all current rates, information and other details before planning your trip.
(EDITOR'S NOTE: With AllEars.Net's Deb Wills and several others of the team (Linda Eckwerth, Laura Gilbreath, Lee Zimmerman, and Jeanine Yamanaka) headed out of the country to visit the Hong Kong and Tokyo Disney Parks this week, we thought it would be timely to talk about planning YOUR trip overseas — you know you want to see Disneyland Paris, not to mention Tokyo DisneySea, and, of course, Shanghai is on the horizon! Happy Daydreaming!)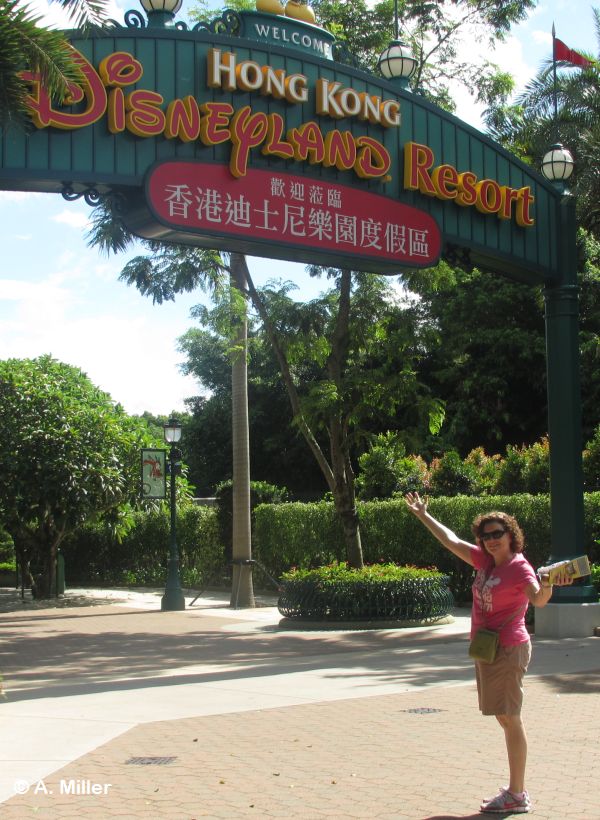 So, you've visited Walt Disney World multiple times, and have even ventured to California to visit Disneyland, the place where it all began, but you are experiencing some wanderlust, and would like to combine your love of Disney theme parks with a visit to an exotic locale. Lucky you! There are three international Disney resorts (and one more on the way!), where you can feel the comforts of recognizable attractions and characters, but experience them in a totally different way. Disneyland Paris Resort, Hong Kong Disneyland Resort and Tokyo Disney Resort are fun and amazing places to visit in their own right, and are located near cities that are more than worth the time and effort to visit. Planning for a visit to an international resort may seem a bit daunting, if not completely overwhelming, but with some time, effort, and advance planning, you can put together an unforgettable trip. My family and I have now visited all of the Disney parks around the world (that are currently open, Shanghai will have to wait for a few years!), and I have compiled some tips for planning your trip to these fantastic destinations.
Start your planning early! When my family and I planned a trip last year to Asia that included visits to Hong Kong Disneyland and the Tokyo Disney Resort, I wanted to use frequent flyer miles for our tickets. In order to get the schedule and class I wanted, I booked our flights about eleven months in advance, literally the day that bookings opened for those flights. I did have to be a bit flexible on the exact dates, but as a result of my planning we saved thousands of dollars on our flights. Also, because there are fewer hotels at most of these resorts, they can book up early.
Research the "busy" times for the overseas resorts. Crowd levels will peak at different times of year than we are used to with Walt Disney World and Disneyland. In order to figure out when the peak times were, I studied resort room rates on the resort websites (start here: http://disneyparks.disney.go.com/). I used Disney Vacation Club points for our rooms, so the amount of points needed for particular reservations are also a good indicator of the busiest times. By being a bit flexible with my itinerary, I was able to save a large number of points in Tokyo. We ended our stay just as a school holiday was beginning, saving points and avoiding crowds that would have been even larger than the ones we actually experienced. Generally, the overseas resorts will be busiest on weekends, since many of the visitors are locals. We shuffled our itinerary in Hong Kong so that our visit would not be on a weekend, and avoided some crowds.
Choose your accommodations carefully. While all of the Disney hotels that we have stayed at in the overseas resorts have been very nice, they may not offer all of the amenities or level of service that we have come to expect at Walt Disney World and Disneyland (I don't think any of them really get the idea that a hot tub should be, well, hot). For example, what look like double beds in the pictures for the Hotel MiraCosta in the Tokyo Disney resort are not, in fact, double beds. They are slightly larger single beds that will definitely not hold two adults. Pay attention to the occupancy rates listed on the websites. (Many of the rooms in the Tokyo hotels have pullout trundle beds, which allow for three guests in the room.) Families with more than one child might want to look into the options at the Tokyo Disneyland Hotel, which has some larger rooms that will accommodate up to four. Also, in our hotels at Disneyland Resort Paris, while we appreciated the included breakfast (check to see if this is still offered), the selection of rolls and cheese got a bit tedious after a few days. You should expect to get the Disney Channel on your hotel television set, but don't expect that it will be in English. On our first trip to Disneyland Paris, there was a Disney Channel in English, but on our second trip it had been replaced by one in Spanish (I guess there are were more Spanish-speaking visitors than English-speaking visitors). During our recent stay at the Hong Kong Disneyland Hotel (where there WAS a Disney Channel in English), my husband and I had a hard time finding an alcoholic beverage one evening after a long day in the park. It looked like there had been a lobby bar at one time, but it was sadly no longer functioning. We ended up placing a drink order with the very kind cast member at the restaurant podium, and she delivered it to us in the lobby just a few minutes later. (Additional tip: all of the resorts can now be booked online, but if you plan a trip to Paris, AllEars®-recommended travel agent, Mouse Fan Travel (http://www.mousefan.travel/) can help you with your planning.)
Transportation. A little advance research on transportation options will save you lots of headaches, and a boatload of cash. With the exception of Hong Kong Disneyland, taking a taxi from the airport to the resort is likely to be extremely expensive. All of the overseas Disney park websites have lots of good information about transportation options. After having traveled to all three resorts, here are my recommendations for transportation options for each of them.
— Paris (http://www.disneylandparis.co.uk/practical-information/before-your-visit/how-to-get-there/index.html). The easiest way to get to the Disneyland Paris resort from Charles de Gaulle International airport is by motor coach. Buses with distinctive Disney logos (similar to the Magical Express buses) leave on a pretty regular basis from all of the airport terminals, and will take you directly to your resort hotel, or to the park entrances. Check the following website for current schedules and pricing (unlike Magical Express, the cost of the bus ride is NOT included in the cost of accommodations). If you are staying in a hotel in central Paris, there is an RER train that runs from the airport into the city, but it is a long ride, and can be very crowded with luggage, so I recommend checking out the Air France buses (http://www.lescarsairfrance.com/en.html), which has several convenient stops in Paris. (However, I DO recommend taking the RER from central Paris TO Disneyland; http://www.ratp.fr/en/ratp/c_5046/rer/.) If you are traveling from London, the Eurostar train is definitely the way to go, as it will drop you off just steps from the entrance to Disneyland (http://www.eurostar.com/us-en).
— Hong Kong (http://park.hongkongdisneyland.com/hkdl/en_US/tools/transportation/listing?name=GettingToTheResortListingPage). There are two good options for getting to Hong Kong Disneyland from the Hong Kong International Airport. The subway line does run from the airport to the resort (http://www.mtr.com.hk/eng/homepage/cust_index.html), but the airport is quite close to the resort, and taxis are relatively cheap here, so it may be simpler to take a taxi.
— Tokyo (http://www.tokyodisneyresort.jp/en/access/index.html). The best way to get to the Tokyo Disney Resort from Narita airport is also by motor coach. The buses run directly from each terminal to the Tokyo Disney resort hotels. The limiting factor on this option is that the last bus leaves pretty early in the evening, so if you have a late flight, this may not work. If you miss the last bus, there is another line that goes to hotels in Shin-Urayasu a nearby neighborhood, from which point you can take a taxi to the resort (http://www.limousinebus.co.jp/en/bus_services/narita/shinurayasu.html). Another alternative is to check with your travel agent about booking a private transfer.
Don't worry too much about language issues. While I always recommend learning a few key words and phrases in the local language when traveling, don't let worries about language barriers deter you from visiting the overseas Disney parks. Signage in both the hotels and parks is always in both English and the local language (or languages in the case of Hong Kong Disneyland), and while cast members may not always be able to speak fluent English, I have found that they are always willing to try to help. The only real issue that we have had on any of our visits came when I was unable to communicate my desire to ship luggage ahead to our Tokyo hotel from the Hotel MiraCosta at the Tokyo Disney resort. We resolved the problem through flexibility in our choosing our mode of transportation (we ended up taking a bus that would accommodate our luggage rather than the subway) and an internet search. Do learn to say "please," "thank you," and "do you speak English?" before launching into a request, and remember that patience is a traveler's best friend.
Money matters: Credit cards. The benefit of using a credit card to pay for hotel bills, park tickets, etc., is that you will get the best prevailing exchange rate for your transaction, the downside is that many credit cards also charge "foreign transaction fees." Check with your credit card company for their foreign transaction policies, and consider signing up for a new card with no foreign transaction fees if your current card company charges them. Also, check with your card company regarding their policies on travel notifications. We have had several instances where transactions were denied because we forgot to notify the card company that we would be traveling. I recommend that you carry at least two different credit cards, however, because even if you do give the company a travel notification, they may still deny a transaction. It is always best to have a backup plan.
Money matters: Cash. No matter where you travel internationally, you will want to have a small amount of cash on hand for tips, small purchases, etc. (especially in Japan, where credit cards are not always accepted). It is possible to get cash at a bank or foreign exchange office before leaving on your trip, but I have found cash machines on arrival to be much more convenient and cost effective. The first thing I do when exiting customs is find a cash machine that will work with my bank's cash card. Look at the back of your card for the networks it will work on (for example, Plus, Star or Interlink) and look for an ATM that has one of those logos posted on it. In France and Hong Kong, you should be able to use almost any ATM that is available. In Japan, the ATMs that will accept U.S. cards are more limited. They can be found in many 7-11 stores (yes, you read that correctly!), and there are several in the Ikspiari shopping complex at the Tokyo Disney resort that will work.
Park Tickets. Again, a bit of advance planning will save a whole lot of difficulty when you buy your tickets to visit the parks. We used DVC points for all of our stays. At the time we visited Disneyland Paris, DVC stays required that you purchase length-of-stay tickets. That does not seem to be the case now, but do check the fine print. Our stay at the Hong Kong Disneyland Resort using DVC points included length-of-stay tickets, so we found that to be quite a bargain. In Tokyo, the ticket options are relatively confusing because when you are purchasing the tickets you need to know which park you want to visit on which day, and the tickets can only be used for those choices. Most non-resort guests are not allowed to park hop, but resort guests can purchase park hoppers for an additional fee. As always, terms and conditions change often, so make sure that you have the most up-to-date information before you leave on your trip.
Study the park maps. While many of the features of the overseas Disney Parks will look familiar, they also have lots to offer that is unique to them. Study the online maps to have a better idea of what you might want to include in your touring plan. If you have a very short time to visit, you may want to consider focusing on attractions and experiences that you can't find at home. Some of my favorite attractions anywhere are located in the overseas parks, starting with my all-time favorite, Crush's Coaster, which is located in the Walt Disney Studios Park at the Disneyland Paris Resort. Here are some of my others, by park. Disneyland Paris — Alice's Curious Labyrinth; Hong Kong Disneyland — Mystic Manor; Tokyo Disneyland — Pooh's Hunny Hunt; and Tokyo DisneySea — Raging Spirits.
Consider extending your visit to include the cities that play host to the Disney resorts. Paris, Hong Kong and Tokyo are amazing cities in their own right, and it would be a shame not to see at least something of them during your trip. All three resorts have easy access to the city centers via public transportation, and in the case of Tokyo, you can be in the center of the city in a matter of minutes. On several of my visits to Disneyland Paris, I have stayed in a hotel in the center of the city and taken the RER train to for a day trip to the park. If you only plan to visit the parks for a day, this may actually be the best approach.
Well, that's it! Do let me know if you have any additional questions that I might be helping you out with by leaving a message here: http://allears.net/forms/feedback.htm. Bon voyage!
=-=-=-=-=-=-=-=-=-=-=-=-=-=-=-=
ABOUT THE AUTHOR:
Alice McNutt Miller is a lifelong Disney fan whose fondest childhood memories include "The Wonderful World of Disney" on Sunday nights and her first trip to Disneyland when she was 10 years old. Alice and her family are Disney Vacation Club members, and have now visited every one of the Disney parks throughout the world. They live in Vienna, Virginia.
-o-o-o-o-o-o-o-o-o-o-o-
Editor's Note: This story/information was accurate when it was published. Please be sure to confirm all current rates, information and other details before planning your trip.