Planning a Trip with Grade School-Age Children
by Alice McNutt Miller
AllEars® Feature Writer
Feature Article
This article appeared in the October 8, 2013 Issue #733 of ALL EARS® (ISSN: 1533-0753)
Editor's Note: This story/information was accurate when it was published. Please be sure to confirm all current rates, information and other details before planning your trip.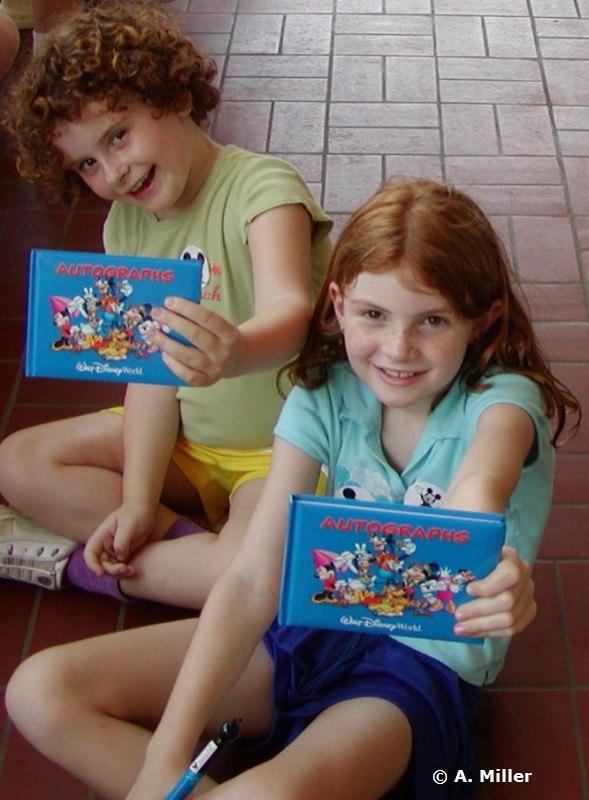 No more diaper bags. No more strollers. Hooray! Your kids are in grade school and are itching for a trip to Walt Disney World. This may just be the absolute best age to take kids for that Disney vacation. Grade-schoolers are on their way to becoming more independent, can get around on their own two feet, and are starting to develop their own ideas, interests and opinions. They are still young enough to delight in the magic, the characters and the new experiences, but are old enough to really start to help with the planning. Many families feel that the best time to take the kids is when they are this age. Here are a few things that will help with planning and make your visits fun and as low-stress as possible.
1. Involve your kids in the planning. If they have been to Disney World before, ask your kids to pick one or two of their favorite rides to try to hit on each day you visit a park. If they have not been to Disney World before, pull up maps and other online resources on your computer, and let them choose some must-do attractions based on their research. Ask them if there is a particular restaurant that they would really like to try, and make reservations. Get their input on where they would like to stay. The more your kids get involved in the planning, the more they will have invested in the trip, the more they will understand that everything does not always work out the way you have planned, and the fewer opportunities there will be for melt-downs (which can still happen well after the toddler years in stressful situations).
2. Be prepared for crowds during school vacation times. When your kids were younger, you could plan to visit the World during the relatively slower periods when older kids are in school. Now that your own kids are in school and you are tied to school vacations for visits, an extra dose of planning will help to make crowded times more bearable. Even when crowd levels are high, we have had good success with being able to do more rides and attractions if we make sure to arrive at the parks well before the scheduled opening time, then leave for a mid-afternoon break, or even for the day, when the crowds really start ramping up around lunch time.
3. Let your kids' preferences lead in your choice of accommodations. For families visiting Disney World I almost always recommend staying on-site, and usually recommend choosing a larger accommodation such as a Disney Vacation Club Villa or a suite. In the case of families with grade school-age kids, though, I think that there is more leeway in choosing regular hotel rooms. School-age kids don't go to bed quite as early as babies and toddlers, and don't require as much room for their stuff as do teenagers. The four of us were quite comfortable in regular rooms with two double or queen beds when the kids were in grade school. Your kids may have strong opinions at this age on where they want to stay, so choose a price range that you are comfortable with and give your kids a few choices. Are your kids sports crazy? Try All-Star Sports. Do they like hiking through the woods? Choose either the Wilderness Lodge or a Fort Wilderness Cabin. Little Mermaid or Cars fans? Try the Art of Animation Resort. Your kids will think it is really cool that you let them choose the hotel. Maybe they will even think that YOU are really cool!
4. The pool is cool. This is also the age where a really cool pool area can be important to your kids. I remember one trip during which I asked my girls what their favorite part was — and they said the pool. I was flabbergasted. Of all the really cool rides and attractions, they thought the best thing was the pool? Yes, and it may be. After a hot morning in the parks, the cool water feels great. The kids can also play for hours on end without being told to slow down, quiet down, sit down, etc. Playing in the pool brings a measure of freedom and the ability to move around and be, well, a kid. All of the Disney hotels have great pools, and grade-schoolers seem to particularly like the heavily themed pools in the Value and Moderate resorts. In my opinion, Coronado Springs has one of the best pool areas for kids this age, with its Mayan theming, pyramid and jaguar slide. We also like the fact that the pool bar serves up a mean Mai Tai. Mom and Dad like to hang by the pool on a hot afternoon, too, relaxing in a nice lounge chair rather than racing through a park to make the next Fast Pass time. Keep in mind that if you like hot tubs (which can be very nice to have during the cooler times of year) the Value resorts don't have them.
5. You are what you eat. Keeping kids on a healthy eating schedule can be challenging on vacation, and can be even more challenging when they are faced with Mickey ice-cream bars, yummy cupcakes and that weird, neon-colored powder in a tube that can be found in the candy stores. With a bit of planning, you can make sure your kids eat good healthy food, while still allowing for the occasional treat. The first thing to do is to stock your hotel room with healthy snacks that you either bring from home or purchase in the gift shop or food court of your hotel. Next, check your park map for the kiosks that sell fresh fruit, and plan to head straight there during the times that you know your kids will be hungry. Finally, we usually have had a one-treat-a-day rule, and let our kids (and ourselves!) choose whatever sugar bomb their (our) hearts desire. You are on vacation, after all!
Also, plan for dining out at restaurants that offer foods that you know your kids will like to eat. For instance, if your kid does not like Chinese food, it might be best to save a meal at Nine Dragons in Epcot for another time. Try to add some fun to the food. Our kids' favorite restaurant at Disney World was (and is) the Sci Fi Dine-In Theatre in the Hollywood Studios. They loved watching the old movies, getting to sit in a car, and not having to sit next to Mom and Dad. We loved the cool, dark atmosphere, and not having to sit next to the kids. We also still like character meals, but when my kids were still collecting autographs, they were even higher on our dining list.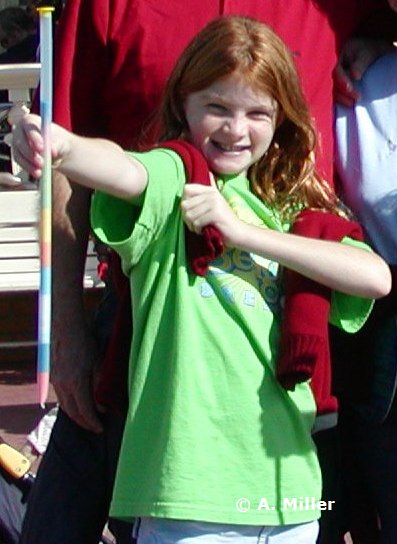 6. Plan ahead for souvenir purchases. "I really need that." How many times have I heard our daughters ooh and aah over some shiny doo-dad in one of the park or hotel gift shops? We all know that the kids don't really NEED that, but they do want it. There is lots of really cool merchandise in the shops around the World, and I often have to slap my own hand back when I see a cool watch, bag or piece of art that I would really like to have. How do you keep your kids' endless desires in check, while giving in to the occasional indulgence? The best thing to do with kids this age is to set expectations in advance. Tell them before you even leave home that they will NOT be able to buy every souvenir that they want, and let them know in advance what the boundaries will be: they can have one souvenir with a value of less than X dollars; or they have X dollars to spend, and once they have blown through that they are out of luck. Some people have had luck with setting a dollar limit, then purchasing a Disney gift card for each child that she can then use to make her own purchases. I do have one caveat though. If you tell your child that the choice is his, within a certain dollar limit, try to bite your tongue if they want to spend all of their allotment on the weird, neon-colored powder in a tube. Let them know in advance if there are really restrictions on how you will allow them to spend the money (i.e. no candy, no toy weapons, etc.). Also, don't fall into the "are you sure you don't want to keep looking for something better?" trap. I've said this to my kids several times when they found the "perfect" souvenir toward the beginning of a trip, and then they never found anything better OR the original perfect thing during the rest of the trip.
7. Pin-trading and Vinylmation. As a corollary to the souvenir advice above, my kids enjoyed pin-trading the most when they were grade-schoolers. They have since lost most of their interest in this activity, and their pins are gathering dust on fading lanyards in their closets. Pins are relatively expensive, so for several trips one pin may have been the only souvenir that my kids chose. In order to facilitate this hobby, I looked for sales on pins on the Disney Store website that I would then tuck into their stockings at Christmas. The prices for pins in the parks start at about $8, and go up from there. Occasionally we would see pin "grab bags" in the shops, where for a reasonable price you could get a "surprise" pin or two pins for the price of one. Over the years, each daughter gravitated toward a favorite character or pin style, and traded less-loved pins with cast members for one that fit their collecting style. We never got into Vinylmations, but I can see a similar appeal to collecting these for young kids. Prices for three-inch Vinylmation figures start at about $13. In either case, kids get to pick something that they like, build a collection that they can take out and look at over and over again, and the act of trading pins with cast members can introduce lessons in etiquette.
8. Collecting autographs. If pin trading and Vinylmations are of no interest to your kids or too pricey for you, consider indulging the collector in your kids by devoting some time to collecting autographs from characters. You can purchase a standard autograph book in one of the parks for about $8, or bring a notebook from home. I've even heard of people having the characters sign pillow cases or t-shirts to make cool souvenirs. It does take time to stand in line for the kids to meet the characters, but if they are into collecting signatures and getting pictures, it may be well worth your time. Also, consider asking particularly nice cast members or performers for their autographs. Some of our favorite autographs came from Guano Joe, the "tour guide" in the Flights of Wonder show at the Animal Kingdom, and from a gentleman who drove us in one of the Main Street Vehicles in Disneyland who happened to be celebrating 25 years with the company the day that we visited.
9. Don't overlook the kid-friendly hands-on play places. All of the parks have play areas where kids can run around, let off some steam, and sometimes cool down in a water feature. My experience is that younger, and even some older, grade school-age kids still really like to spend time in these areas. Because your slightly older kids need a bit less supervision than when they were toddlers, the benefit for Mom and Dad is an opportunity to sit and relax for a few minutes while the kids play, as long as you are still within earshot. Our favorites were the Boneyard in the Animal Kingdom and the Honey, I Shrunk the Kids Movie Set Adventure in the Hollywood Studios, but the new Casey Junior Splash 'N' Soak Station in New Fantasyland in the Magic Kingdom looks very enticing. My kids also really learned to like the Innoventions pavilions at Epcot at this age. They really like to be able to touch and DO things as well as just see them, so the exhibits here have been, and continue to be, big draws for them. Again, Mom and Dad can usually let the kids experience these things on their own, while they take a well-deserved rest (although I must admit that I still really like participating in the Great Piggy Bank Adventure).
10. Don't overdo it. You may think that because your older kid has more stamina than he did when he was a baby, that he won't need a nap break. You may be very wrong. Tired kids turn into cranky kids, which leads to cranky parents. Take breaks, drink lots of water, fuel up with some healthy snacks, and watch your kids for clues that they are getting tired, then leave. If you don't want to leave the park to go back to the hotel for rest, think about switching gears a bit right where you are. Find a shady spot to rest. Take a ride on the train all the way around the park in the Magic Kingdom. See a live show or long sit down attraction: think Ellen's Energy Adventure in Epcot, Beauty and the Beast in the Hollywood Studios, Finding Nemo: The Musical in the Animal Kingdom or Carousel of Progress in the Magic Kingdom.
Those are my top tips for planning a trip to Walt Disney World with grade school-age children, but I'm curious to hear what yours are. Drop us a line at allearsnet@yahoo.com with your tips for planning the perfect trip! And as always, happy planning!
=-=-=-=-=-=-=-=-=-=-=-=
ABOUT THE AUTHOR: Alice McNutt Miller is a lifelong Disney fan whose fondest childhood memories include "The Wonderful World of Disney" on Sunday nights and her first trip to Disneyland when she was ten years old. Alice and her family are Disney Vacation Club members, and have now visited every one of the Disney parks throughout the world. They live in Vienna, Virginia.
=-=-=-=-=-=-=-=-=-=-=-=
RELATED LINKS
Check out all of the great AllEars.Net content directed toward families traveling with school-age kids in our Planning pages:
http://allears.net/pl/planning.htm
You can find menus for nearly all Walt Disney World eateries, from snack carts to table service restaurants, at:
http://allears.net/menu/menus.htm
Don't miss Kristin Ford's blog, A Mom and the Magic:
http://land.allears.net/blogs/kristin-ford/
-o-o-o-o-o-o-o-o-o-o-o-
Editor's Note: This story/information was accurate when it was published. Please be sure to confirm all current rates, information and other details before planning your trip.