When to Go
Where to Stay
Ticket Information
Transportation
"Mini-mizing" Costs
Helpful Hints
Tips
For Families
For Guests without Children
ADD/ADHD
Autistic Spectrum
Disorders (ASD)
Dietary Needs
Vegetarian/Vegan
Epilepsy
Hearing
Medical Needs
Mobility
Motion Sensitivity
Service Animals
Size Concerns:
Visual Impairments
For International Visitors
Florida Residents
Other Resources
A Disney Survival Guide for Parents
by Lynne P. Feiz
AllEars® Guest Columnist
Feature Article
This article appeared in the
September 7, 2010 Issue #572 of ALL EARS® (ISSN: 1533-0753)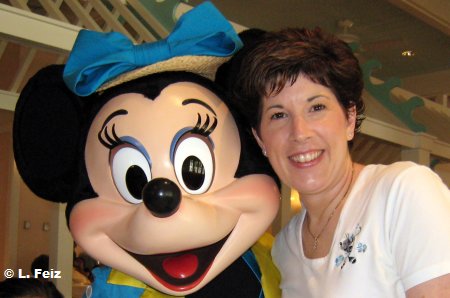 "We're going to Disney World!" So goes the now-famous line from more than 20 years of Disney TV commercials. Those words have been spoken by NFL Super Bowl champions, NBA basketball stars -- even the most recent American Idol winners. You might say the line has earned its place in the advertising hall of fame, right alongside other gems like, "Where's the beef?" and "Tastes great! Less filling!"
But those words have been uttered countless more times between eager, enthusiastic parents and their surprised, even bewildered young children. And the sudden realization that a very special -- even once-in-a-lifetime -- dream is coming to fruition can bring a multitude of feelings and emotions. Pure, unadulterated excitement. Edge-of-your-seat anticipation. And, yes, even sheer panic.
Why such a broad range of emotion? One word: Expectation. Walt Disney World is one of the few vacations that comes with a very high -- and often unrealistic -- level of expectation. Most of it is Disney's own doing: We're promised much more than just a swell time, or a nice vacation. We're promised Magic with a capital M. The Most Magical Place on Earth. Where dreams come true. Nope, no pressure there!
So it's no wonder that when things don't go quite right -- and let's face it, none of us is perfect -- we witness a tragic downfall. A child's frenetic meltdown in the middle of Main Street, U.S.A. And the parents' equally frenetic adult meltdown, usually accompanied by something like, "We paid a lot of money to come here, so you WILL have fun!"
Having taken our daughter, Julia, now 7, on at least 12 such treks to the World, I believe I've narrowed down the cause of such tragedy to a single culprit: a lack of preparation. I'm not talking about a lack of planning -- after all, many of us who frequent AllEars.net are natural-born, type-A planners. Often times, we've scheduled which park to visit on which day, booked Advanced Dining Reservations 3-6 months in advance that guarantee where we'll eat, and even planned the trip down to which ride we'll be on at what time and when we'll take bathroom breaks (nature, be damned!).
No, this lack of preparation has more to do with a state of mind--yours and your young children's. Kids--and their parents, too, I'll attest -- can find Disney World exciting to the point of overwhelming and over stimulating. The combination of all of the sights, the sounds, the choices, the crowds, the heat, the walking -- and, yes, those darn expectations -- can be intense.
Fortunately, all that's really needed here is, in the words of Ratatouille's spindly food critic Anton Ego, "a little perspective." So, I'd like to offer up a set of tips. Real ones. Doable ones. Life-saving ones. Together, I call them, "A Disney Survival Guide for Parents."
====================
Survival Tip 1:
Do Your Homework!
====================

For our first trip with our daughter, it was clearly an advantage to have been Disney veterans already. We knew the park layouts like the backs of our hands, so at least we didn't have to figure out where the attractions or restaurants (or restrooms!) were located. Parents who haven't visited in quite some time, or for whom it's their first trip, would be wise to invest the time and money on a guidebook geared toward touring with young children or to spend some quality time on AllEars.Net or disneyworld.com. In other words, don't wait until you're passing through the turnstiles to begin studying the park map while juggling an infant.
Despite our base of knowledge, it had been many moons since either of us had ventured near Fantasyland or a character meet-and-greet. Therefore, we still had plenty of homework to do to figure out which attractions were most appropriate for our 1-year-old and what child-friendly amenities and benefits were offered,
First, we were pleasantly surprised to learn that our daughter's admission to the parks was free -- that's right, free! In fact, up to age 3, kids don't need an admission ticket. We were also pleased to learn of baby-swap, where parents of children too young to experience certain attractions can take turns, or swap, the child while each parent rides solo. The beauty is, parents stand in line once, not twice.
Though all four Disney parks offer stroller rentals, we decided that, for us, bringing our own stroller was the way to go. First, Disney's strollers aren't cheap -- currently $15 a day for a single stroller, and $31 per day for a double. Plus, we felt we still needed a stroller within the airports, to and from the bus stops, and around the resort. Buying one when you arrive (Disney now sells inexpensive strollers in many of its shops) or renting one from an Orlando-based, independent rental service are also options.
Speaking of the resort, as DVC members, staying on site for us was a given. While those who've stayed off-site can probably offer plenty of counterarguments, in my opinion staying at a Disney resort with a little one is the way to go. The close proximity to the parks and the access to Disney transportation just can't be beat. Note that each room comes with a Graco Pack-n-Play for sleeping, so if you want a full-size crib, you'll have to request one on a first-come, first-served basis or rent one from one from an outside service.
With all of this new-found knowledge, we were ready to develop a plan for experiencing all of it.
====================
Survival Tip 2:
Have a [Realistic] Plan
====================

Methodically creating our week-long plan of attack involved picking a different park for each day and then making all of our Advance Dining Reservations (or Priority Seatings, as they were called back then). While we decided to eat breakfast in our villa and grab counter service for lunch, we booked table-service restaurants for the earliest dinner seating time available -- both because that's when she typically ate following a short afternoon nap, and because we knew we'd be less likely to have to wait to be seated. We liked having an ADR and a meal we could count on. But if you decide to wing it a bit more, do yourself a favor and review the menus for counter service establishments on Allears.net in advance so you have an idea of where you'd like to go -- and what your child might be inclined to eat -- before you find yourself wandering the park with a hungry toddler in tow.
We also knew we'd want to take in a healthy dose of character meals, so we were sure to book those as soon as possible, too. These dining experiences allow for significantly more interaction than at meet-and-greets in the park and make for some of the highlights of the trip. But be forewarned, they fill up quickly, and ADRs are a must at all but the slowest of times. I admit I always feel badly for people who, for example, approach The Crystal Palace podium in a crowded Magic Kingdom at 6 p.m., promising their children they'll get to eat dinner with Pooh and Tigger, and who walk away befuddled because they can't get in. Don't be one of them. Another tip -- children under 3 not only get into the parks for free, they eat at Disney buffets for free, too!
Once the meals were taken care of, we took the time to make a list of a few must-sees and must-dos in each park -- an admittedly short list, given our desire to keep expectations in check -- and figured if we were able to accomplish those, we'd have a grand time. Fantasyland was, of course, the must-do of all the must-dos. We planned to arrive in the parks early each morning, when we knew the kid-appropriate attractions would have relatively short waits compared to later in the day. Seeing such favorites as Dumbo and Peter Pan's Flight at park opening can mean the difference between walking on and waiting over an hour in line. We also knew parades and characters would be a hit--even more so than many of the rides--so we built in plenty of time to enjoy those, too. They didn't disappoint!
For nap and break times, the Baby Care Centers located in each Disney park are truly a new parents' dream for escaping the heat and crowds of the parks, particularly if you don't want to traipse back to your resort or you're staying off-site. Cool, quiet, and comfortable, these centers offer expansive changing areas, high chairs, and nursing rooms, as well as important baby items for sale such as formula or diapers. In addition, we found a few special places in the parks -- like the Rose Garden in the Magic Kingdom, the gardens behind the United Kingdom in Epcot, and the Maharajah Jungle Trek in Animal Kingdom, to name a few -- where we could take a short breather or quick cat-nap (for us and the baby!) when we needed to re-energize.
All in all, we resisted the temptation to skip naps or stay out later than her usual bedtime. While we may have missed a few attractions, she was none the wiser and we were thrilled to have her wide eyed and happy instead of overtired and cranky.
====================
Survival Tip 3:
Beware of Dog
(Even One in Clothing)!
====================

Like most parents, we envisioned our little one toddling right up to Mickey, or throwing her arms around Goofy's neck for a great big hug. But having witnessed other young children interacting with the characters for the first time on our previous trips, we realized the experience is not always so idyllic. In fact, the sight of those oversized animals (sorry, Goof!) have sent more than one small child into an uncontrollable tantrum. So, preparing for this began before we even left home.
We adopted one of my sister's valuable tips that we're sure made our daughter's first meeting with the characters tear-free. We began showing our daughter pictures, videos, and DVDs of the characters interacting with other children. Borrowing a relative's home movies, or signing up for the free park-planning DVD from Disney, both offer plenty of these moments. And as far-fetched as it sounds, we're convinced that seeing the characters in that light actually prepared her for seeing them up close and in-the-fur. Heck, she probably figured they were part of our long-lost family! (Well, in a way, I guess they are!)
====================
Survival Tip 4:
Relax and Enjoy
====================

While the simplest, this really is the most important tip. Disney is a sensory overload for everyone -- colorful sights, constant noise, jostling crowds, and oppressive heat -- and is especially overwhelming for young tykes. So it's a given: Young children (and their parents!) will melt down at one point or another. The best antidote is to take time to sit on a quiet bench or in a cool, air-conditioned spot, close your eyes, and just relax. Or, head back to your resort and take a cooling swim in the pool (in fact, many kids have been known to prefer the resort pool to the parks -- Egad!). Just knowing that there will be future trips to catch up on what you miss may help you take time to savor what your child is experiencing for the first time.
All in all, we considered our first trip a success. We not only survived it, we learned from it, rolled with it, and generally delighted in seeing Walt Disney World -- and even meeting Goofy! -- through our daughter's eyes.
====================

ABOUT THE AUTHOR: Lynne Feiz has been a marketing communications professional for more than 20 years, and an annual visitor to Walt Disney World since her first trip in 1974. Despite the frequency, she admits she still gets goose bumps when she hears those first few notes of SpectroMagic. Lynne and her husband Tony joined Disney Vacation Club in 1999 and call BoardWalk Villas their second home. Their first home is in central Massachusetts, with their daughter, Princess Julia, and the family's Yellow Lab, Houston. She wrote for AllEars® earlier this year: "When Should I Take My Child to Disney?" Issue #541, February 2, 2010: http://allears.net/ae/issue541.htm.