Meet the Authors: AJ Wolfe, Disney Food Blog
by Debra Martin Koma
AllEars® Senior Editor
Feature Article
This article appeared in the June 18, 2013 Issue #717 of ALL EARS® (ISSN: 1533-0753)
Editor's Note: This story/information was accurate when it was published. Please be sure to confirm all current rates, information and other details before planning your trip.
This is another in AllEars® occasional series called Meet the Authors, in which our readers have the opportunity to ask questions of authors of popular Disney-related books and publications and get first-hand answers.
This edition of Meet the Authors lets you get up close and personal with AJ Wolfe, owner and executive editor of The Disney Food Blog (http://www.disneyfoodblog.com/), the original Disney dining website covering all things food and drink in the Disney theme parks, resorts and cruise ships.
The Disney Food Blog was launched in March 2009, offering a daily dose of in-depth news, reviews, and information about food and restaurants in Disney's parks, resorts, and cruise ships. The blog also includes reviews and photographs of and about anything food-related in Disney parks, resorts, movies and events. In the ensuing years, DFB has grown to include a monthly newsletter and a podcast as well.
Although she is involved with several other blogs, the DFB is one of AJ's personal passions. She has been quoted and recommended as an expert on Disney food and restaurants by The New York Times, National Public Radio and several other national media outlets. In addition to her daily website updates, she's written six (soon to be seven!) comprehensive e-Books about dining at Disney World. AJ also writes monthly Disney food columns for WESH.com (Orlando, FL, NBC affiliate) and WFTV.com (Orlando, FL, ABC affiliate), and her photographs have appeared on FoodandWine.com.
We solicited questions for AJ from our readers several weeks ago. And now, Meet the Author — the somewhat camera-shy AJ Wolfe:
Carol from Panama City, Florida: What made you decide to write about Disney World's food? And do you have plans to write about the food at the other Florida theme parks?
AJ: Carol, I created Disney Food Blog because it was a website I would have wanted to read if it existed… and it hadn't been done yet! I've always planned my Disney trips around the food I was going to get while visiting, and I figured I couldn't be the ONLY one out there doing that, right? Plus, Disney food is SO expensive — I knew it would be beneficial to people to see the food they'd be getting before making the decision to spend money at a particular restaurant. We may write a bit from time to time about food at other Florida theme parks, but covering Disney World and Disneyland is already a full-time job!
Laura from Maryland: Do you take all the gorgeous food photos on your site? They are so well-designed and well-lit! I can never seem to get my pictures to turn out right. Did you have to take a course in food styling? Do people (other diners) look at you strangely when you're taking photos? My husband always complains when I take pictures of everything. What tips and ideas do you have for someone (like me) who likes to photograph their food?
AJ: Thank you for the compliments! I do take the majority of the photos on my site (except for those taken by guest reviewers and guest authors, which will be noted in the title of the post). I've never taken a photography class or a food styling course; I've just been taking pictures my whole life, and my dad was a professional photographer for a while so I learned a lot from him.
Other diners do look at me strangely, but after doing this for five years I've gotten used to it. I carry business cards with me to give to folks who approach me wondering what I'm doing. Here are a few good tricks we've noted when it comes to taking food pics on the fly: http://www.disneyfoodblog.com/2010/09/20/food-photography-tips-and-tricks/ The most important tip I give to everyone is to look for natural light whenever possible. Nothing ruins a food photo faster than using your flash!
Gloria K. from Pennsylvania: How long does it take you to research one of your ebooks? Do you actually taste every snack or food item that you include?
AJ: It takes a LOOOOONG time to research the e-Books. I always want to be sure we're putting out the most up-to-date, comprehensive, and useful information we possibly can. Usually, a new snack guide will take about five to six months to fully research and write, and at least two months of research and updating each year to put out the new edition. The DFB Guide to Walt Disney World Dining is on ongoing process that's never-ending! We're always gathering new information and updates to add to the next edition of the guide, and we spend at least three months of dedicated updating to finalize a new edition each year. Believe it or not, I do taste about 97 percent of everything that's included in the Snack Guides! The other 3 percent is tasted by DFB staffers when I'm not able to be in Orlando.
Carolyn Brooke-Millward, Birmingham, UK: Hi, AJ! My question is this: How do you manage to keep an eye on your calorie intake when you have to research all these amazingly scrummy food offerings from Disney? If it were me doing this, I would be the size of a house! Keep up the good work — my family and I love your website and the daily updates you take the time to do.
AJ: Welcome to my constant battle! Basically, when I'm NOT in Disney World or Disneyland researching for DFB, I'm on a very strict diet and exercise program back home! Also, the main key when I'm in the parks/restaurants is to watch portion size, share food whenever possible, and remember that I don't have to finish everything that I try.
Alex from Virginia: What do you think of the Disney Dining Plan? And do you think it has affected the quality of Disney's food in any way? Is it a good value vs the 20 percent discount of Tables in Wonderland?
AJ: It's nearly impossible for me to state objectively whether or not the Dining Plan is a great deal for YOUR family — it always depends on how your family eats when you're on vacation, the types of restaurants you want to visit, what other types of discounts (e.g. hotel) you may be able to get, and the benefit of being able to pre-budget and pre-pay for your vacation meals. Each individual guest will need to crunch the numbers and figure out whether or not the Dining Plan is a good choice for his or her family.
The Disney Dining Plan's value varies based on what you're looking for in your vacation. We do the math every year for our DFB Guide to Walt Disney World Dining breakdown and each year the Dining Plan gets less and less financially beneficial for Disney guests. So, the main benefit of the plan currently is the opportunity to pre-pay for your meals and budget for your trip ahead of time. If you are the type of person to eat everything included on the plan AND order the most expensive items at each meal, you may still see some financial advantage to the plan. As for affecting the quality of the food, I think menu options have become more limited and food across the resort has become more homogenous over the past eight years, but that could be due to Disney's overall food purchasing, pricing, or other factors.
Whether it's a good value for you versus Tables in Wonderland depends entirely on how you eat when you're in Disney World. For folks who tend to dine primarily at table service restaurants and indulge in alcohol at each table service meal, you'll likely save more using Tables in Wonderland. But if you're eating at counter service locations more often and don't take advantage of the Tables in Wonderland alcohol discount, you could do better with the quick service Disney Dining Plan.
Beth from Rochester, New York: In your opinion, which restaurant is the most overrated? The most underrated or best-kept secret?
AJ: Most overrated in my opinion right now would probably be Carthay Circle in Disney California Adventure. While I had a decent meal there, I wasn't blown away for the cost, and generally the reviews have been mediocre. I'm eager to see what changes they make to this spot in the future.
There are lots of best-kept secrets. I love Epcot's Garden Grill for great character interaction, good food, and the fun "spinning" aspect to the dining room. Also, I think that not enough folks are taking advantage of the Disney bars and lounges when it comes to truly unique and delicious menus. Finally, I wish more people would discover and head over to Sanaa in Animal Kingdom Lodge. It's an incredible restaurant.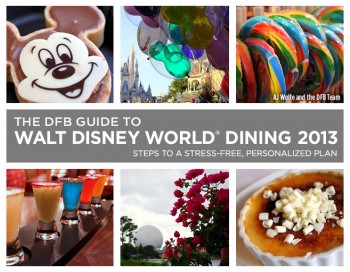 Brian from Washington, DC: Dining at Disney is so expensive! What tips do you have for saving on meals and snacks?
AJ: We have a whole chapter on saving money on Disney food in our DFB Guide to Walt Disney World Dining e-Book! There are tons of great tips out there, and I couldn't possibly list them all here in this answer. That said, a few of my favorites are: 1.) Eating a large breakfast and a late lunch, then skip dinner — since breakfast and lunch are significantly cheaper meals at Disney than dinner; 2. ) Asking for counter service meals without side items if you'd rather not have them — the cost of the meal will go down if you nix the extras; 3.) Consider bringing your own food into the parks for one or two meals, or having a cold breakfast in your room.
Christine Z. from Toronto: Several members of my family and I have food allergies and sensitivities (dairy and gluten). I know Disney chefs are very helpful, but which restaurants would you say are most accommodating to people like us? We're especially concerned about the fast food places.
AJ: Disney chefs continue to make great strides with designing menus to accommodate guests with special diets. Of course, there are some restaurants that are better equipped to assist guests dining with food allergies. For quick service (fast food) restaurants, the selection of safe foods is more limited. Disney has designated these restaurants for guests with dietary concerns: Cosmic Ray's in Magic Kingdom, Sunshine Seasons in Epcot, Backlot Express at Hollywood Studios, and Flame Tree Barbecue in Animal Kingdom. Upon arrival, ask to speak to a chef and/or manager to answer your questions and help you with your menu choices.
Lydia from New Jersey: We're looking for a special restaurant to celebrate our anniversary, but we do have to watch the budget. Which restaurant would you choose? And do you know of any places that will do something special for us?
AJ: Congrats on your anniversary! I would definitely choose 'Ohana at Disney's Polynesian Resort. While it's not super cheap, it won't set you back the cost of a signature restaurant; plus the atmosphere and view are fantastic. Other non-signature restaurant possibilities are Cinderella's Royal Table, Be Our Guest Restaurant, and Hoop Dee Doo Musical Revue.
Most Disney restaurants will do something special for you if you mention your anniversary when you book the reservation, mention it again when you check in, and mention it to your server when you sit down. Sometimes you'll get a dud experience if your server is having a bad night, but if you mention it continuously, they should do something for you.
Dave from Philadelphia, PA: How do you think the Disney cruise ships' food compares to other cruise lines? Do you have a favorite restaurant on the cruise ships? And why? If you've eaten at Remy on either the Dream or the Fantasy, do you think it's worth the upcharge?
AJ: Dave, I haven't cruised on any other ships besides Disney, so I can't really compare the food to other lines. My favorite restaurant on the ship is Palo — everything I've had there has been out of this world! And I think that if you're the type of person to enjoy Remy (that is, if you like very upscale food), the upcharge is well worth it. If you're not a huge fan of high-end eats, spend your money elsewhere.
Ryan M. from Montreal: We like to have our main meal in the middle of the day. Where would you suggest for the best sit-down lunch? Either in the parks or at the hotels.
AJ: This depends entirely on what types of food your family enjoys, so please understand that I'll be answering based on what I personally like to eat. For lunch, it can be nice to escape the parks and the crowds and head to a resort where you won't find such a crush of people in the middle of the day. Some great resort lunch spots include Sanaa at Animal Kingdom Lodge, Beaches and Cream at Disney's Beach Club Resort, Kona Cafe at Disney's Polynesian Resort, and Trail's End Restaurant at Fort Wilderness Resort.
Elaine P. from Chicago, Illinois: If you were on Death Row, which Walt Disney World menu items would you request for your last meal? You can select an appetizer, an entree and a dessert, plus a beverage (an adult one is OK, unlike the real Death Row) and your selections can come from different WDW restaurants. Love the Disney Food Blog (and AllEars®!)! Keep up the great work!
AJ: Elaine, for my appetizer: Fried Herb Cheese from 50s Prime Time Cafe. For my entree: Mushroom Filet and Risotto from Le Cellier. For dessert: 'Ohana Bread Pudding. And for my beverage? The Leisure Suit from 8-Trax.
Cathy B. from North Carolina: Final question for AJ: What is your perfect Disney food day — meals and snacks?
AJ: Cathy, that's SUCH a tough one! There's so much I love! But today I would say:
Breakfast: Cinnamon Roll French Toast at Carnation Cafe in Disneyland (currently not on the menu, but I have hope!)
Snack: Nutella Waffle Sandwich at Sleepy Hollow in Disney World
Lunch: Monte Cristo sandwich and Pommes Frites at Cafe Orleans in Disneyland
Dessert: No Way Jose at Beaches and Cream in Disney World's Beach Club Resort
Snack: Carrot Cake Cookie at Writer's Stop in Disney World
Dinner: Mushroom Filet with Risotto and Poutine at Le Cellier Steakhouse in Disney World
Dessert: 'Ohana Bread Pudding
Snack: Chocolate Covered Peanut Butter Sandwich from Candy Palace in Disneyland
Nightcap: Margaritas with Chips & Queso at La Cava del Tequila in Disney World
This response is valid today only. Tomorrow I'll change my mind! Also, I do not claim that I would be able to eat all of this food in one day, but I would certainly try!
EDITOR'S NOTE: AllEars.Net thanks AJ for taking the time to answer our readers' questions so thoroughly. Stay tuned for the installment of our "Meet the Authors" series — we'll be asking for your questions soon!
====================
RELATED LINKS
====================
Check out the updated edition of AJ's best-selling e-Book — The DFB Guide to Walt Disney World® Dining 2013 — for more in-depth advice on Disney World dining!
http://DFBGuide.com
For exclusive discounts on all Disney Food Blog e-Books, shop the AllEars.Net Disney Food Blog Store:
http://allears.net/din/disney-food-blog-store.htm
Meet the Authors Series:
http://allears.net/btp/authors1.htm
-o-o-o-o-o-o-o-o-o-o-o-
Editor's Note: This story/information was accurate when it was published. Please be sure to confirm all current rates, information and other details before planning your trip.