The Barnstormer at Goofy's Wiseacre Farm Mickey's Toontown Fair Magic Kingdom Archives
MICKEY'S TOONTOWN FAIR CLOSED 2/11/11 TO MAKE WAY FOR THE EXPANSION OF FANTASYLAND. READ MORE ABOUT THE FANTASYLAND PROJECT HERE.
Goofy's Barnstormer will be rethemed as part of this expansion and will become a twisting, turning roller coaster high above the circus fun featuring Goofy as The Great Goofini.

Introduction | Attraction | Touring Tips | Kids and Characters | Dining | Shopping | Interesting Facts
---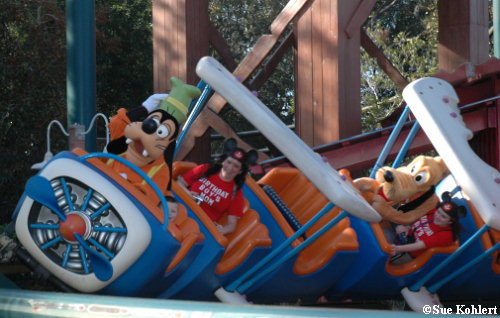 INTRODUCTION
— Located on your right as you enter Mickey's Toontown Fair, you'll see the only roller coaster in Walt Disney World designed specifically for children.
ATTRACTION —
The Barnstormer at Goofy's Wiseacres Farm: The queue for this roller coaster winds through cornfields, past a Goofy scarecrow. As you walk through the barn, you're treated to the clucking of animatronic roosters and scads of whimsical visuals — we particularly like the boxes of "parts of parts" and "parts that don't fit." And be sure to note Fido's Fearless Flight School's class schedule — great for a chuckle.
The coaster itself is designed to look like a 1920s crop-duster, a biplane that takes you over red barns and farm buildings. In typical Goofy fashion, you finish the ride by safely "crashing" into one of the barns.
TOURING TIPS
This is a very short coaster ride — about 1.5 minutes! It takes longer to walk through the queue area than it does to ride the roller coaster!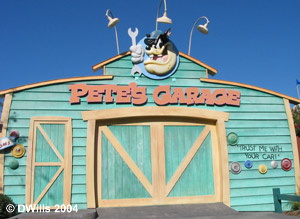 Toontown can get very crowded with families by mid-day, so try to tour this area early or late in the day.
Guests in ECVs must transfer to standard wheelchairs, then to the ride vehicle to experience The Barnstormer.
You must be at least 35" tall to ride.
The nearest restroom in this area is disguised as Pete's Garage, immediately opposite the Barnstormer.
KIDS AND CHARACTERS
This coaster was specifically designed for kids! Although this is a fairly tame roller coaster, it may still be too rough for children under 3.
Disney Characters are not found regularly around Goofy's Wiseacre Farms, but ALL EARS® reader Laura writes: "Over the last two years, we have frequently located Goofy standing in front of his building. We have been in both March and August and it never failed for us to find him."
Stop in at nearby Toontown Hall of Fame to see Mickey and his friends, normally open from 10 a.m. until park closing. Check your daily Times Guide for times and locations of other Meet and Greet opportunities in Mickey's Toontown Fair.
Magic Kingdom Characters At A Glance
Character Meet and Greet FAQ!
DINING
The closest spot to grab a bite is the Toontown Farmers' Market, a quick snack place that features fruit and beverages.
Magic Kingdom Restaurants At A Glance
Menus From Around the World
Vegetarian and Other Special Diets
SHOPPING
County Bounty is nearby for Disney character memorabilia shopping.
INTERESTING FACTS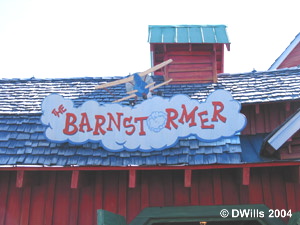 The Barnstormer opened October 1, 1996. Previously, the site was Grandma Duck's Farm (and had been since 6/18/88).
If you have comments or tips to share with others about touring the Magic Kingdom, please email us. Thank you.