Share a Dream Come True Parade Magic Kingdom Archives
Share a Dream Come True is a wonderfully refreshing and energizing parade at the Magic Kingdom. Snow globes are a favorite with many Disney fans, so what better way to create a new parade but with snow globes as the floats? The snow globes are acrylic and 8.5 feet in diameter. The parade highlights many of our favorite Disney stories and has lots and lots of characters.
More than 110 cast members put on the parade daily at 3 p.m. from Frontierland to Main Street USA. The music was recorded in London by members of the London Symphony Orchestra and the Royal Philharmonic.
It Was All Started By A Mouse – Features Mickey Mouse inside a snow globe, with 11 sculpted figures of Mickey from films throughout the years including "Steamboat Willie," "The Brave Little Tailor," "Plane Crazy," "Mickey and the Beanstalk," "Mickey's Christmas Carol" and Sorcerer Mickey from "Fantasia." Mickey is surrounded by some of his friends including Minnie Mouse and Goofy.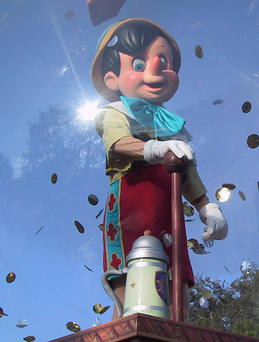 Wish Upon A Star – This float celebrates the early years of Walt Disney with Pinocchio inside the snow globe and other famous Disney characters surrounding him including Gepetto, the Blue Fairy, Figaro, Cleo and Jiminy Cricket from "Pinocchio," and Snow White, Doc, Grumpy and Happy from "Snow White and the Seven Dwarfs."
A Thousand Dreams To See – Focuses on Disney's Adventures in Flight. The float features Aladdin inside his snow globe, riding on his magic carpet. Surrounding Aladdin are other high-flying Disney characters such as Winnie the Pooh, Tigger, Eeyore and Mary Poppins with her umbrella.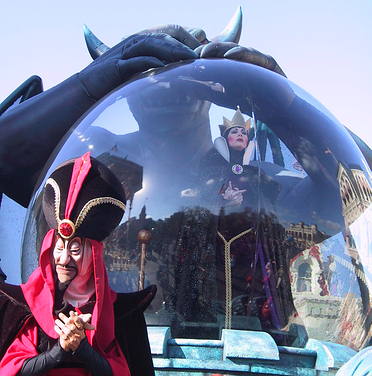 Face The Darkest Fears – Perhaps one of the coolest floats is this one that features many of the fabulous Disney villains. The Evil Queen from "Snow White and the Seven Dwarfs" rides inside her globe, as an 18-foot-tall inflatable Chernabog (from the Night on Bald Mountain sequence of Disney's "Fantasia") hovers over her head.
Watch carefully and you might just see the Evil Queen transform herself into the Old Hag!
Other villains surrounding the float include Jafar from "Aladdin," Malificent from "Sleeping Beauty," Cruella De Vil from "101 Dalmatians" and Ursula from "The Little Mermaid."
A Dream is a Wish Your Heart Makes – This float features three individual snow globes that each hold an enchanting Disney prince and princess: Cinderella and Prince Charming from "Cinderella," Belle and Beast from "Beauty and the Beast" and Ariel and Prince Eric from "The Little Mermaid." Beloved characters such as the Fairy Godmother from "Cinderella" and Flounder and Sebastian from "The Little Mermaid" hover around the floats celebrating with the three princesses.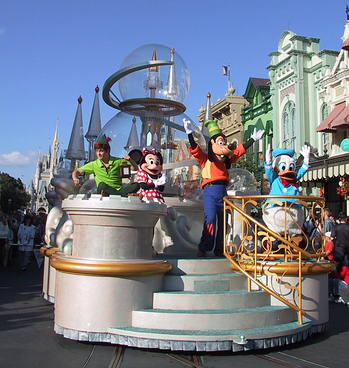 As Long as There is Imagination Left in the World – This float was designed after the Crystal Castle located in the Crystal Arts Shop on Main Street, U.S.A. It features a two-tiered snow globe and ½-inch thick, molded acrylic "crystal" turrets and towers. Disney characters such as the Cheshire Cat from "Alice in Wonderland," Young Simba, Zazu and Timon from "The Lion King," and Thumper and Flower from "Bambi" ride atop the float, while Baloo, Brer Bear and Brer Fox from "Song of the South," Esmerelda from "The Hunchback of Notre Dame" and Chip 'n' Dale — among others — walk beside.

In addition to the characters on each float, the "Share a Dream Come True" parade features other Disney characters, including Alice, Tweedledee and Tweedledum from "Alice in Wonderland," Pocahontas and Meeko from "Pocahontas," Foulfellow, Gideon and the Donkey Boys from "Pinocchio".
Guest Comments:
If you like parades, try to see the new afternoon parade at the MK. The parade still stops at special points, and the kids can join in. Don't count on getting a great seat on the wall near Pecos Bill's though. This parades floats are larger, and therefore, they do not allow seating on the wall during the parade. (Pam Forrester, 11/01)
It was a pretty good parade, better than Remember the Magic. The floats are pretty and the music is nice – but the only lyrics I can remember now are "share a come true". But I'd catch it again. (Kim Ruesch, 10/01)