Jambo House, Jumbo Experience
by Debra Martin Koma
AllEars® Senior Editor
Feature Article
This article appeared in the March 23, 2010 Issue #548 of ALL EARS® (ISSN: 1533-0753)
Rustle… rustle-rustle — I stepped out onto my balcony and looked over the railing, straining my eyes in the quickly fading light of the savanna. Try as I might, I couldn't spot what was making that rustling sound in the dry grasses below me. Then I saw them! Two red river hogs. I'd never seen them in the flesh before, although I'd heard that they could sometimes be spotted here. These wild members of the pig family are commonly found near rivers, lakes and marshes in the Congo area and Gambia in Africa.
And also right here where I was. In Orlando, Florida, at Disney's Animal Kingdom Lodge.
Yes, although I have traveled a bit, the nearest I've come to the dark continent is Walt Disney World. But don't let that fool you. Disney has managed to capture what I imagine to be the essence of all the best parts of Africa.
In the nine years (yes, it's been open nine years already, can you believe it?) since the resort opened, I had stayed at Animal Kingdom Lodge before, but only for one night on two separate occasions — this time around I had the chance to stay for four days, enough time to enjoy the sights, sounds, cuisine, and even the animals of Africa. I came away with a greater appreciation of the Lodge's main building, Jambo House — a place that, with its attention to detail, exemplifies what Disney does best.
Beginning with your first look at this resort, you are transported to another world.
As you approach the horseshoe-shaped Jambo House you see what is designed to resemble an African "kraal" village. Stepping inside the expansive lobby, you are struck by the stark contrasts. The welcoming space is wide open up to the sixth floor, with floor to ceiling windows on the far wall that let in copious amounts of sunshine and blue sky, while yielding amazing views of the savanna and the creatures that occupy it. Yet the dark woods and comfy, overstuffed sofas and chairs used around the structure serve to also close the place in a bit, grounding it, connecting it to the Earth.
If you've been to other Disney resorts, it won't surprise you to learn that the Animal Kingdom Lodge was designed by the same architect responsible for Wilderness Lodge — there's something similar in feel. But there are also many more differences, starting with the 16-foot tall Igbo Ijele Mask that dominates the rear left corner of the lobby. This ornate hand-crafted piece made of brightly colored fabric and other materials, comes from the Igbo people of Africa and represents an important event or celebration. Opposite the Ijele Mask is Ogun's Firepit, an indoor gas fireplace, around which are several very sturdy wooden rocking chairs — on some evenings, cast members known as cultural representatives will tell stories from and about their native lands around this firepit. (There's another firepit downstairs just outside the doors, around the Arusha rock — storytellers meet here some evenings as well.) These are just a few of many ethnic details found scattered around the resort to give it its authentic ambiance.
Naturally, that detailing is carried through from the lobby right into this deluxe resort's rooms. They're decorated in what are meant to be bright African-style prints, with furnishings in dark, earthy woodtones. Even though all rooms have a sliding door leading to a covered balcony, this affords little sunlight in the room. If I have one complaint about the rooms at Jambo House it's this — how very dimly lit they are. Yes, I really do want to see the animals when I'm looking out onto the savanna, but when I'm in my room, I want to be able to read the paper without a flashlight!
(I'm also a little dismayed at just how far away some of the rooms are from the main lobby elevators. In looking at the geography of the savannas, and in understanding that they wanted to have as many rooms overlooking the savannas as possible, I get why the place is designed the way it is — just be forewarned that it can be quite a hike to get to your room.)
OK, with that out of the way, let me tell you what I LOVE about the rooms. Just about everything else. Especially if we're talking about a savanna-view room.
There are a couple different categories of rooms at Jambo House. The standard rooms (on floors 1–4) are 344 sq. ft. and come with either two queen beds, one king bed plus a daybed, or one queen bed with bunk beds. The deluxe rooms are a bit larger at 381 sq. ft. and have an additional daybed or fold-out chair single bed. All rooms also have a ceiling fan, table and chairs, TV and armoire, and double sinks in the bath area. In addition, they are equipped with a hair dryer, coffeemaker with coffee packets, wall safe, iron, and ironing board. Newspaper delivery, room service, and voice mail are also available. Concierge service (the Kilimanjaro Club Level) offers additional amenities, as well as a lounge and unique animal-viewing safaris (for an additional fee). The special safaris are sometimes available to non-concierge guests; inquire at check-in. Safaris can accommodate one or two wheelchairs. Rooms with access to the concierge level are found on the 5th and 6th floor, and recently they've given some standard-size 4th floor rooms access. (I'll write more about the concierge services in part 2 of this resort review, coming soon.)
There are three savannas encompassing 33 acres: Sunset, Arusha and Uzima. Roaming around this acreage are 200 mammals and birds. If you walk over to the new Disney Vacation Club addition, Kidani Village, you're treated to an additional savanna, Pembe, with even more animals.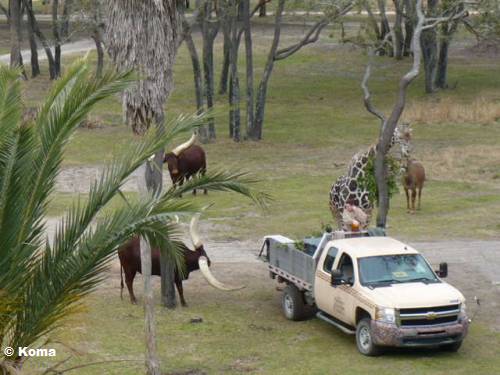 You can't imagine how amazing it is to wake up, look out your window, and see a serene giraffe stretching his long tongue skyward, trying to grab those last few leaves on that branch. Or to look in the distance to see the ankole cattle slowly strolling over to graze, with a few zebra following close behind. Not to sound like a geek or anything, but that is so cool! Like the evening I finally spotted the red river hogs rooting around on the grounds below me — I'm not getting that type of experience at any Holiday Inn Express!
What else did I find special about staying at Jambo House? Well, if you know me, you know I really enjoy fine dining. OK, dining in general. I like to try new things, I like foods that are a little bit out of the ordinary. Jambo House's two table-service restaurants, Boma and Jiko, offers interesting menus that can serve both the "epicurious" diner like me, as well as those who prefer more conventional fare. Even the counter service Mara, located on the lower level of the Jambo House, has a menu that runs the gamut from the simple to savvy. You also can take the stroll over to Kidani Village to try its table-service venue, Sanaa, which boasts astounding views of the savanna. So in addition to its exotic cuisine and outstanding waitstaff, you might be treated to a giraffe or ostrich watching you while you eat as you watch it while it eats. It's a treat.
As if the rooms with a view and the out of the ordinary dining experiences aren't enough, there's plenty to do around Jambo House — so much that you might forget about the other animals, the cartoon ones, just a few miles away in the Magic Kingdom!
Yes, there's a pool, a large one called Uzima Springs. It has a zero-entry access, which means you can just wade into the water without a sharp drop. There's no "quiet" or leisure pool at the resort, but there is a smaller child's play area and two hot tubs. And the resort has the requisite arcade (Pumbaa's Fun and Games arcade). It also has a state of the art Fitness Center (Zahanati) and a gift shop (Ziwadi Marketplace) that sells some of the most unusual souvenirs that you'll find on Disney property — hand-carved giraffe, anyone?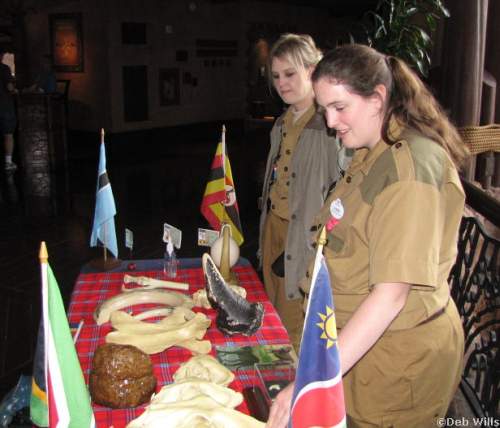 Jambo House also has several public savanna-viewing areas, located inside as well as outside. And don't miss the Sunset Savanna Lounge, which gives way to the Sunset Overlook. The lounge is filled with neat little artifacts that the cultural guides (cast members) are more than happy to show you and explain.
Those same guides are also in charge of the many activities the resort hosts, for children of all ages. On any given day, there will be crafts, medallion rubbing (the floor of the resort lobby is home to several large bronze medallions that depict various aspects of Africa), folk storytelling or a culinary tour of the restaurants at locations throughout the resort grounds.
So with all that I thought that was good about the resort, there are a few little inconveniences. The biggest one to me is the transportation. If you don't have your own car, you're at the mercy of the Disney buses — there's no other type of Disney transportation to or from this resort. As you exit the main lobby, the bus station is a walk down to the left. From here, you can get to the theme parks, water parks, and Downtown Disney, but to get to other resorts, it's probably easier to take a cab.
I left Jambo House after this stay with a sense of sadness, knowing that when I woke up the next morning the most exotic thing I'd be seeing out of my bedroom window was a mockingbird chirping in a dogwood tree. I guess that's OK, though — those red river hogs made quite a loud ruckus, after all!
===========================
Before we left for our trip, a few readers sent in questions about the Lodge that we tried to answer:
Holly Bryfogle from NJ writes: When I go back to WDW next year (2011 — too far away) I'd like to take my son for the day to explore AKL. I know there are lots of activities and stories and campfires, etc. Can you come to these advents even if you are not a guest of AKL? Is there any way to get a schedule in advance of times of stories or the topics? What is the appropriate age for the stories? If no schedule is available in advance who could you contact before heading over?
AE: You can't really get a schedule in advance of going to the Lodge — schedules are made up monthly, and they don't send them out in advance. Your best bet would be to call the lobby concierge at the resort after you've arrived on Walt Disney World property. I'm sure they'll be able to tell you what sort of activities are going on during your stay. That said, no, you don't need to be a resort guest for most activities at the Lodge. Obviously, you can't visit the resort's pool unless you're staying there, but you can certainly participate in the crafts or games they hold daily. As an example, the March schedule for Jambo House shows a daily cookie-decorating activity, daily face painting, and evening folktales around the Arusha Rock firepit. Most of these activities are free of charge and for all ages — the only activities that are "adult-focused" are a nightly 20-minute "cultural safari" given by the resort's cultural representatives talking about their homelands, and a jewelry-making paid activity. Kidani Village has a similar list of scheduled activities.
David Jacobs wonders: We are staying at Kidani Village with our granddaughter in August. How convenient is the main lobby to the villas? We have asked for a savanna view, but I would also like to be close to the pool area, too. So I guess my next question is can you find out what is a good area and room to ask for when I get there?
AE: Using my trusty if not 100-percent-accurate pedometer, I clocked the walk from the front of the Jambo House to the front door of Kidani Village at .44 miles. Walking at a moderate pace, stopping to take a photo or two, it took me exactly 10 minutes. It's a straight shot, on a mostly flat pathway that's well-lit at night. The pool is actually in front of the Kidani Village main building — to get there you exit the through the lobby and walk down a pathway to the right, or if you're staying along the Zebra trail, there are paths from that area that lead to the pool.
Linda Kramer asks: Please check and see if they make omelets in the food court. We will be staying there in May and I am wondering if they will do that for someone.

AE: Sorry, Linda. I was told that they won't make omelets to order at Mara — though they do have scrambled eggs. If you want an omelet, you'll have to breakfast at Boma.
Callie says: I read something somewhere that the resort has night vision goggles so you can see the animals during the night. Are these just for those who go on the safari? And does one even need these to see the animals during the night? Are there lights on over the savanna so you can still see the animals?
AE: Between 8 and 11 p.m. nightly, cast members are at the Uzima savanna overlook (behind the pool area) with night-vision goggles for guest use. The savanna is very, very dimly lit at night, and without the goggles you can barely make out the animals' shapes. You may have to wait your turn to have a chance with the goggles, but yes, they really do help you see out on the savanna much better. However, I found that if your room has a savanna view, you can see the animals at night-time pretty well from your balcony, too. If you are going to use the night-vision goggles, you might want to wait until a little later in the evening when fewer people are around — going earlier we encountered a line of people waiting.
Marie, Bristol, RI, writes: Please find out if they are going to put in a real counter service restaurant in Kidani Village, would love it to be near the pool!

AE: We asked around, but no one seemed to know about any plans for a counter service spot at Kidani Village. But as someone else said to me, they live in hope!
===================

RELATED LINKS:
Animal Kingdom Lodge Fact Sheet: http://allears.net/acc/faq_akl.htm
Animal Kingdom Lodge Photo Gallery: http://allears.net/acc/g_akl.htm
Video of animals on the Arusha Savanna: http://www.youtube.com/watch?v=TwDJUEezfcA
===================
ABOUT THE AUTHOR:
Debra Martin Koma, AllEars.Net's Senior Editor, fell in love with Walt Disney World on her first visit there — when she was 34! She's lost count of how often she's returned to her Laughing Place in the ensuing (16!) years, but knows that she still isn't tired of it. (And doubts she ever will be.) Read more of her writing for AllEars® here: http://allears.net/btp/dkoma.htm
-o-o-o-o-o-o-o-o-o-o-o-
Editor's Note: This story/information was accurate when it was published. Please be sure to confirm all current rates, information and other details before planning your trip.