Disneyland's Best Themed Dining
by Autumn Hilden
AllEars® Feature Writer
Feature Article
This article appeared in the April 18, 2017 Issue #917 of ALL EARS® (ISSN: 1533-0753)
Editor's Note: This story/information was accurate when it was published. Please be sure to confirm all current rates, information and other details before planning your trip.
When you visit the Disneyland resort, you're looking for a magical experience that takes you to another time and place. The very idea of Disneyland as theme park — as opposed to an amusement park — means the context of atmosphere and environment matters. It's special. That's why the park's creators and sustainers focus on form as well as content. And the "how" of the Disney experience is really what sets it apart, makes guests fall in love, and keeps visitors coming back time after time. For those of us who've been spoiled with multiple trips, "good theming" is all-important, even (or especially) when dining.
What does theming mean? A well-themed restaurant has one conceptual goal, and every element of the dining experience — decor, music, menu, furniture, and lighting — points back to that goal. So where does Disneyland do its best to impress hungry Disneylanders? Read on for the best-themed restaurants in several categories, many of which are unique to the West Coast among U.S. parks.
TABLE SERVICE
Blue Bayou: There is no question that Blue Bayou has been a popular favorite at Disneyland for decades, and there is good reason for its enduring appeal. The setting on the moonlit patio of a stately, southern mansion is dreamy and romantic. Who can resist an indoor nightscape, especially when it's on the bayou inside of Pirates of the Caribbean? Fancy wrought iron tables, lanterns, and gourmet specialties with a light Cajun influence fit right in. On the down side, it's expensive, it can be difficult to score a reservation, you might not sit by the water even if you do get in, and the dining experience can feel rushed. For your best shot at a leisurely meal, get a table about 90 minutes before the published close time and then linger.
Atmosphere: 5/5
Food: 4/5
Unique? Yes
Carthay Circle: A new favorite and certainly adventurous when it comes to California cuisine, the Carthay Circle is probably the top all-around restaurant at the Disneyland resort. Located in Disney California Adventure, Carthay gives glamorous life to its 1930s Los Angeles namesake. It is sleek and cozy simultaneously, dimly lit and finished with sumptuous fabrics and gleaming, polished wood. Subtle nods to Snow White and the Seven Dwarfs highlight the building's significance in Disney history (the film premiered there), and guests won't feel out of place ordering bottles of champagne. But it's not just fancy in the general sense. The details that focus on the specific time and place make it a standout.
Atmosphere: 4/5
Food: 5/5
Unique? Yes
FAST CASUAL

Rancho del Zocalo: Not only does this Frontierland favorite serve fresh Mexican food on real dishes, it offers a choice of gorgeous surroundings to eat it in. Dine outside for cascades of colorful flowers and sculptural succulents, or eat under cover near a trickling fountain and under the light of a hundred starry lanterns.
Atmosphere: 4/5
Food: 3.5/5
Unique: Yes
Flo's V8 Cafe: Located in Cars Land at DCA, Flo's is a '50s diner gone Disney. From the outside of the drive-in-style building, which is bedecked with neon, to the sparkly booths and catchy oldies playing inside, Flo's has nailed its theme. Even the menu feels perfectly roadside. Pies, shakes, and mashed potatoes are excellent pairings for the feel-good atmosphere. Out back, the views recall iconic road trip vistas. Eat inside and then step out there for a mini mud pie.
Atmosphere: 4/5
Food: 3/5
Unique? Yes
Plaza Inn: Said to be one of Walt's favorite Disneyland eateries, this Main Street mainstay features turn-of-the-century elegance in beautiful pink and gold detail. There's a solarium, stained glass, and plenty of Victorian-style birdcages, a nod to the original concept that billed the solarium as an aviary. Fewer watts in the lighting would really push the atmosphere from pretty to breathtaking, especially in the evening. The Plaza Inn's food — notably its famous fried chicken — is good, if not particularly time or place appropriate.
Atmosphere: 3.5/5
Food: 3/5
Unique? Yes
QUICK SERVICE
Golden Horseshoe: Fans of its Walt Disney World diamond cousin will recognize this smaller-scale beauty. A long-time dining hall and show venue, the Golden Horseshoe features ornate red, white, and gold saloon-style decor framing a vaudeville stage, complete with velvet curtain, fringe, and footlights. Melodrama is the perfect recipe for the old-west entertainment, but the menu is a thematic miss with generic chicken nuggets and fish 'n chips.
Atmosphere: 3.5/5
Food: 3/5
Unique? No
LOUNGES
Trader Sam's: The fast-beating drums, the flaming cocktails, the erupting volcanoes, the tiki totems: this is the one that started it all! Trader Sam's Enchanted Tiki Bar at the Disneyland Hotel offers two distinct atmospheres, both beguiling and both a paradise for the senses. Inside it's kitsch and adventure. Outside, it's the pure relaxation of live Hawaiian music, torches, and breezes. And everywhere you go, food and drink follow, paying homage to the fantasy and the eclectic reality of Polynesia.
Atmosphere: 5/5
Food: 4/5
Unique? No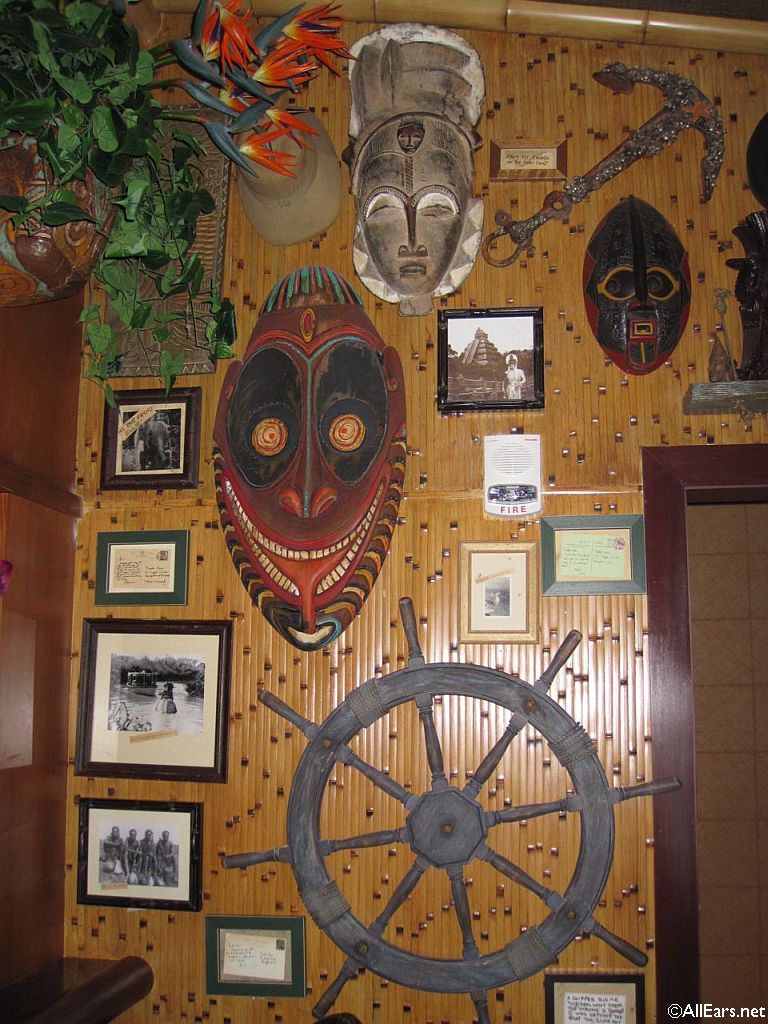 Carthay Lounge: A fabulous respite from the bustle of Buena Vista Street, DCA's Carthay Lounge offers the deco-era luxe of the upstairs restaurant with the same name, but on a smaller and more accessible scale. The lounge beverage menu includes period drinks, such as a selection of very exotic teas, non-alcoholic specialties like the Rose Petal Soda, and a host of custom gin and tonics not on any other Disneyland resort menus. The food is also good, though expensive and not in keeping with the 1930s luxury theme.
Atmosphere: 4.5/5
Food: 4/5
Unique? Yes
When you're dining at Disneyland, known worldwide for its attention to detail, make sure you take advantage of every opportunity to eat in style. These restaurants are standouts for excellent theming, but no matter where you end up for mealtime, you'll be rewarded if you take in all the little things. Look around at the stories being told in the decor, listen to the music and other sounds that surround you, and savor the harmony of all aspects of your eating experience as they work together. Delectable!
= = = = = = = = = = = = =
RELATED LINKS
= = = = = = = = = = = = =
Disneyland Resort Dining Locations
Disneyland Dining Rate and Reviews
= = = = = = = = = = = = =
ABOUT THE AUTHOR
= = = = = = = = = = = = =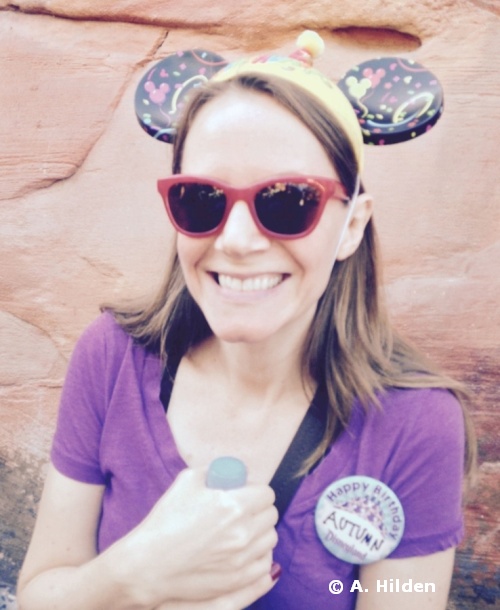 Autumn Hilden is a Los Angeles-based writer and editor. She has worked for Disney Publishing Worldwide and The Jim Henson Company and is currently writing books for young adults. Autumn grew up taking family photos in front of the waterfall pool at the Polynesian Village Resort and selecting "desert" for the final flight on Horizons. She now embraces Disneyland as her Happiest Place on Earth. You can follow her on Twitter here.
-o-o-o-o-o-o-o-o-o-o-o-
Editor's Note: This story/information was accurate when it was published. Please be sure to confirm all current rates, information and other details before planning your trip.