Goofy's Sky School Paradise Pier Disney's California Adventure
Introduction | Attraction | Touring Tips | Kids/Characters | Dining | Shopping | Interesting Facts
INTRODUCTION
Goofy's Sky School takes riders on a "Wild Mouse" type of roller coaster where they are a student pilot learning to fly "The Goofy Way" – in only five lessons.
ATTRACTION
Goofy's Sky School is located in the Paradise Pier area across from Jumpin' Jellyfish. The queue is a covered ramp that switchbacks up to the loading area.
The ride vehicles will hold up to four people in two rows, and riders are secured by a lap bar. After the vehicle moves away from the loading area it's pulled up the track to the "take off" area where the "flight lessons" begin. Student pilots learn to fly, turn, nose dive and land as the vehicle proceeds down in a series of sharp 180-degree unbanked turns, with a few quick up-and-down dips for good measure. The ride is short – less than two minutes from start to finish.
Goofy's Sky School Ride-through
TOURING TIPS
Goofy's Sky School is a Fastpass attraction. It's relatively slow-loading, and even on quiet park days the standby line can get fairly long.
The quick, sharp turns can be jarring, and there's the sensation that each turn will throw you out of the car if you don't hold on tightly. (Our AllEars.Net researcher calls this the scariest ride in the park!) The top of the ride is three stories above Paradise Pier and very exposed – those who are afraid of heights should probably not ride.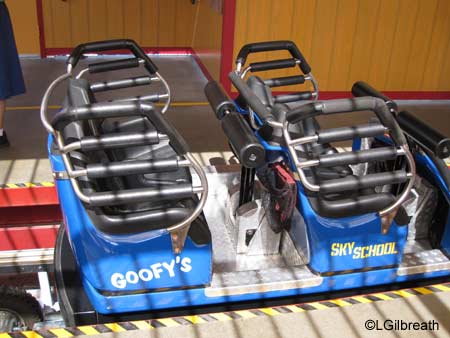 Riders must be 42" tall.
The seats in the vehicles aren't very big, and getting into and out of them can be quite awkward, especially for people who are taller or larger than average.
Those in wheelchairs or ECVs should proceed through the regular queue, but must be able to transfer into the vehicle.
The closest restrooms are located next to Paradise Garden Grill.
KIDS AND CHARACTERS
The sharp turns and exposure might be uncomfortable for some kids (even some adults!).
All children should be accompanied by an adult.
DINING
Corn Dog Castle – corn dogs and beverages.
Boardwalk Pizza & Pasta – pizza, pasta and salads.
Paradise Garden Grill
Restaurants At A Glance
Menus From the Disneyland Resort
SHOPPING
Souvenir 66 – World of Color and Little Mermaid merchandise, small souvenirs.
INTERESTING FACTS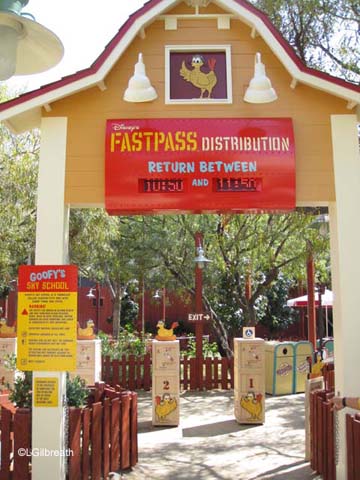 Goofy's Sky School is a re-themed version of the original Mulholland Madness attraction, which opened with Disney California Adventure on February 8, 2001. Goofy's Sky School opened in June, 2011.
The attraction is inspired by a cartoon – Goofy's Glider, where Goofy attempts to learn to fly by reading a "How to Fly" book.
The backstory for the attraction is that Goofy has opened his flight school at his former chicken ranch. On the ride you'll see that lots of the former residents are still around. And take a look at the bulletin boards in the queue, which have some fun little in-jokes about the evolution of the chicken ranch into a flying school.
If you have comments or tips to share with others about touring Disney's California Adventure, please email us. Thank you.