Disney Animation Building Hollywood Pictures Backlot Disney's California Adventure

Introduction | Attraction | Touring Tips | Kids/Characters | Dining | Shopping | Interesting Facts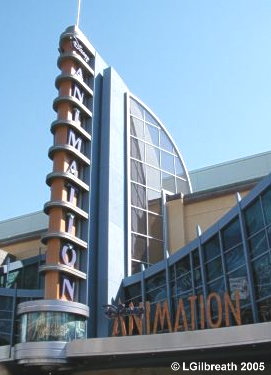 INTRODUCTION
The Disney Animation building features a number of exhibits and interactive activities that will appeal to both kids and adults. Inside the building there are several different areas which may be experienced in any order – spend as much or as little time as you wish. On a warm day it's an excellent place to get out of the sun and do something fun at the same time.
ATTRACTIONS
The Courtyard Gallery is the main room, and all of the other attractions are accessed from there. There's a series of projection screens of various shapes and sizes all around the room which continuously feature selections of rough artwork and drawings, as well as fully animated scenes, from many classic Disney animated features. There are padded benches available for those who just want to sit and enjoy the sights and sounds.
The Animation Academy is a 15-minute session with a Disney animator who teaches guests to draw a Disney character, such as Mickey Mouse or Pooh. Paper and pencils are provided, and guests may take their artwork home.
The Art of Animation Gallery is located at the exit of the Animation Academy (it is also accessible directly from the Courtyard Gallery). This walkthrough exhibit features original concept artwork such as drawings and maquettes for a variety of characters. Sometimes the original concept bears little resemblance to the finished product. In "Anna and Elsa's Royal Welcome" guests can meet and greet the sisters from the movie "Frozen"..
The Animation Screening Room currently features Turtle Talk with Crush. This interactive show opened in July 2005 with a computer-animated version of the surfin' turtle dude from the film "Finding Nemo." Crush is able to directly interact with the "human dudes" and answer their questions – and ask a few of his own.
In the Sorcerer's Workshop there are a number of interactive activities available. You can create your own animation, or in Ursula's Grotto you can add your voice to an animated scene. In the Beast's Library sit down with one of the enchanted books and Lumiere will ask you a series of questions and tell you what Disney character is most like you.
TOURING TIPS
Turtle Talk and The Animation Academy are typically held twice an hour, and except on very busy days the sessions are not full. To avoid waits in the Sorcerer's Workshop, plan to spend time there early in the day.
The Courtyard Gallery is a great place to sit and relax and unwind for a while, especially while waiting for Turtle Talk or the Animation Academy.
This attraction is wheelchair/ECV accessible.
Assistive Listening Devices from Guest Services can be used here. Reflective captioning is also available.
The closest restrooms are located to the right of the building, next to the Off the Page shop.
KIDS AND CHARACTERS
Kids should enjoy the interactive activities of the Sorcerer's Workshop, and the opportunity to try their hand at drawing a Disney character in the Animation Academy. They are able to interact directly with Crush in "Turtle Talk."
In addition to Anna and Elsa who are inside, Disney Jr. characters such as Doc McStuffins and Princess Sofia appear outside the building.
DINING
Award Wieners – A variety of hot dogs, sausages, and beverages
Fairfax Market – Bottled soft drinks, fruit, and boxed sandwiches
Schmoozies – Fruit smoothies and specialty coffees
Restaurants At A Glance
Menus From the Disneyland Resort
SHOPPING
Off the Page, located at the exit of the Animation Building, offers Disney animation cels, books, posters, collectible figures, and artwork.
INTERESTING FACTS
"Return to Neverland," with Robin Williams and Walter Cronkite, was the movie originally featured in the Animation Screening Room when Disney's California Adventure opened.
"One Man's Dream," a 15-minute movie narrated by Walt Disney himself, replaced "Return to Neverland", and ran until March 2005.
Drawn to Animation, a show featuring a live Disney artist and an animated wise-cracking Mushu, was the original show in the Animation Gallery and closed in 2005.
If you have comments or tips to share with others about touring Disney's California Adventure, please email us. Thank you.