2009 Disney's California Food and Wine Festival Sweet Sundays
Sweet Sundays
Golden Vine Winery Lower Patio
Sunday, May 3, 2009
by Laura Gilbreath
Guest Pastry Chefs
Elaine Ardizzone & Donna Cellere
Sweet Cheeks Baking Co.
San Diego, California
Menu
Breakfast Buffet
Assortment of Breakfast Pastries
Seasonal Fresh Fruit
Mediterranean Vegetable Quiche
Country Potatoes
Sausage Links
Wines
Iron Horse Fairy Tale Cuvee
Magicale Brachetto
Desserts
Tosca Cake
Pumpkin Chocolate Chip Muffins
Banana Cake PB&G
Sweet Sundays are a new Signature Event at this year's Disney's California Food and Wine Festival. They are held on Sunday mornings at the Golden Vine Winery with a different pastry chef (or chefs) featured each week. Following a light breakfast buffet the chef demonstrates the preparation of three different desserts, and attendees receive full-size servings of each to try. Sparkling wines are also available. The cost is $65 plus tax, including tip.
As I said this is a new event at the California Food and Wine Festival, but it has been a popular event at the Epcot Food and Wine Festival for a number of years. Jim Ames, director of the California Festival, attended one in Florida and knew he just had to bring it to California this year. (Even though it was new here it was very popular – it is the only event to sell out all sessions before the Festival even started!)
Since I have attended a couple of Sweet Sundays in Florida I was eager to try the California version – and besides, it's desserts and sparkling wines, and that's totally my thing!
Lee and I arrived at the venue about twenty minutes before the start of the event at 10:30. There were already about a dozen people in line. Cast Members went through the line and checked our names against their list of registrants. When they started seating us at 10:30 there was no assigned seating, instead, a Cast Member asked how many in the party and then took us to the next available table. They seated from front to back, so those of us who arrived earliest were at the tables in front.
Each place setting had a selection of stainless flatware, two champagne flutes, an information card on the Bakery, and a printed program containing some info on the chefs and the recipes that they would be demonstrating for us.
| | |
| --- | --- |
| | |
The event was held outdoors at the Lower Patio of the Golden Vine Winery – the same place they hold the wine tasting sessions. Since we were eating and needed a little more room the tables were set up differently than for the tastings, so it ends up being a relatively small venue, only accommodating 60 guests. The presenters were all miked but there were no video monitors, so I'm not sure how well those in back could see what was going on. They had large umbrellas set up so that most of the tables were in the shade, but there were still a few that were in the sun. Being outdoors presented some other challenges, too – there were trees overhead that were shedding seed pods onto our plates or into our wine glasses – most of us covered our glasses with the bakery information cards provided at our place settings after a while. There was also some additional noise when the High School Musical show was going on.
Still, it was really a very lovely setting, and it was very pleasant to be sitting outside on a beautiful Sunday morning, enjoying breakfast, wine, and dessert!
As we were seated we were told we could visit the buffet at our leisure, and that it would be available until 11:30. The buffet was set up on what is usually the wine bar. Since the event was outside all of the food had to be covered, and the Cast Members at each station served us whatever we asked for. That was a little awkward, especially at the fruit tray. "I'd like two strawberries, some blackberries, a piece of honeydew…" Rather than a buffet line that moved along the bar there were separate lines at each station, which meant we all got to wait in several lines, though I got my fruit and pastries and then went back later for the quiche and potatoes. Coffee, tea, and juice were also available, though the juice was provided in single serving Tropicana plastic bottles rather than being fresh.
Back at the table, other Cast Members were going around and serving the two wines – the Fairy Tale Cuvee and the Magicale. The Fairy Tale Cuvee is a dry sparkling white wine, and the Magicale is a lightly sweet sparkling red wine. Both are made exclusively for the Disney company. The Magicale reminded me very much of the Banfi Rosa Regale, which is one of my favorites. They were quite generous with both wines throughout the event, and I know I had two glasses of each.
| | |
| --- | --- |
| | |
After we'd all had time to get something to eat the event began with the introduction of Chef Jamie Gwen, who served as the host. She was really a lot of fun, and very entertaining. During the Festival she is doing some of her radio broadcasts from the park, and will also be doing some cooking demonstrations and participating in Taste as well as hosting the Sweet Sundays and "Behind the Scenes With…" events. She was able to keep things moving along and impart some of her own knowledge without detracting from the featured speakers.
The guest pastry chefs were Elaine Ardizzone and Donna Cellere from Sweet Cheeks Baking Co. in San Diego. Their philosophy is "baked with goodness" so they use the freshest ingredients possible, with no transfats or anything artificial. And they try to incorporate healthy ingredients such as whole wheat flour, flaxseed and wheat germ and fruits and nuts into their creations. They called it "Stealth Health" – a term they said they borrowed from Disney. I found it interesting that they both look like aerobics instructors (and in fact Donna is a certified Personal Trainer) – you'd never guess that they are surrounded by sweet treats all day long!
| | |
| --- | --- |
| | |
The first dessert they demonstrated was the Tosca cake. This was one of Elaine's mother's recipes, but she only baked it once a year for Easter. Elaine said it's a great cake for brunch, but could also be served for dessert. It's a very flavorful poundcake with a caramelized almond topping. The cake is baked most of the way before the topping is spread on top and then popped back in the oven to finish baking. Elaine cautioned us about making sure the cake is really done before adding the topping, otherwise the weight of the topping will make the cake fall and all the topping will end up in a thick chunk in the center.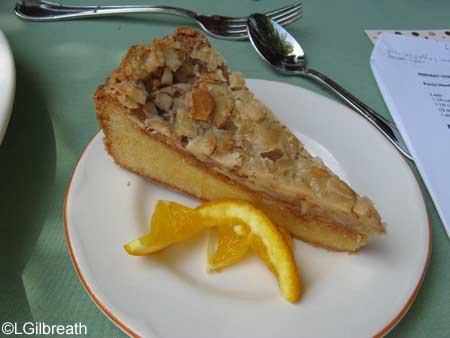 The wait staff brought our desserts out so that we could try it. Elaine is a certified Sommelier and she recommended that we try it with the Fairy Tale Cuvee. The cake itself was not overly sweet, but it was moist and delicious. The topping, being made of sugar and sliced almonds, was quite sweet, but the pound cake cut the sweetness and it was really a wonderful combination.
The next dessert was the Pumpkin Chocolate Chip Muffins with Cream Cheese Frosting. This one features a lot of the "wholesome" ingredients like whole wheat flour, ground flaxseed and wheat germ in addition to the pureed pumpkin. One observation Chef Jamie made for this recipe was noting that some of the ingredients were measured in ounces and not cups or teaspoons – for baking she recommended getting a kitchen scale, since amounts are much more accurate when weighed. Donna used a 2-ounce ice cream scoop to put the batter into the muffin cups – she said that's the perfect size for these muffins. It sure made it look easy and not nearly as messy!
The muffins were moist and dense and nicely spiced though I thought they needed more chocolate chips. The cream cheese frosting was too rich for me, and I think it detracted from the dessert.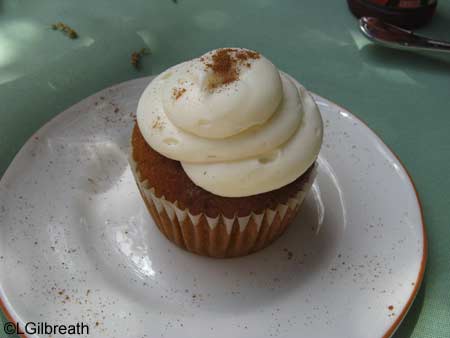 They finished with their Banana Cake PB&G – banana cake with Peanut Butter mousse and chocolate Ganache. They said that you want to use very ripe bananas for this. For one thing, they will be sweeter, and for another they are easier to mash. And did you know that you can freeze bananas and use them later? Just peel them and put them in a plastic freezer bag.
They bake this in a large sheet cake pan rather than in a round pan. After the cake is baked and cooled pour on the ganache, let that set, and then spread on the peanut butter "mousse" (which is really a peanut butter icing).
Our samples were long narrow rectangles – they looked like a large bar cookie. I have to admit that the appeal (ahem) of this dessert was lost on me since I don't care for bananas or peanut butter. The lady next to me felt the same and offered me hers…we both ended up scraping off the peanut butter topping and eating the ganache. Lee enjoyed it, though he also scraped off the peanut butter topping. And after having the other two desserts he didn't get all the way through this one.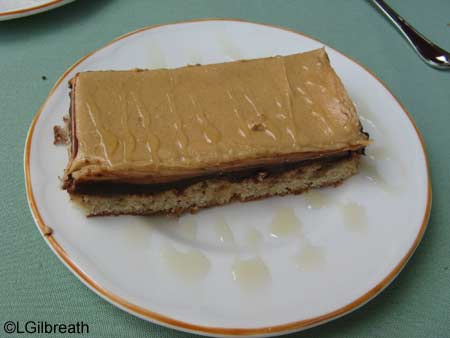 The demonstration ended a little before noon. They had "to go" boxes available for desserts that we hadn't finished – though that wasn't an issue for most of us.
The event and presenters and desserts were all just fine, but I have to say that I was a little disappointed overall. Ok, so part of that is because there just wasn't enough chocolate for me. But this wasn't the learning experience for me that the Sweet Sundays I've attended in Florida have been. The desserts were rather simplistic and there was nothing very novel or difficult about them – it was pretty basic baking. I didn't really learn anything or see any techniques demonstrated that I didn't already know. Even the plating of the actual desserts wasn't anything to wow or inspire me, unlike the Sweet Sundays presentations I have attended in Florida. (This link will take you to the report on my Florida experience: 2007 Sweet Sundays.)
But it was still a nice way to start the day!
= = = = = = = = = = = =
RELATED LINKS
= = = = = = = = = = = =
Food and Wine Weekends General Information
What's New and Touring Tips
Festival Menus and Prices
Food and Wine Weekends Photo Gallery
2009 Arrowood Winemaker Dinner Review
If you have comments or tips to share with others about Disney's California Food and Wine Weekends, please email us. Thank you.