Disney's Hollywood Studios Archives Bear in the Big Blue House
Introduction | Attraction | Touring Tips | Kids and Characters | Dining | Shopping | Interesting Facts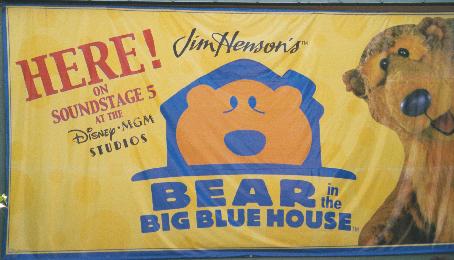 *** NOTE: The Bear in the Big Blue House show closed on August 4, 2001. Playhouse Disney Live! has taken its place. The new show includes stars from Rolie Polie Olie, The Book of Pooh, Bear in the Big Blue House and Stanley.
INTRODUCTION
BEAR IN THE BIG BLUE HOUSE — LIVE ON STAGE! has all of the characters from the popular Disney Channel show in a musical, fun-filled live performance, which is housed in SoundStage 5 in the Animation Courtyard (formerly home to the Soundstage Restaurant).
ATTRACTION
Bear in the Big Blue House — As you enter the Soundstage, you're directed to find a space on the carpeted floor. The colorful Big Blue House set juts right into the audience. Television monitors flanking the stage show snippets of The Disney Channel's Playhouse Disney shows until showtime. Like its television counterpart, the Bear in the Big Blue House show begins with Bear's opening Welcome song, and the 7-foot-tall bruin giving the audience a good sniff. Bear calls his little mouse friend Tutter, and subsequently introduces Ojo the small bear, Treelo the lemur, Pip and Pop (otters), and Shadow, in a 15-minute performance that gets the audience singing and clapping along. The show concludes with Bear and his friend Luna, the moon, singing the gentle lullabyish Good-bye song.
TOURING TIPS
Bear in the Big Blue House is definitely geared to the preschool set, although young school-age children (and their grown-up escorts) will find it a pleasant 15-minute show.
There are no seats in this performance space – most everyone sits on the carpeted floor! (There are one or two benches located at the back of the theater.)
To be seated near the stage, arrive at the Soundstage at least 10-15 minutes prior to showtime.
This attraction is wheelchair accessible.
KIDS AND CHARACTERS
Small children who know and love the Bear in the Big Blue House TV show will get to see all of the show's characters relatively up-close, but, unfortunately, there are no opportunities to meet and greet these characters as yet. There are other Character Meet and Greet opportunities in the nearby Animation Courtyard. Check your daily Guide Map for times and locations.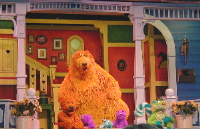 DINING
There is no place to dine in the immediate vicinity of this show.
SHOPPING
Immediately upon exiting the Bear in the Big Blue House show, there is an outdoor stand selling Bear and company merchandise. The Animation Courtyard Shops and the Animation Gallery are located across the Courtyard from the Bear soundstage.
INTERESTING FACTS
Bear in the Big Blue House–Live! opened in the space formerly housing the Soundstage Restaurant on June 7, 1999.
Bear in the Big Blue House is produced by the Jim Henson Company.