Restaurant Info
Restaurants
At-a-Glance
Dinner Shows
Special Dining Events
Dining Discounts
Nestle's Junior Chef Program
The Land - Epcot
By Donna Staffanson
EDITOR'S NOTE: Junior Chef Program Ended April 6, 2008.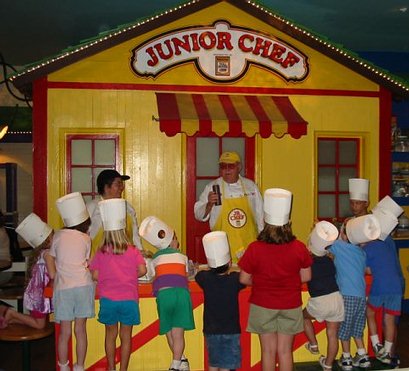 On our recent trip my two children (a girl 6 1/2 and boy almost 4) participated in one of the lesser-known but better-tasting offerings for children at WDW, the Nestle Junior Chef program at The Land pavilion in Epcot. The Junior Chefs (aka any child between about ages 3 and 10) help two grown-up chefs make a delicious and magical batch of chocolate chip cookies. The children also each get a personalized paper chef's hat and at the end, a little container of Nestle chips and two cookies.
There is no sign-up or prior registration. Just head downstairs to the Sunshine Season Food and look for the bright yellow bakery storefront to the far left (from the vantage point of the stairs) of the food offerings. At the time of our visit, Junior Chef was offered every hour on the half-hour.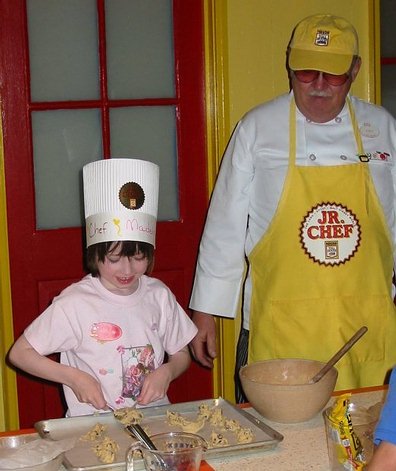 We arrived about 5 minutes before the program was to begin, and they were already distributing the chef's hats, so I'd suggest arriving earlier at busy times. I have read they sometimes limit the number of children participating, on this day there were at least 15.
After donning their hats, the children wash their hands (with wipes) and line up around a work table. Each child is assigned a "job" - of pouring in the ingredients or stirring the dough - and each child got to place a cookie or two on the baking sheet.
The work table is inside a gated, picket fence area and the kids are always in full view of their parents. There are some seats around the outside of the fence and the photo opportunities are wonderful.
After the baking sheets are full, one grown-up baker whisks the sheets off to an out-of-view oven while the other helps the children invoke some Disney magic. In the blink of an eye - the cookies are ready!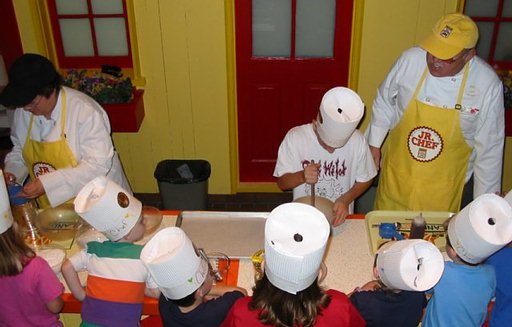 Junior Chef requires just a small amount of time out of your touring day, in fact it is a great way to spend the time waiting for your Fast Pass window for Living With the Land. My daughter thoroughly enjoyed her baking experience. My son was less cooperative, but the Cast Members were very kind and patient with him. A four-star experience all around.
Review Date: April 2003