Restaurant Info
Restaurants
At-a-Glance
Dinner Shows
Special Dining Events
Dining Discounts
Czarina's Royal Table
Hollywood Brown Derby
by The Czarina
AllEars® Feature Writer
Feature Article
This article appeared in the April 15, 2003 Issue #186 of ALL EARS® (ISSN: 1533-0753)
EDITOR'S NOTE: This review was part of a review of three restaurants in one article: Cinderella's Royal Table Character Breakfast, Hollywood Brown Derby and 'Ohana. The complete original article can be read at http://allears.net/ae/issue186.htm
*****
(EXPLANATION OF SORTS: The Czarina is a Real Person who eats -- a lot - at Disney World. She takes sole responsibility for all opinions stated below, de gustibus non disputandum and chacun a son gout.
Do let us know what you think about this column at eureka@eurekajim.org.)
-o-o-o-o-o-o-o-o-
Dear, Beloved Public,
(Or should we say, Hollywood-style, Dahlings!) On a recent sun-dappled early evening, the Czarina and a gaggle of Disney Diners met at the Brown Derby for what turned out to be a very festive dinner. At its original location ­ Hollywood and Vine in L.A. ­ the Brown Derby has been the place to see and be seen for many, many years. And at the WDW, too, the star-struck can be found gazing at the caricatures of Lucy, Desi, Clark and Jimmy (Durante, of course) while chowing down on the famous Cobb Salad and Grapefruit Cake.
The room is a two-tiered rectangle featuring both tables and leather banquettes, adorned with little lamps and crisp white linen. There is outdoor dining on a small terrace in nice weather, but we suggest an indoor table for both comfort and ambience. Theme park attire is fine; should you decide to add a feather boa or a pair of shades, you will fit right in. Children are welcomed; though we feel that this is not the ideal MGM restaurant for little kids, the older ones seem to have a good time with the caricatures and the non-alcoholic special drinks. For tiny tots, we suggest Prime Time or Mama Melrose.
APPETIZERS:
Our group sampled the Mixed Field Greens in a black pepper cabernet dressing with blue cheese ($4.99). Most pronounced it good, and said that the addition of sun-dried cranberries pepped it up. "But don't get it if you don't like pepper" one diner added.
Others chose the Baked Onion Soup with fresh herb and Derbyshire Gratin ($6.59) --very good, and not too salty, as onion soup frequently is. Someone did say "It could have been a little hotter", but the Disney Diners are very exacting critics.
The Czar opted for the Cobb salad "for two" on the appetizer menu ($12.99), but ate it all himself as a main course. It is a Brown Derby classic, whipped up years ago as the owner foraged in the refrigerator for something to feed Sid Grauman of Grauman's Chinese Theatre fame. Chopped greens are topped, in orderly rows, with turkey breast, bacon, eggs, tomatoes, blue cheese and avocado slices. The dressing is then applied and the whole thing is tossed. It's a very California kind of dish, and completely irresistible. The Czar's advice is to get the dressing on the side.
ENTREES:
Pork tenderloin is appearing on several WDW menus lately. Deb is fond of it, and ordered it "with white cheddar grits, melted chard, natural pan juices and warm apple compote". She warns that unless you specify, it will arrive very rare ­ caveat emptor. It is, however, tender and good with the delicious white cheddar grits. Deb found the accompanying apple compote too sweet, though.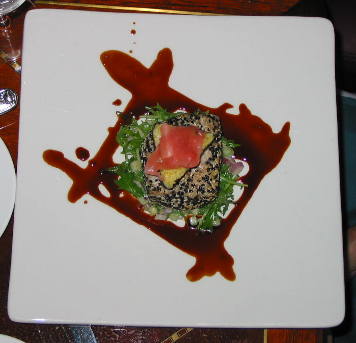 Gary, our tuna expert, praised the Yellowfin Tuna, over a cucumber wasabi salad and sweet mango roll ($19.99). The rare tuna was sushi grade, the finest, and he rated it excellent.
Your Czarina opted for the Filet Mignon with chimichurri aoli and tomato bordelaise. I was truly surprised to find a piece of beef this good outside of one of the steakhouses ­ it was one of the best I have ever had at WDW. If you like steak, I advise you to go for it ($25.99).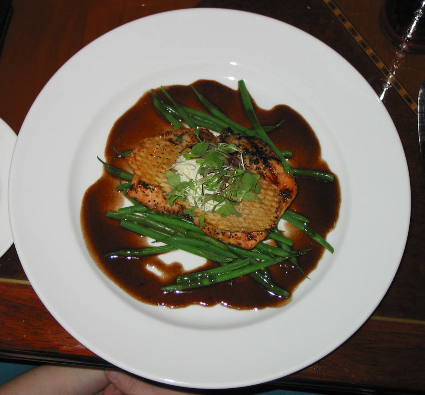 Another fine choice was a large hunk of grilled Atlantic salmon with smoked bacon ($19.99) ­ a winning combination, though our diner found it slightly over-seasoned and too peppery. She loved the crisp green beans that accompanied it, though.
DESSERTS:
The Brown Derby's desserts are created by the Starring Rolls Bakery team, so if you'd like to sample their efforts without having a sit-down dinner, by all means go next door and try a pastry in the little outdoor courtyard (breakfast here is an MGM tradition, with a strong cup of coffee).
Back at the Derby, Jenn loved the Chef's Fantasmic Feature, a white chocolate raspberry mousse in a dark chocolate swirl with two sauces ($6.79).
Deb went for the Dark Chocolate Torte with caramel ganache in a pool of crème anglaise. Can't go wrong with fancy chocolate cake! She said it was "not too sweet" and the caramel ganache was nice and light.
As for the Czarina, she very much enjoyed the warm, sugar-free Granny Smith Apple Crisp ($5.29) ­ a perfect "homey" dessert topped with a huge scoop of sugar-free vanilla ice cream. Kudos to the team for concocting a really great, satisfying sugarless dessert!
Grapefruit cake, invented at the Brown Derby so Hollywood starlets could fool themselves into thinking they were eating a diet dessert, is also unique and excellent, slathered with cream cheese ice cream and citrus candy.
CZARINA'S TOP TIP:
Take the Czar's advice, and have the Cobb salad for dinner ­ it's plenty as a main course for one (which is how it's offered on the lunch menu, anyhow). Also, feel free to ask for substitutions here if you don't like things like savoy cabbage or sweet onion marmalade over fish. They are very accommodating!
THE BOTTOM LINE:
The Brown Derby is a cool, calm haven for lunch on a hot day, and an excellent choice for a group dinner (tables are nicely arranged). Go, and dream of Lucille Ball and Jack Haley lobbing dinner rolls at each other ­ yes, they really did!
Review Date: 3/03