Restaurant Info
Restaurants
At-a-Glance
Dinner Shows
Special Dining Events
Dining Discounts
Recipes
S.E.A. Shu Mai
Jungle Skipper Canteen
Magic Kingdom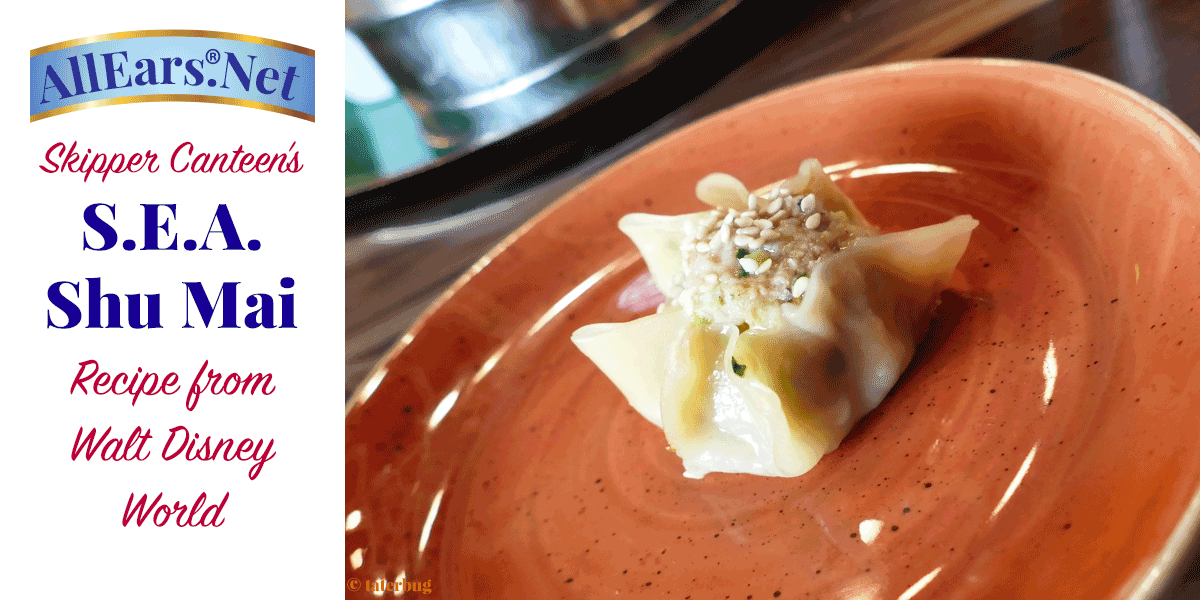 Get our FREE recipe booklet,
Popular Disney Recipes from Walt Disney World,
filled with the top 11 requested Disney recipes, clear directions, and photos!


To get the recipe booklet, simply subscribe to our free weekly newsletter and we'll e-mail the recipe booklet download link to you immediately.


Ingredients
Shu Mai Filling
1/2 lb Boston Butt, cut into 2 inch cubes
1/4 lb shrimp pieces
1/4 cup water chestnuts
2 tbs chopped shallots
2 tbs mung beans or edamame
1/4 cup tightly packed arugula
1/2 tsp fish sauce
1/2 tsp sriracha
1/4 tsp coarse salt
1/8 tsp black pepper
16 wonton wrappers
Dipping Sauce
1/4 cup lower sodium soy sauce
1 tbs sambal oelek
Method of Preparation
For Shu Mai
1. Grind Boston Butt, shrimp, water chestnuts, shallots, mung beans, arugula, fish sauce, sriracha, coarse salt and black pepper in a meat grinder or food processor.
2. Place two tablespoons of filling in the center of each wonton wrapper.
3. Fold the sides of the wonton wrapper up and gently crimp, leaving the top of the meat exposed.
4. Steam in a steamer basket over a pot of boiling water for 8-10 minutes until center of Shu Mai reaches 145℉.
For Dipping Sauce
1. Combine both ingredients.
2. Serve with Shu Mai.
Makes 16 dumplings