Restaurant Info
Restaurants
At-a-Glance
Dinner Shows
Special Dining Events
Dining Discounts
Hoisin Chili Sticky Spare Ribs Pork Rib Braise
Morimoto Asia
Disney Springs The Landing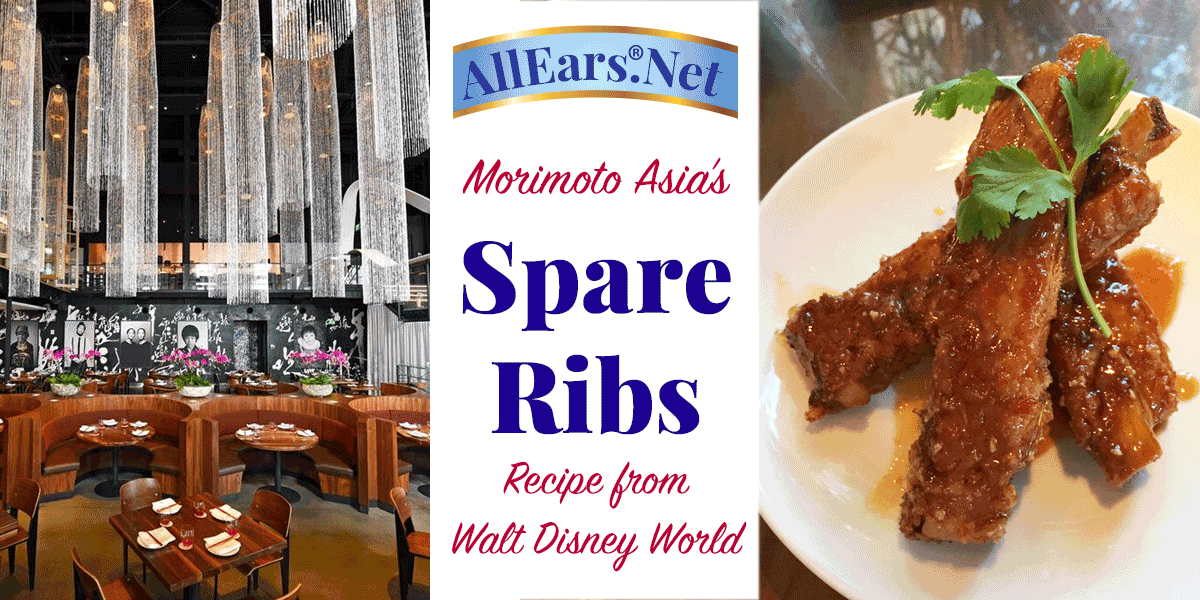 Get our FREE recipe booklet,
Popular Disney Recipes from Walt Disney World,
filled with the top 11 requested Disney recipes, clear directions, and photos!


To get the recipe booklet, simply subscribe to our free weekly newsletter and we'll e-mail the recipe booklet download link to you immediately.


Pork Rib Braise
Full rack spare ribs, about 16 ribs
White onion, roughly chopped
1/2 cup freshly chopped ginger
1/4 cup freshly chopped garlic
1/4 cup cooking wine
2 tablespoons canola oil
1 cup tamarind paste
Hoisin Chili Sauce
1/2 cup hoisin
1 1/2 cups sweet chili sauce
1/4 cup rice Vinegar
1/4 cup sugar
2 tablespoons fish sauce
2 tablespoons soy sauce
Frying and Garnish
Oil for frying
2 cups of cornstarch
2 tablespoons freshly chopped cilantro
For ribs:
1.Preheat oven to 250°F. Place ribs in baking pan and add onion, ginger, garlic, cooking wine and oil. Cover with water, then gently stir in tamarind paste.
2.Cover with foil and bake 3 ½ hours or until meat easily pulls away from the bone.
3.Remove from oven and cool in braising liquid until cool enough to handle. Slice into individual ribs.
For sauce:
Whisk together ingredients in a mixing bowl. Refrigerate until ready to use.
To fry:
1.Heat oil to 350°F.
2.Lightly coat each rib in cornstarch and fry until golden brown and crispy, about 2 to 3 minutes.
3.Place on a wire rack to drain and cool slightly.
To serve:
Toss with hoisin chili sauce, topped with cilantro and serve immediately. (We put them back under the broiler for a few minutes to get extra crisp.)